Video Credits: Microsoft via YouTube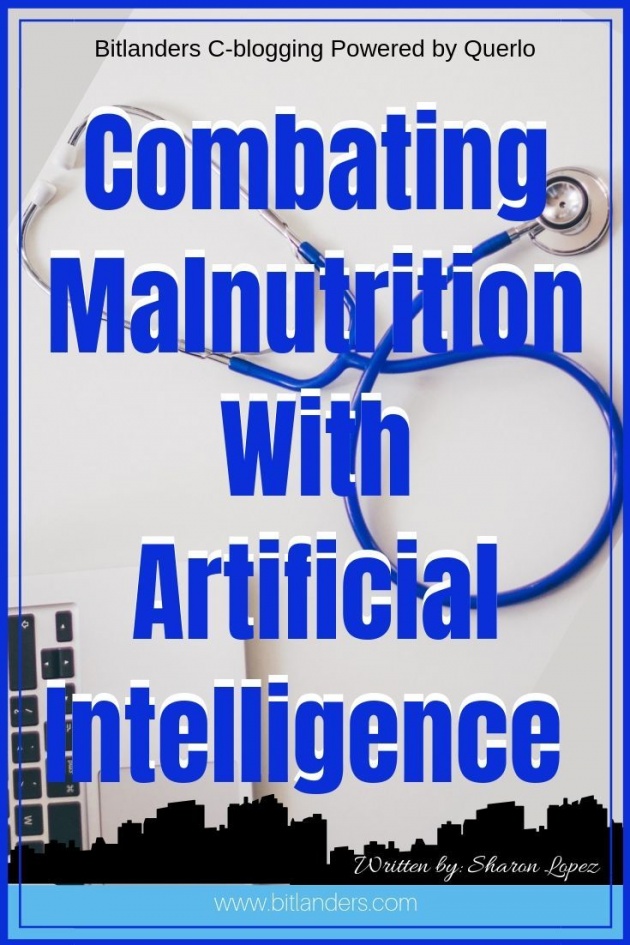 Image Credits: Sharon Lopez via Bitlanders
Base Image Credits: Stocksnap via Pixabay Edited via Canva
Malnutrition is a global issue and it's affecting billions of people in the world. It can have great impacts on both children and adults alike but on a closer look, it is the children who are most affected. In line with the implementation of the AI-Themed Blogging in Bitlanders, I would like to discuss relevant and timely information regarding malnutrition among children and how we can use artificial intelligence to help resolve this perennial problem.
Children are among the most vulnerable sector in our society. While the government is pouring funds for peace and order, infrastructures, and other areas of governance, it is a sad thing that they often take for granted the needs of the children during the times of planning. In the Philippines setting, the local government units are mandated to allocate 1% of the Internal Revenue Allotment for the plans and projects of the local council for the protection of children.
One percent?
Do you think that would be enough to address the growing needs of children?
HOW SERIOUS IS MALNUTRITION PROBLEM?
Malnutrition is a serious condition resulting from either not having enough or having more than the body's required nutrients. This can lead to worse problems such as the inability to attend school, prone to sickness and worst, it can even lead to death.
According to the report released by UNICEF, there are 149 million stunted children with ages 0 to 5 and 45 million of the same age bracket wasted children in 2018.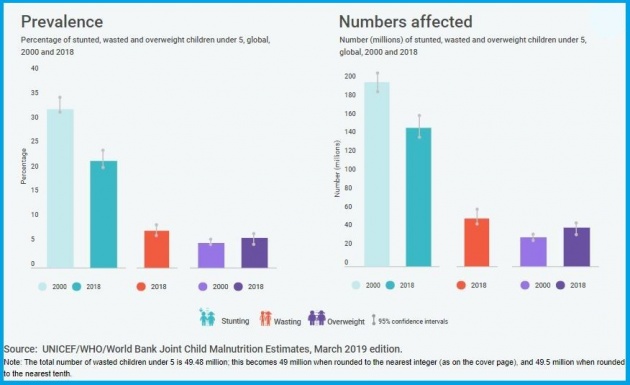 Image Credits: UNICEF
With this current state of malnutrition in the world, I don't think that feeding programs are enough to resolve the increasing number of malnourished children. The Philippines is among the countries with a high prevalence of malnutrition. It's quite alarming to see that children are suffering because we failed to do our parts as adults.
Every day, 95 children in the Philippines die from malnutrition. Twenty-seven out of 1,000 Filipino children do not get past their fifth birthday. A third of Filipino children are stunted, or short for their age. Stunting after 2 years of age can be permanent, irreversible and even fatal.
Source: UNICEF
TYPES OF MALNUTRITION
If you would observe the graph presented above, there are three kinds of malnutrition. These are:
(1) Stunting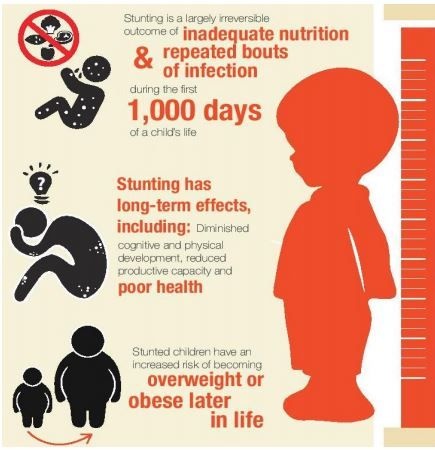 Image Credits: Thousanddays.Org
A condition where a child is shorter than usual or low height for age. It is usually caused by insufficient nutrient and infection for a long period of time.
(2) Wasting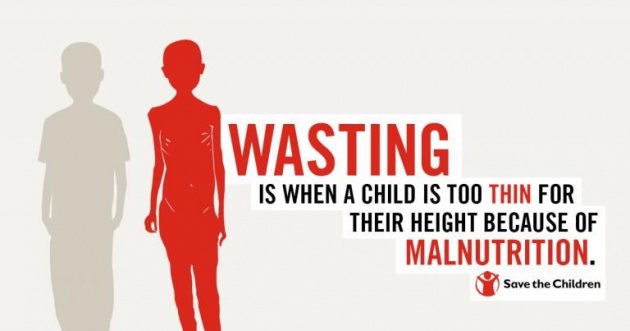 Image Credits: SavetheChildren.Org
Wasting is a condition where a child is thinner than usual or low weight for height. It is usually caused by acute significant food shortage and is the strong predictor of mortality among children under five. For these reasons, wasting is the highest priority form of malnutrition in humanitarian emergencies.
(3) Overweight
A condition where a child intakes more than the necessary.
With the current technological advancement, it is deeply disturbing to know that there are still many children in the world who are suffering from malnutrition. What is most alarming is the fact that while technology is advancing, the children's sector is being left behind. We need more programs that will address the root cause of the problem, not just temporary solutions.
Suggested Reading: How Can We Use Artificial Intelligence to Eliminate Poverty?
Thankfully, there are non-government organizations who are willing to lend a helping hand in order to address common issues in children most especially with those concerns regarding malnutrition.
CAUSES OF MALNUTRITION AMONG CHILDREN
1. Lack of food
The most common reason for malnutrition poverty. Furthermore, overpopulation, limited opportunities, and lack of support from the government can contribute to poverty.
2. Lack of adequate knowledge among parents
Lack of awareness among parents is the leading cause of malnutrition worldwide. Oftentimes, the development of children was not regularly monitored. This can also be considered as an effect of poverty. Because the income brought home by the father who is supposed to work for the family is not enough, the mothers are being forced to work in order to help their husband. Thus, the children suffer due to lack of attention.
3. Neglected children, orphans and those living in care homes are also at risk of malnutrition.
This can be attributed to early pregnancy. Because parents can no longer take care of their children, they would resort to abandonment, which at the end, it is the children who will suffer.
WHAT CAN WE DO?
Personally, I am in charge of monitoring children's programs so one help I could offer is to bring awareness to the people, especially to the parents the importance of having proper nutrition for their children.
CAN AI HELP?
Artificial Intelligence is a discovery of human that can help in almost any field. If it could help in other areas of life, most probably, it could help combat malnutrition given the time, effort and funding.
I prepared a Querlo C-blog that shows the possibilities of providing solutions to the growing problem of malnutrition among children with the help of Artificial Intelligence in some areas.
PLEASE CLICK HERE FOR A FULL-SCREEN VIEW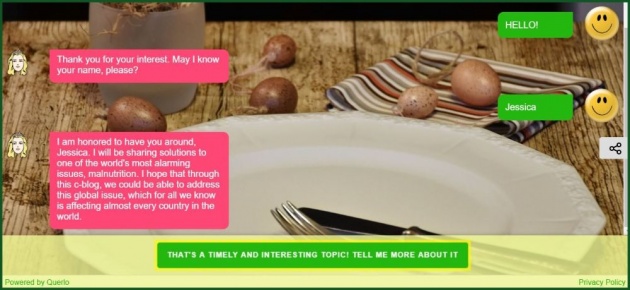 Image Credits: Querlo C-Blog of Combating Malnutrition with Artificial Intelligence Screenshot
Please join me in this c-blog powered by Querlo and let's help solve the global problem of malnutrition.
On the final thought:
Malnutrition is not the sole responsibility of the government nor the parents. It is everyone's concern. We need to work hand-in-hand in order to address this global problem.
Thank you for reading.
You may also find the following interesting:
How Can We Use Artificial Intelligence to Eliminate Poverty?
Top AI Companies in the World - Facebook
Top AI Companies in the World - AI Brain
Would you like to earn more from Bitlanders? Join Bitlanders AI-Themed blogging! Learn more about this from Micky-the-slanted-Salerno's post:
Important Update: BitLanders AI-themed Blogging!
★★★★★★★★★★★★★★★★★★★★★★★★★
Do you need help in creating your c-blog? Let me know and earn more from Bitlanders. You can connect with me on MY SITE and other social media accounts below.
★★★★★★★★★★★★★★★★★★★★★★★★★
Querlo C-Blog Base Image Credits: RitaE via Pixabay
DISCLAIMER: The views and opinions expressed in this c-blog post are that of the author and does not in any way represent the agency or department she currently belongs.
ADDITIONAL NOTE: The sites mentioned in this post are for information purposes only and links are provided for easy access. The author does not receive any remuneration from the said companies or sites.
★_★_★_★_★
Written for Bitlanders
by ★Sharon Lopez
Date: July 14, 2019
Connect with me!
★IDEAL CAREER IDEAS★FACEBOOK★TWITTER★PINTEREST★LINKEDIN★
All Rights Reserved 2019