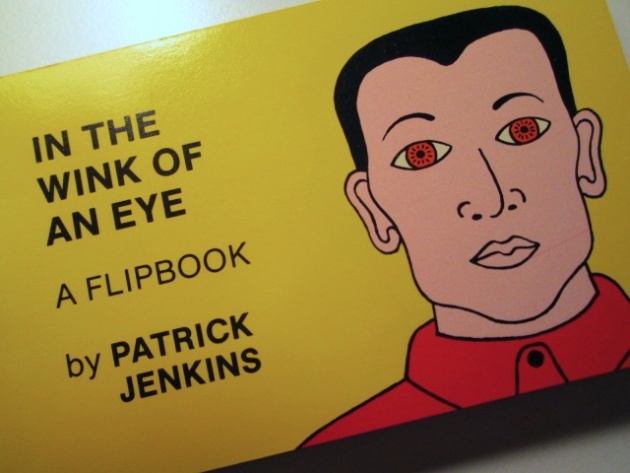 "In The Wink Of An Eye" è stato il mio primo tentativo di disegnare un flip book originale partendo da zero. In precedenza avevo utilizzato i rimasugli di alcuni lavori grafici tratti dai miei film d'animazione e li avevo adattati per la realizzazione di un flip book.
"In The Wink Of An Eye" si basa su un'illusione ottica in cui le immagini, nascoste l'una nell'altra, appaiono man mano che ci avviciniamo. Viene anche chiamato "Quaker Oats Box Effect", come se un uomo tenesse in mano un Quaker Oats Box che contiene un altro uomo che tiene in mano un Quaker Oats Box che contiene un altro uomo, etc., etc., ripetendo questo concetto all'infinito.
Qualche anno fa ho scoperto che quest'illusione ottica aveva un nome, Mise en Abyme, ossia mettersi o collocarsi nell'abisso. Questo libro è nato mentre scarabocchiavo su un blocchetto degli appunti e a un certo punto ho pensato, "Cosa succederebbe se potessimo zoommare nell'occhio umano e scoprissimo che dentro c'è tutto un altro mondo?" Ho quindi provato a realizzarlo.
Una degli aspetti dei flip book che desideravo sperimentare era l'illusione di profondità. Far sembrare le cose più grandi o più piccole, avvicinandosi o allontanandosi dallo spettatore, è una tecnica molto efficace nella realizzazione di un flip book. Come ho già raccontato, nel mio flip book "Play Ball!" una palla da baseball diretta verso le nostre facce fa sentire lo spettatore direttamente al centro dell'azione. È molto coinvolgente!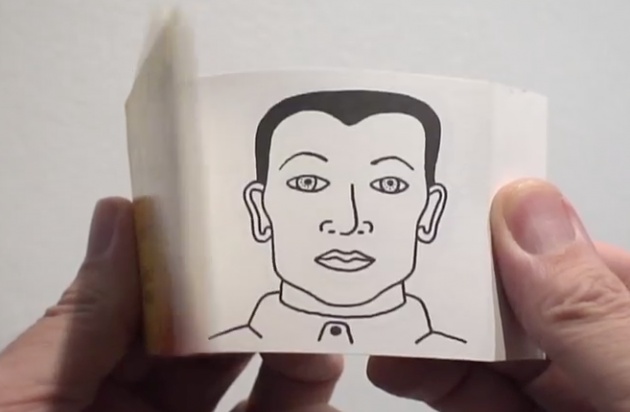 Una volta capito che potevo ottenere quest'effetto ho iniziato ad animare il libro, senza pensare a come lo avrei concluso. Alla fine ho deciso che si sarebbe trattato di un circuito, in cui l'azione sarebbe iniziata e si sarebbe conclusa con la stessa faccia umana con gli occhi chiusi.
Potete dare un'occhiata a "In The Wink Of An Eye" e a "Play Ball" qua sotto. Vi prego di buzzarli e condividerli. Date anche un'occhiata a "The Flip Book Movie", che include entrambi i libri a colori.