Gemango Team goes to Kalanggaman . Video is mine.
Kalanggaman Island is a pristine dream beach destination in the Visayas area of the Philippines specifically in Leyte, my country, my home. Named because of how the island looks like from its aerial view and has now been considered as one of the most beautiful islands in the country. It has been gaining name throughout the world as well since it has been listed as top destinations for tourist too when visiting the country. Last April, my colleagues and I had opened summer at the beautiful island of Kalanggaman, what happened during that event is narrated in this blog.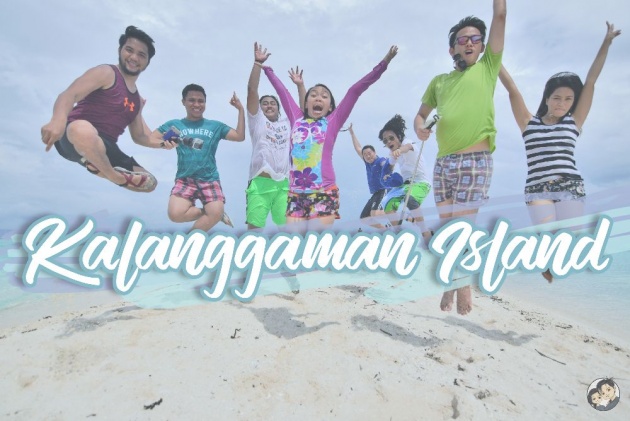 My colleagues jump for joy for our Kalanggaman Island Trip. Photo is mine.
I apologize that I had posted on this blog below that I had already published something about Kalanggaman Island but I realized after looking at my blog post list that I haven't really posted anything yet so that was actually my first blog about the island! See the post below:
Things Every Visitor Should Know About Kalanggaman Island, Leyte Philippines
Oh silly me! So tonight, while at James' office and while waiting for him to finish with their band practice, I am getting this blog done so as fast as I can but seriously, I am not really sure if this can be done within the night but I will do the best I can. So I am thinking where to start with? Oh I know, I'll start with the planning part and of course I'll be sharing how the actual day went.
Planning Stage
The first part was to answer the question, how many are we going to the island? The tour package pricing would depend on the number of persons joining. But originally, it was only me and James then I shared the plan to Chris, my colleague and he was damn interested about my plan that he wanted to be tagged along. I have always loved DIY travel or do it yourself kind of travel as it gives me the freedom of choosing the place which I would prefer to but then since there's no reason to do it by ourselves since we will be traveling to only one destination, we decided to contact someone to help us with the planning.
If it was just the three of us, we would definitely be traveling via a bus towards Maya Port where most of the boats going to Kalanggaman are docked. However, since our other colleagues were also interested, we then have to find someone who can cater our overnight plans.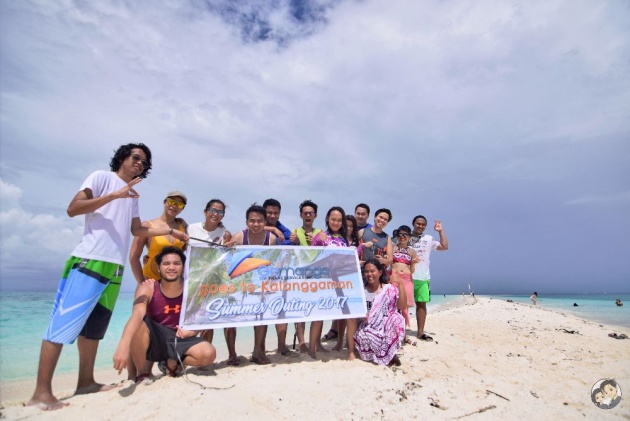 Scorching hot with a glimpse of storm at the back. Photo is mine.
Going back to the first question, how many are coming? After much talking, we ended up as 16 people including our colleagues and their respective partners. That was actually a good number since most vans can accommodate only 16 heads as well.
I then contacted this Tour Agency via Facebook, SeatoSummitTravel which offers 1500 PHP per head for their two days, one night and I actually had a lot of headache with this agency which made me regret why I had even transacted with Mr. Emil. Although, I guess everything ended up well and we had fun at the island after all the bad experiences which I will be sharing with you in the story below.
2D1N Kalanggaman Island Itinerary
So again, we had agreed to get the deal for the said package. Here's the itinerary:
First Day:

4:00am: Pickup within Cebu City or Mandaue City (Private Van)
9:00am: Arrival in Maya Port
9:15am: Departure to Kalanggaman Island
11:00am: Arrival in Kalanggaman Island
Overnight –
Kalanggaman Bungalow 1000 per 4 pax, Tents for 300, Cottages for 200 to 500. (C/o Palompon Gov)
For Malapascua Accomodation Choose from the list attached. (additional 150/head for Malapascua Island Side Trip)


Day 2:
9:00am: Departure from Kalanggaman Island
12:00n: Arrival in Maya Port
12:15pm: Travel to Cebu City
We first thought of going to Malapascua but then that would mean we will have to spend some amount to travel to Malapascua Island and then we will need to look for another apartment or resort to stay at night so we decided to just stay in Kalanggaman Island instead, less hassle and most wallet friendly choice plus, we will have more time to explore the island.
We agreed and paid the agency. However, after the down payment, we were advised that they have a slight increase of the tour package because of an immediate change on the pricing as mandated by the government. Of course we didn't buy his reasons as it was truly shallow, why did he change the pricing from PHP 1500 to PHP 1650 right after the down payment has been deposited? It was a strategy that made me really disappointed in this Tour Agency, one of the reasons as well why I don't like pre arranged tour package. But we can't back out anymore as the half of the original pricing has been given already. We asked him to give us discount instead because he had advised us abruptly but he only gave us PHP 50 discount so we just agreed with the PHP 1600 package.
A Huge Problem Emerged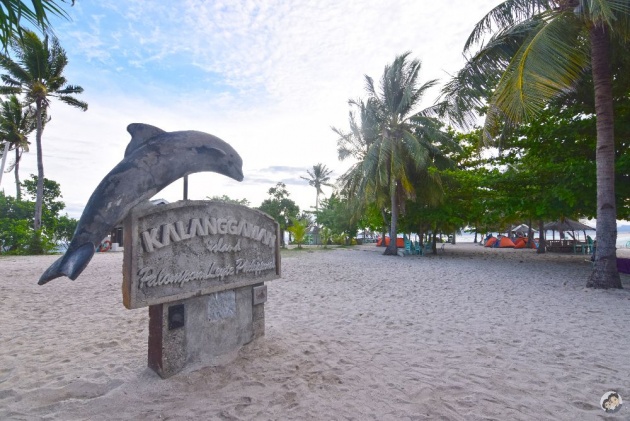 Before this was a bad weather week. Thanks to the miracle. Photo is mine.
That week before the outing, the weather was not cooperating. It was totally rainy and that the skies didn't give us any hope of a sunny Saturday on April so we thought of backing out of the plan however, upon reading on the itinerary sent to us by the agency, there was no way they would give back the down payment amount if we will be backing out so we were left with no other option but to pursue the outing.
Come Friday, a day before the event, the rain didn't stop. The skies showed dark, cloudy even lightning and thunder were both present and the rain was non stop! That made us become more concerned, confused if we should push through.
I personally called Mr. Emil to verify if there's any chance of rescheduling the event. He replied with the note that the boats were still given license to sail so there's no chance of backing out at that minute. We all were worried and thought we will just push it through no matter what the weather would be the next day.
A Miracle It Was!
Our itinerary states that we should be at Maya Port as early as nine in the morning. Traveling to Maya from Cebu would take around five hours and beyond depending on the time of travel. We don't want to be stuck in the traffic so we have all decided that we should be at the assembly location which was at the office at three in the morning so by four, we must be on our way towards Maya Port.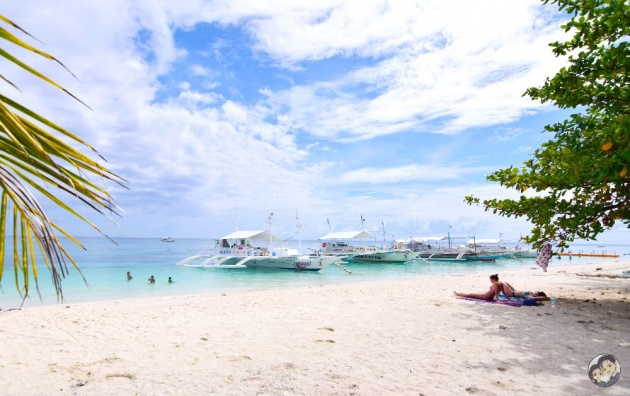 Sunny Day at Kalanggaman Island. Photo is mine.
True enough, everyone was at the office before four and the van driver also came early so we were on our way at four, the itinerary was indeed followed!
On the road, I had been constantly checking the skies and silently praying that the weather would turn out great. There was still no sign of rain and that was a good thing.
At almost six in the morning, the skies lightened and we were all delighted upon seeing Mr. Sun's rays penetrating through the clouds. It was a miracle sight that we all rejoiced and we were glad about it. We then have realized the power of prayer! Indeed a miracle happened, after a week of rain, the sun showed magnificently.
At Maya Port
Arriving at Maya Port, we were dropped by the van driver at the new Maya Port but later on he realized that he dropped us at a wrong place so he picked us up again and brought to the old Maya Port. There's a mini market in there so we bought some other supplies like gas for our grilling, some more packs of charcoal and even bought the sodas as well.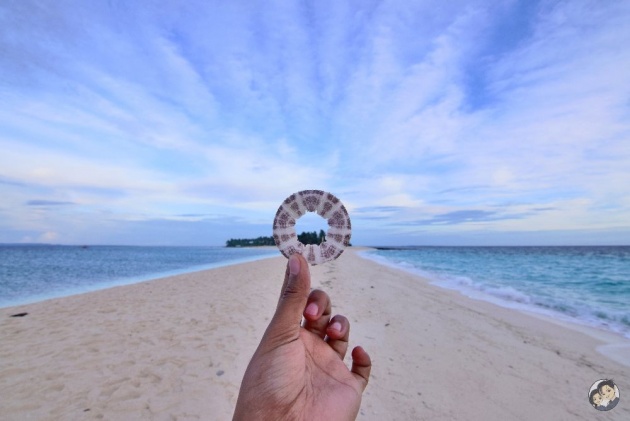 Took a photo of some sea creatures' remains while walking at the long sand bar. Photo is mine.
Then the mysteries occurred. The boat men asked us to pay additional fee so we can get to the boat which was just floating in the distance, it was low tide and the smaller boats are required. We were not informed by Mr. Emil, whom by the way we didn't met during the entire tour, he spoke to me via phone only. I told him we won't be paying anymore since he had already increased our package deal and he agreed, thankfully.
We got into these outrigger-less boats going to the bigger boat which will then take us to Kalanggaman. We were all set and the boatmen told us we will be departing as soon as the in charge is on board. Shortly, he came and off we went.
Kalanggaman Island At Last
The water was not rough, just enough for us to travel without any fear. We spotted thousands of flying fish along the way which entertained us except for those who were sleeping. Of course picture taking here and there.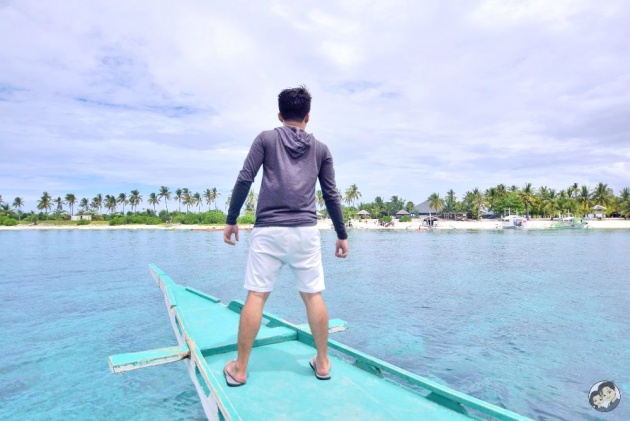 My Colleague Christopher poses while approaching the Island. Photo is mine.
Then, our most awaited moment came... Kalanggaman Island is already visible! The island's tropical trees were visible miles away and it got us all excited! After thirty minutes or so, we were able to see the white sand bar! It was sparkling from a distance and the presence of visitors are truly obvious.
The boat maneuvered and made a turn towards the Western part of the island. That made us experience a tour around the sand bar which by the way is a long and wide one too! Tourists flock at the end, taking selfies while others were flying their drones! Wish we had one too but none.
The view of the sand bar from the boat. Video is mine.
As we were getting closer to docking, we see the tortoise clear color of the waters. It was surreal! I had nothing but appreciation to the waters' beauty. However, getting closer to the island, moss and sea grasses are also visible which made a variation of water color, still beautiful though!
Upon docking, we looked for a spot to pitch our tents. We chose the one right in front of our boat and started pitching the tents. I filmed it into a timelapse which turned out cool.
What We Did
The tour included lunch so while waiting for our lunch to be served, we all enjoyed the water. It was amazing that although the sun was all out, the water was cold! So it was way better to stay in the waters than exposing ourselves to the scorching sun! But there were visitors who had also enjoyed sun bathing!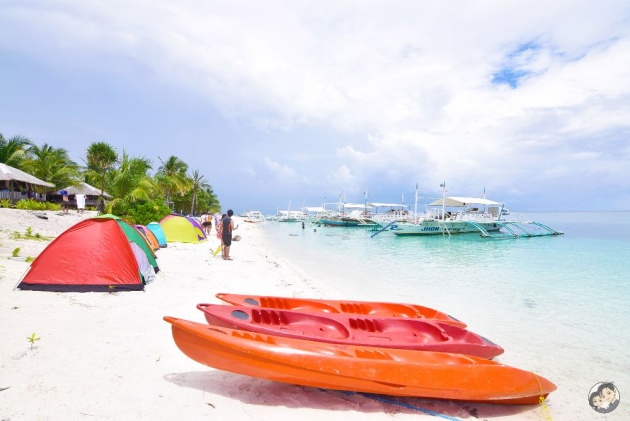 Our tents pitched just a few meters away from the waters. It was high tide this time. Photo is mine.
As lunch was served, we all flocked to the boat's table top and ate our hearts out. We were all hungry since we didn't eat since four in the morning, well we did eat a little bit in the morning but swimming makes our body hungry.
After lunch, some of the boys explored the island, there's a makeshift basketball ring at the center of the island, the boys played for awhile. There's also a volleyball court! Then we spotted the imprint of the island where we took group pictures with our company's tarpaulin.
We gained courage to go to the sand bar even if it was very hot. The sun was all out and walking in the sand was not so encouraging but we had to do so, all for the pictures! My colleague Carlos became a villain trying to attack the others. GIF is mine via Giphy.com
Jump shots, action, group, wacky - all of that we did and we can't get enough of it. However, because it was super sunny and we might burn our skin if we would stay longer, we had to stop and go back to the shady area. The whole afternoon, we had to just stay in the water. But alas! An icecream vendor came and we couldn't help but treat ourselves with their expensive ice cream, note that the commodities in the island costs triple than the ones in the city, but we were not complaining.
When the sun was not anymore that out, we made a diving spree video with my colleagues who were good divers, one of us served as a judge, scoring each one from 1-10 where ten is the highest score. Chris even made a back flip jump too while on of the others, King made a mess with his plank dive! But it was all fun.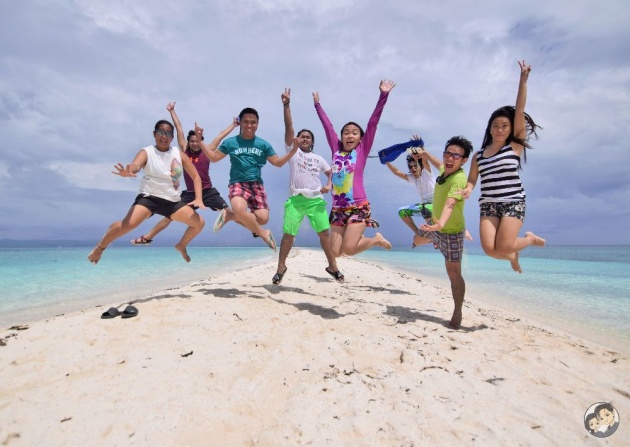 Super fun at the beach. Jumpshots would always be present. Photo is mine.
The night was spent singing and drinking. My colleague brought his guitar which made us all into concert kings and queens, all songs that we have in mind were sang and the guys drunk their all, bought more bottles at the island's store which costs a lot but they enjoyed so it was just worth it.
We also watched the million stars over our heads, it was all clear then the rain started but stopped after a few minutes, it was just sprinkles. Then I didn't realize I was already asleep.
The morning, James and I woke up early and tried to witness the sunrise but there was none, I somehow had the courage to go up to the end of the sand bar which was beautiful.
Then I went back to the boat and cooked breakfast for everyone, all of the drunk guys woke up late but we treated them with hot coffee so they could get back to their senses. Then we talked and talked and laughed out loud.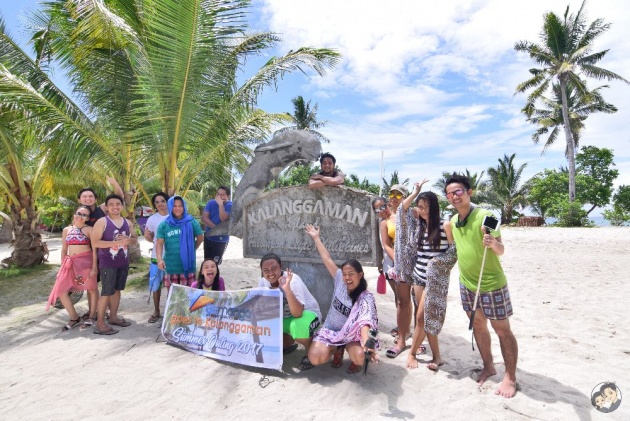 The entire Gemango Team. Photo is mine.
Kalanggaman Island is no doubt a beautiful one, a place which I recommend to everyone. It's worth visiting specially with friends along and colleagues too! The sunset and sunrise views would have been perfect if not for the cloudy weather but nonetheless, it would be a reason for us to go back.
Regards,
Jean Beltran-Figues
bitLanders user since 2015