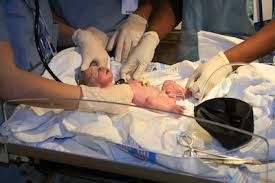 Congenital heart disease aka PJB is one disorder that accompanies children TORCH infection from their mothers while still in the womb. But not many parents who know the symptoms.
congenital heart disease, infants exposed to PJB
Heart specialist Dr Sardjito, Dr. Noormanto, SpA (K) describes the actual congenital heart defects can occur due to various risk factors, such as genetic conditions, derivative family, virus attacks such as TORCH, or as a result of the pattern of life of older people eg diabetes pathway mother, or drugs, alcohol and cigarettes consumed parents.
"What worries at Sardjito in the last four months was found there were 15 cases of Rubella syndrome with CHD. This research conducted by Dr. Herini (Dr. Dr. Elizabeth Herini SpA (K) period of late 2013-early 2014. To my knowledge only one case of rubella are not (with) congenital heart disease, "said Dr. Noormanto in the One Day Seminar 'Yuk Recognize characteristics Disorders TORCH in Children 'at the Academic Hospital UGM, Wednesday (02/04/2014). The seminar was held in cooperation with the UGM Academic Hospital community of Rubella-friendly house.
This means that the spread of infection TORCH no longer be underestimated, especially for pregnant women in Yogyakarta. As explained Prof. Dr. Sunartini Hapsara, SpA (K), Ph.D. previously, babies with TORCH usually do not show specific symptoms, as well as his mother. Usually only discovered after the child is born or grew a little older, even though the parents do not necessarily know the symptoms.
Dr. Noormanto added congenital heart defects, mainly due to the TORCH very diverse, it was divided into two types: that is not blue (non cyanosis) as VSD (Ventricular Septal Defect), ASD (Atrial Septal Defect), pulmonary stenosis and aortic stenosis, or narrowing of the heart and Patent; and blue (cyanosis) as TOF (Tetralogy of Fallot) and transposition of the Great Arteries (TGA).

"However, the most frequently found in patients with rubella is the PDA, in which each pumping blood to leak so that blood to the lungs so much more. That is why infants with congenital heart disease is usually easily tired or breathless, "said the specialist and consultant child's heart.
Signs of Congenital Heart Disease in Infants
Just because most infants with congenital heart disease do not have symptoms or asymptomatic, Dr. Noormanto requested that babies who show signs like these have to be considered further, among others:
1. Usually when breastfeeding is often stopped for short of breath
2. A cold sweat or pale
3. Frequent respiratory infections
4. Stunted growth
5. bluish skin, especially when the activity increases like crying
6. Sometimes the road for a while and then squat or stop (not able to move much in a long time)
7. From the examination seen rapid heart rate
8. blood flow murmur, although this condition usually can only be checked by a doctor.
Also Read: Effects of Malnutrition During Pregnancy
"When signs appear, then can be done ECG, chest, echocardiography, and cardiac catheterization or condition by inserting a small tube into the heart to determine whether the baby right heart abnormalities," said Dr. Noormanto.
n to reduce the burden on the heart, can also be done surgery or catheterization. It also can be used for closing holes in the heart, "