video credits: Warner Bros. Home Entertainment via Yotube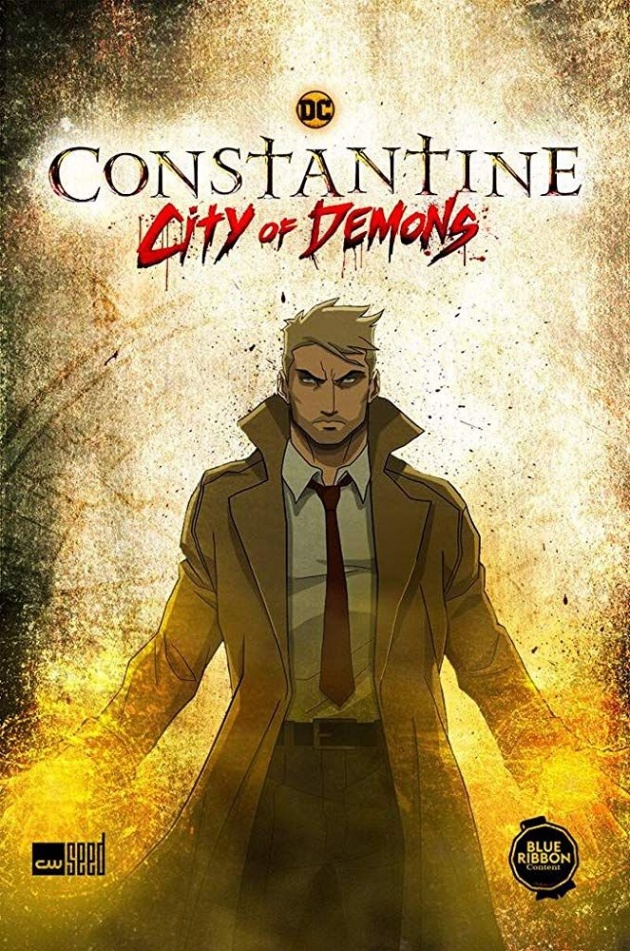 image credits: IMDB
Constantine City of Demons
Based on the Dc's original character came a Hellblazer with yet another breathtaking animation, Constantine city of demons. It is about another twisted tale of mystery, intrigue and occult scenes with John Constantine (The man who perfected the bad idea!). After all, that's all he has ever been good at, known for and has enjoyed setting the pace to all newcomers in the world of magic and mystery.
This is an R-rated movie which you will no doubt enjoy. As it features Constantine's old nemesis Nergal a villain literally from hell with the sole aim to make him relive a miserable memory which he would rather forget!
A little background check of the Character John Constantine
John Constantine is a fictional character by Dc's comic books. A professional sorcerer from Liverpool England and also an occult detective with bad smoking habits, a foul-mouthed antihero and a con man. This character was created by Alan Moore,Steve Bissette, John Totleben, Jamie Delano and John Ridgway. John Constantine is a cynic and a humanitarian, among his many flaws, these attributes best describe him.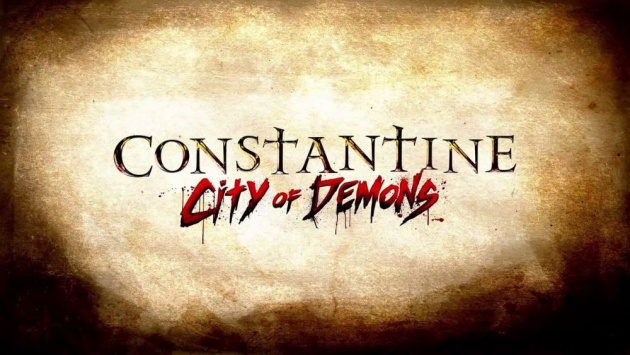 image credits: IMDB
Although over the years, Matt Ryan has taken up the character of John Constantine in the big screen since 2015 in the series Constantine, Keanu Reeves once did a great job by playing John Constantine so well in the 2005 movie. Although, we hoped for a sequel, but we never get to see one.
The Short Story of The Movie
The occult detector woke up from a nightmare in his room in London to find little John Constantine demons called materialized psychism (said by one of the demons when asked by John Constantine what they were). Soon John realizes that someone has open the doors between the conscious and sub-conscious mind to let his inner demons out.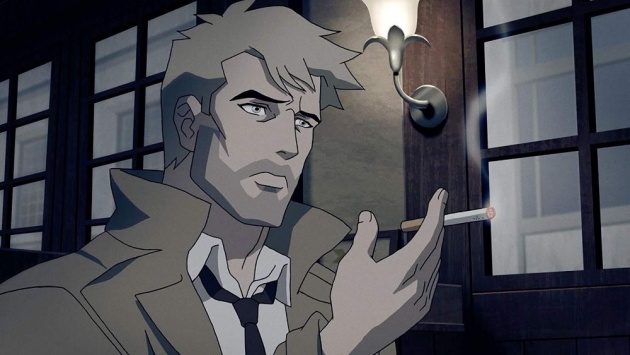 image credits: IMDB
John retrieves all his inner demons back into his mind and just then he heard a knock on his door. It was his old mate-Chas (voiced by Damian O'Hare ) paying him a visit. Chas and John sat in a bar and were reminiscing when Chas told John that his daughter Trish is in a coma. Chas told John that he has been around him far too long to know to smell the sting of dark magic and for that reason, he needs John to look into his daughter coma case.
As always the demon detector put his skills set into use when he calls the nightmare nurse to examine the patient only to find out the girl's soul is not in her body but with a demon named Beroul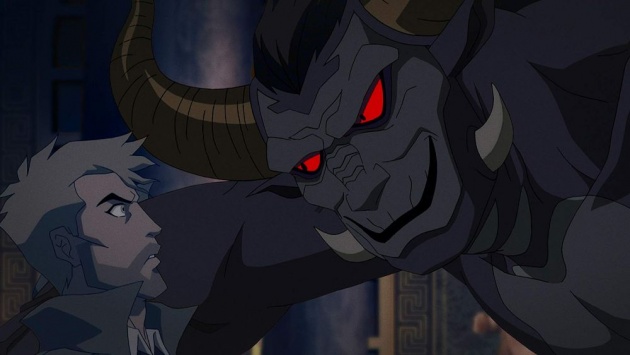 image credits: IMDB
It turns out that Beroul is john's old nemesis, the demon named Nergal. The demon responsible for making John Constantine's life miserable in the past Nergal! Nargal took the soul Chas' daughter in order to employ the services of John Constantine to get rid of his competitions in Los Angeles.
Will we see another Constantine movie? I will not be surprised. We will see how things will go on. Because I'm sure, a lot of people around the world love animated movies as I do.
The Content of the Movie
Although it's an animated movie, I think the movie is great, it is not a sequel or a remake. It has its own storyline that stands out from Justice League Dark or the movie from 2005 Constantine.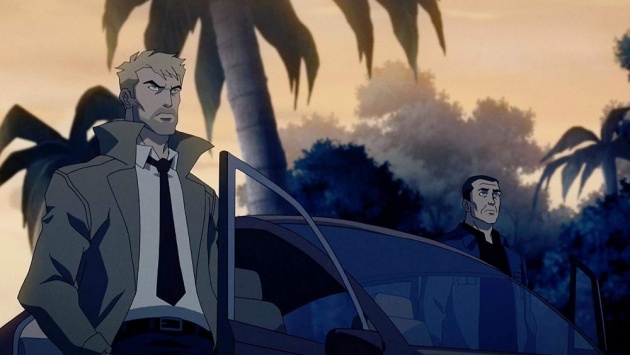 image credits: IMDB
The animated movie brings the character John Constantine into the limelight of magic, mystery, demons and angels. And if we wish to argue it or not, Matt Ryan seems to adapt and fully synchronizes with the character John Constantine and is doing a wonderful job at it.
As it may seem, Dc is riding on a Golden Goose. So saying that Matt Ryan is voicing John Constantine for the last time, would be farther from the truth.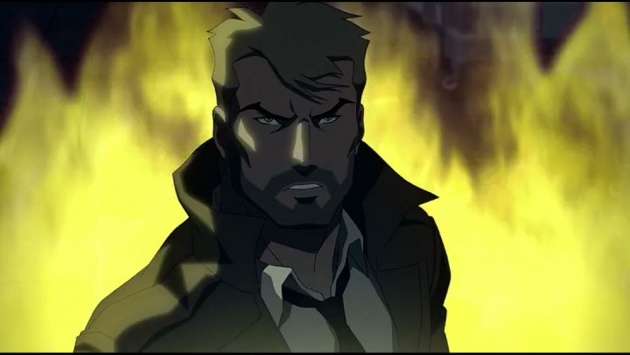 image credits: Docxdrl via Bitlanders
Constantine city of demons is a story of compelling. Nargal who initially took Astra Logue to hell because John is naïve and ignorant of the operations of demons on the human plane, came back to his life again to make him do his biddings. Nargal has personally made Los Angeles (the city of Angels ) his playground and his home (1247 Enstrom LA) a small hell.
enjoy a Querlo Chat:
This, however, does not sit well with Los Angeles/Angela as she has failed her people many times over and she's not ready to fail them anymore. It is a complete twist of events, as both heroes and villains use one another to achieve their goals.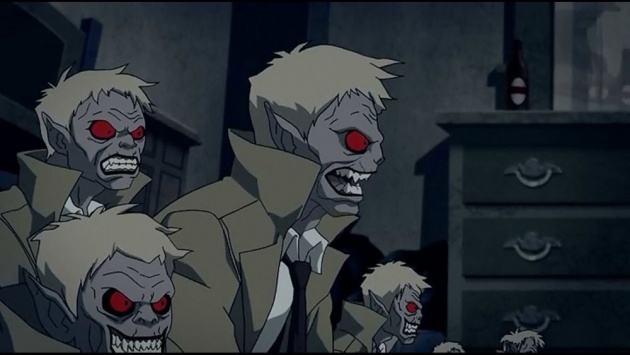 Image credits: Docxdrl via Bitlanders
The animated movies go without saying, when John is brought into any mix, there is no moral compass with the occult police, he only does what he feels or thinks may save his neck in the process.
Furthermore, when dealing with John Constantine there no humour but one cannot help but laugh as certain scenes unfold. The movie Constantine: City of demons kept the atmosphere full of unexpected turns and twist as you take a walk down the dark side.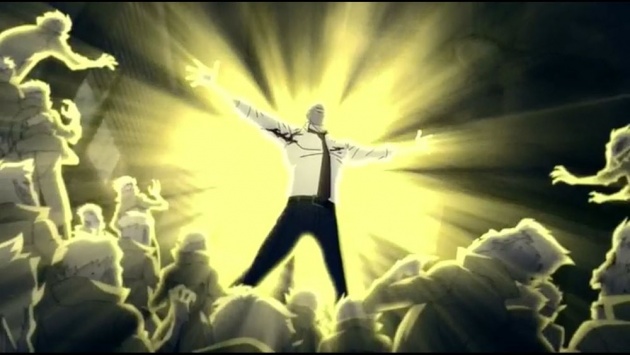 image credits: Docxdrl via Bitlanders
When it comes to casting, I think a good job was done taking us back memory lane to show to us what really happened in Newcastle back when John Constantine was young and dumb which moulded him into a cynic and an antihero.
My Verdict on Constantine: City Of Demons
In months past, Matt Ryan proves once again to have embodied the character, John Constantine. This, however, means we will see more of Matt Ryan playing John Constantine in the near future.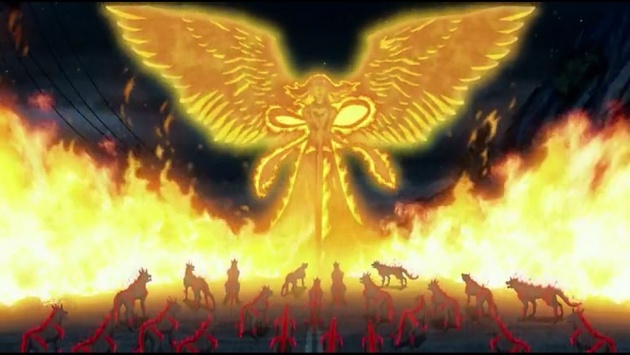 image credits: Docxdrl via Bitlanders
Although the character can't be without its many flaws, Matt Ryan has shown that when he acts he can put smiles on the faces of his fans and those of Constantine's. The movie remains faithful to it comics, with the addition of few scenes and action to make the animated movie better. This is clear ingenuity to keep the audience glued to the screen for a full movie runtime. Although I wish to see John casting more spells in Constantine, I can live with the directing by Doug Murphy
I can't help but give this movie a rating of 5/5. Although am a fan of Matt Ryan and John Constantine, so, when it's time to give kudos, I do so with pride!
you can as well enjoy a taste of what to expect in Constantine: City of Demons
video credits: Warner Bros. TV via Youtube