Conti's Bakeshop and Restaurant at Robinson's Magnolia, Phiippines
I consider Robinson's Magnolia to be a somewhat posh mall, although I notice there are mall goers from all walks of life. We've dined here before and from each visit, we had a pleasant experience, so there was a general consensus we'd dine in the said mall for my aunt's birthday. My cousin had Conti's Restaurant in mind; she wouldn't say no for an answer, so off we went.
We have eaten food from Conti's as well, experiencing the cool feature of online ordering and delivery from their store. but it was my first time (and first time with family) to eat at one of the branches, not just savoring their food from the comforts of home.
About Conti's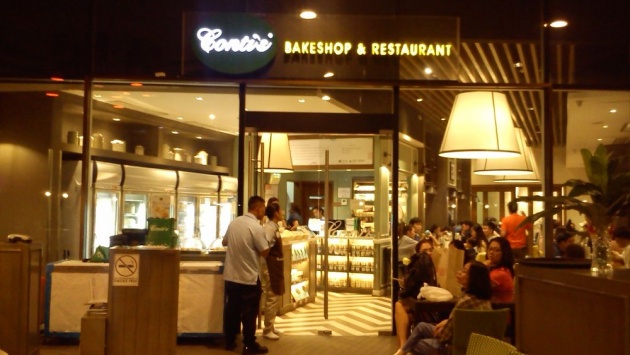 Photo credit: lapiz-lazuli
The sister trio—Cecille Maranon, Carole Sumulong and Angie Martinez—is the brainchild behind Conti's Bakeshop and restaurant. Their sole purpose was to serve food and innovate tried and tested recipes that would remind diners about eating at home.
Their first opening happened in Parañaque around 1997 to a select few (families and friends). Since then, they've grown and were known through positive word of mouth and now has about 20 branches nationwide.
Conti's Restaurant not only brings joy to their guests' palates but also brings their exemplary culinary repute to cater to around 10 communities.
For more information, visit: http://www.contis.ph/shop/our-story.
Conti's Ambience
Conti's Restaurant was located on the outskirts of the mall so it had chairs and tables in an open space. The outside space was roomy but hot and sweaty. The rattan chairs and tables were comfortable enough. There was a line of chairs next to the receptionist's podium, a waiting area in case the diner was full and you need to wait for your turn.
Video credit:
lapiz-lazuli
The overall look and vibe inside this Conti's branch was like dining in a modern tea house or cafe. Differently designed plates were plastered side by side, acting as the decor rather than a painting. There were vases and canisters too, on the shelves along walls.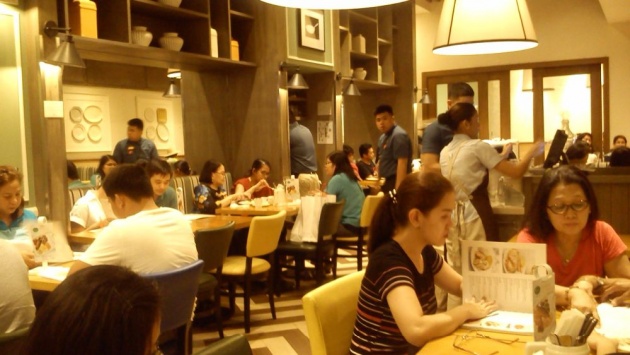 Photo credit: lapiz-lazuli
The chairs inside were foamed and on the other side of these standalone chairs were long sofas serving as seats. Chairs were a little small but they are still comfy. The place was really small and a bit crowded, but you can still have quality time (generally) especially with your group because of the food and service.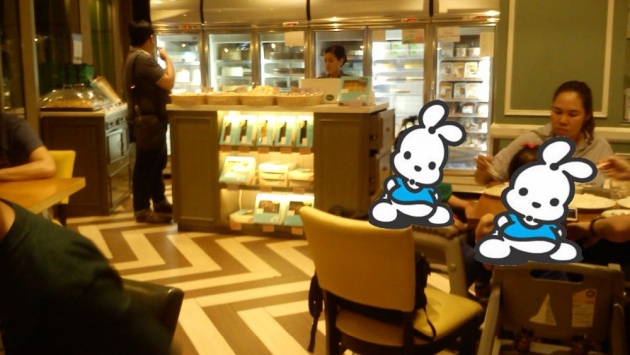 The Bakeshop. Photo credit: lapiz-lazuli
There's a mini bakeshop store when you enter the restaurant and the prices are displayed next to the baked goodies.
Conti's Food
Their food choices were mostly western, but there were also Filipino dishes. I kind of noticed that they really love cream-based sauces in their food. What I found disheartening was their portion sizes: it's small. However, even though it was, I was still full afterwards, I can't barely eat dessert.
Video credit:
lapiz-lazuli
Mango Royal Salad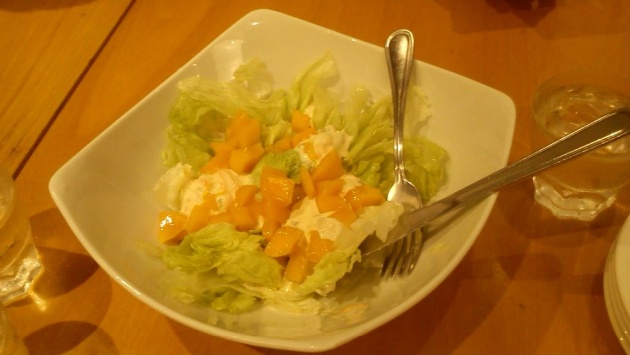 Photo credit: lapiz-lazuli
From the looks of it, it wasn't very appetizing because it was lacking color. Even though it is quite short on the outside character, its taste was still passable. I only got to literally taste very few bites because it was shared by 8 people. I think 3 people will really appreciate one serving of Mango Royal Salad.
As for the taste, it was really just so-so. The mango they used was a sweet though, so there was a good balance between the sourness of the cream-based dressing and the sweetness of the fruit. As for the greens, it was crispy but a bit cold for my liking.
Lechon Kawali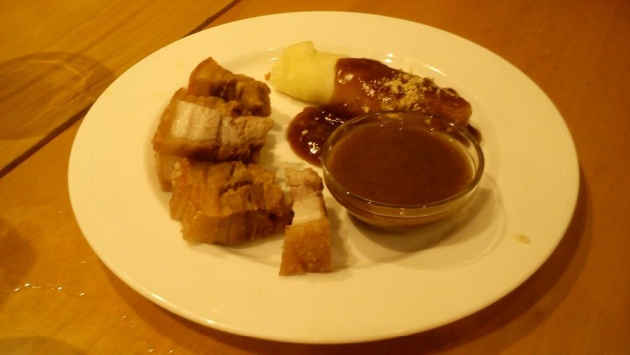 Photo credit: lapiz-lazuli
Lechon Kawali literally means Roasted Pork Wok. Conti's version of this delectable treat was a little dry. Don't get me wrong, it still oozed with juice when bit, but compared to others' cooking, theirs was lemming on the dry side. The outer layer was very crunchy though. I find it weird because I still liked this dish, probably because of the sauce.
As for the Lumpiang Sariwa (raw vegetable spring roll) that came with it, it was also OK. The sauce was sweet and peanut toppings were a bit crunchy.
Grilled Porkchop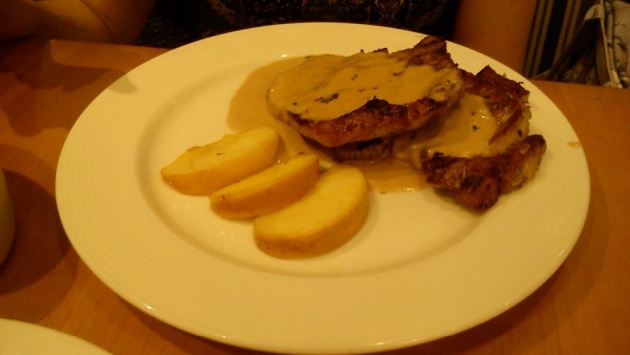 Photo credit: lapiz-lazuli
The crispiness of the glazed apple plus its sweetness, and the charred outer layer of the pork with its creamy sauce came together in this delightful serving. Adding to it is half cup of garlic rice that is sure to fill your belly.
Now what do I thought of this dish, other than it was my sister's order? For one, I was really amused that when dining at Conti's, (most of the time) the protein to carbohydrate ratio is 2:1-1.5. Second, I find their combination of food odd but it works. When your tongue is beat by the hot meat, it will be soothed by the cold and tangy sides. My one issue with the Grilled Porkchop was that the meat wasn't soft to munch at all.
Parmesan Fish Fillet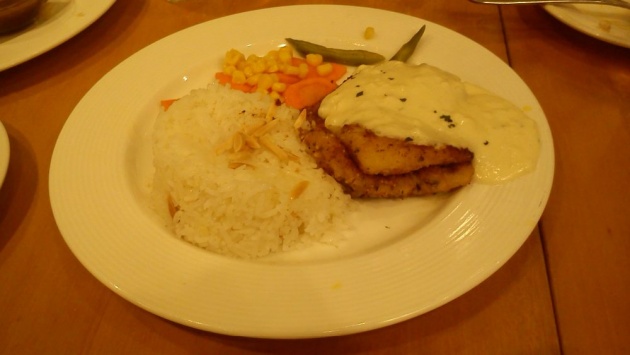 Photo credit: lapiz-lazuli
I actually wanted to say that I enjoyed their Parmesan Fish Fillet more than their famous signature Baked Salmon. It has greater character than the latter, although I suspect that they used Dory's flesh, which has a chunkful of toxins. Anyway, this was my mom's so I only tasted it and not really feasted on it.
The flesh was soft, and although it looked burnt, it didn't taste charred. The sides were crispy and I think it was a good combination for the Parmesan-laden fillet. There was nothing really special about the rice, but I think you can eat it alone because it is flavorful enough.
Conti's Baked Salmon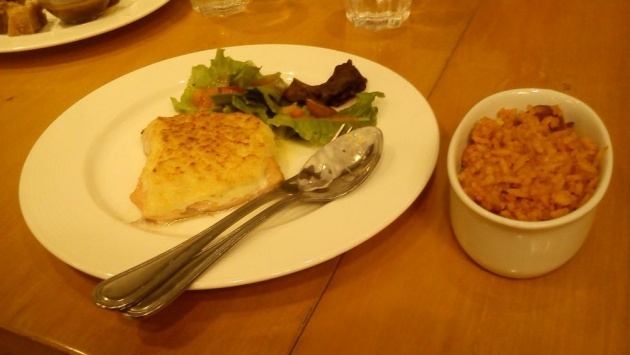 Photo credit: lapiz-lazuli
I don't know why I ordered this one because I apparently only remember the tangy mayonnaise of this dish which you can taste in other meals. I honestly can't fathom its hype, but I think it has to do with how the salmon was baked. Sans the sauce (or with a different sauce), I think it would fare better, but I'm only a intermittent foodie and I don't know stuff about culinary arts.
The paella rice and mini salad that came with the baked salmon were good, but I really thought that this set was for western taste, not for oriental eaters because the rice only acted as a side dish to the main dish. It was really lacking on rice, but Asians can enjoy Baked Salmon more if paired with extra rice.
Mango Bravo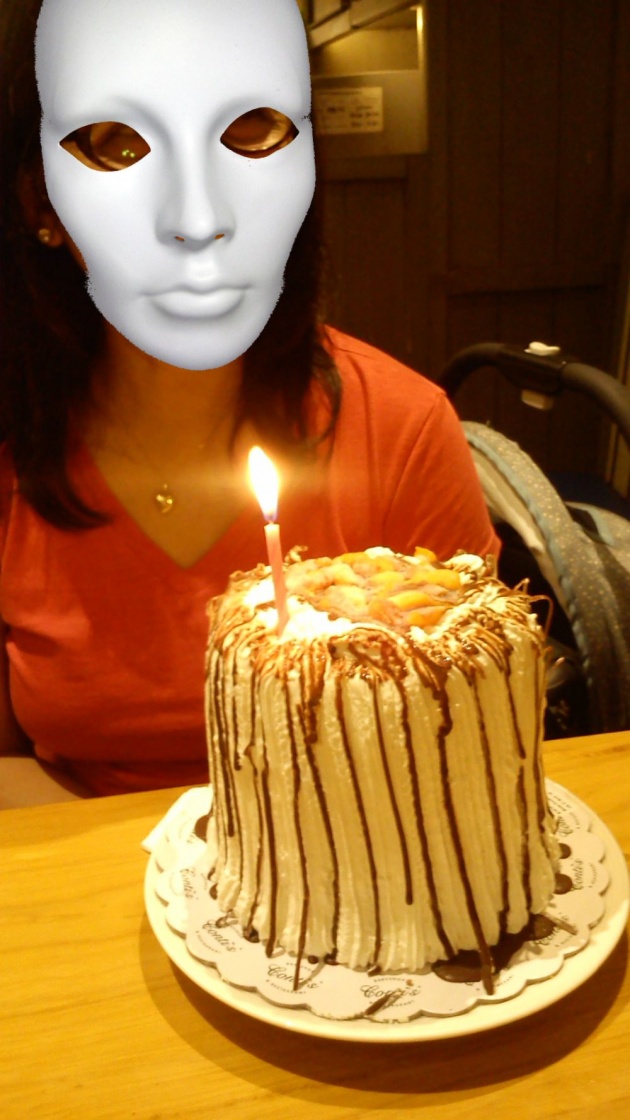 Photo credit: lapiz-lazuli
Tall and looks scrumptious, Conti's Mango Bravo is really decadent and filling. No wonder, it is the most popular item in their bakeshop. Sweet, diced mangoes are seen atop the cake and from several sans rival layers inside. It's hard to have a slice of this dessert because it might collapse anytime because of its steepness and temperature-sensitive icing. Add to that, a touch of drooping chocolate to seal its sweet fate. What more can I say? Bravo!
Conti's Staff
Their staff was nice and approachable. We asked for a birthday special treat and they handed us another cake with my aunt's name using their chocolate icing. We also requested extra utensils and they politely gave us some. As far as I can remember, they were the one to follow up our orders.
They also gave us a survey form to fill out: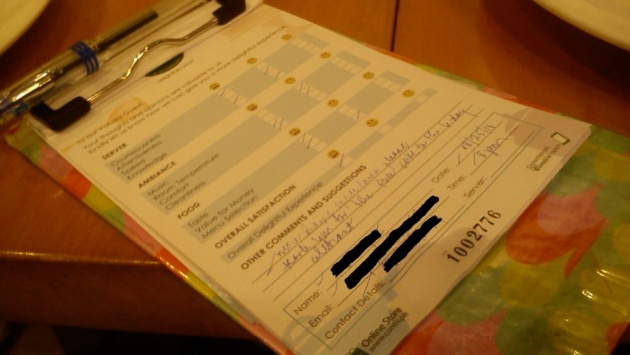 Photo credit: lapiz-lazuli
I was happy with my overall experience at Conti's Bakeshop and Restaurant, Robinson's Magnolia branch!
Disclaimer: pictures, videos and write up are originally shot/written by lapiz-lazuli, unless otherwise stated. Views and opinions on this blog post are truthful, but subjective, and are not influenced by sponsorship of any sort.