SAMPELOT: Ginataan Bilo-Bilo (Sticky Rice Balls in Coconut Milk)
"Sampelot" is a popular Kapampangan afternoon snack or breakfast in Pampanga. You are not a true blood Kapampangan if you never had tried to eat this. Sometimes this is also served as dessert.
More known as "Ginataang Bilo-Bilo in Tagalog, Sampelot is made of glutinous or sticky rice balls, kamote (sweet potatoes) or ube, saba (plantain bananas), small and big sago (tapioca pearls) cooked in gata (coconut milk). You can also add langka (jackfuit) if it is in season and available to add more flavor.
If you also want to make it more luscious-looking, you can add food coloring to the sticky rice balls.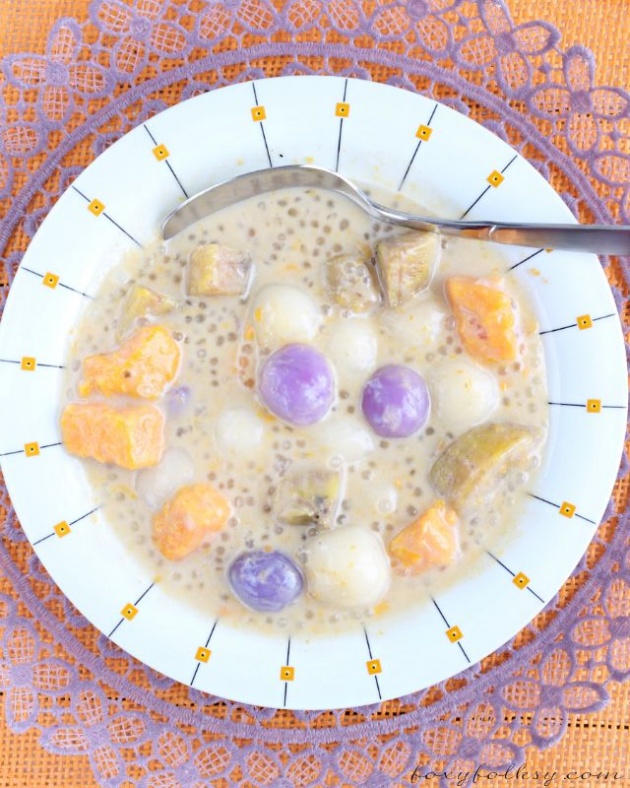 (credit to the owner of the photo: foxyfolksy.com)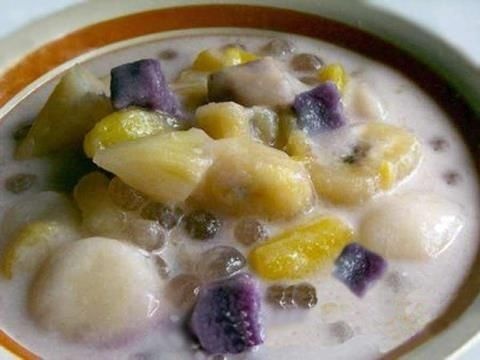 Ingredients:
2 cups glutinous rice flour
3 cups water
2 cups coconut cream/milk
¾ cup granulated white sugar
1½ cups tapioca pearls
kamote (sweet potatoes) or ube (yam)
saba or bananas
food coloring (pink or green)
optional: shreded ripe langka
Instructions:
Prepare the sticky rice balls by adding 1 cup of water to 2 cups glutinous rice flour. Mix with a fork or hands until it forms a dough (add food coloring if you like). Scoop about half a spoon of the dough and form them into balls using your palms. Cover prepared balls with cloth until ready to use.
In a pot, combine 2 cups water, coconut milk and sugar and bring to boil. Add the sweet potato cubes and cook for about 5 minutes stirring occasionally. Next add the plantain banana cubes and cook for about 3-5 minutes.
Once the sweet potatoes and bananas are almost cooked, add the sticky rice balls one at a time and let simmer until they are cooked (about 5-8 minutes) while stirring occasionally. You know the sticky balls are done when they are floating.
Add the cooked tapioca pearls and the langka. Let simmer for another 3-5 minutes or until all fruits are tender and cooked.
Can be serve hot or cold.
Happy eating!