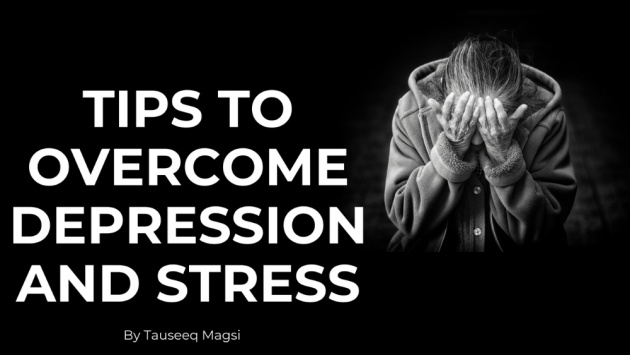 Image Edited in Canva Credits: Tauseeq Magsi Via Bitlander's Gallery
Life is about happiness and sorrows, pain and peace, love and hate. What do I mean to say, life is all about emotions. When we are happy, we find ourselves flying in the air and everything around us seems to be dancing. When we are sad, the world seems to be a prison for us. Sometimes, people can cop up with their sadness and sorrow and sometimes not. Similarly, some people can handle the painful moments with great expertise and some people cannot and those who cannot fall into depression and stress. When you fall into depression, stress, and anxiety, you may appear to be living but you are dead inside. This article is for those people who are always depressed and stressed due to the hardships of life or whatever had happened to them because in this article, I am going to tell all the depressed and stressed people that how they can cop up with their stress, depression, and anxiety and live their lives in a full bloom. So, if you wanted to know the secret of happy life besides all of the troubles and struggles in your life, then continue reading this article which I am going to start without wasting any time.
What is Depression?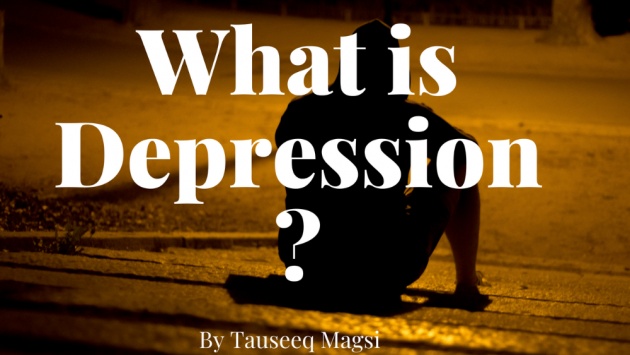 Image Edited in Canva Credits: Tauseeq Magsi Via Bitlander's Gallery
Depression is a type of disorder which is caused by excessive sadness, pain, loss of interest in joyful things, low motivation and feelings of loneliness. This is the definition which I know. Let Wikipedia define depression
Depression is a state of low mood and aversion to activity that can affect a person's thoughts, behavior, tendencies, feelings, and sense of well-being.

Source: Wikipedia
Life cannot be a bed of roses. Life has been always a bumpy ride for all of us. Having sorrows and feelings of sadness is a normal thing in a response to adverse events which occur in our lives. Sometimes, such events cause you a great loss which you think in your mind that you will not be able to cop up with. Depression is a very common thing. Every one person out of three experiences a major depressed situation at some stage of their lives. Most of the times, most of the cases or scenarios are normal or mild. Only one person in ten faces severely depressed situation which may be due to the loss of someone whom you loved a lot, the work of your life or any kind of severe failure. Sooner or later, you become the victim of depression and stress no matter what the reasons you have because the story of every person is different so the causes of depression could be different too.
Let us discuss some signs of depression
What are the Signs of Depression?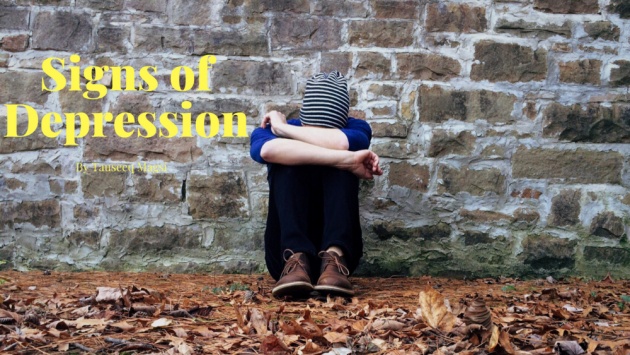 Image Edited in Canva Credits: Tauseeq Magsi Via Bitlander's Gallery
There are many signs of depression and all of them are difficult to write in a single article. Therefore, I am writing some major signs of depression which almost everyone feels or everyone can see when someone is depressed. You can also see these signs in yourself to determine either you are depressed or not.
1. Loss of interest in daily routine or usual activates. You might lose your pleasure in performing usual activities which you do in your daily routine work.
2. You feel the feelings of miserable. You feel poor and weak and this feeling remains in you much of the day and if you do not cop up with, it may vary in its intensity, most of the times, it increases. These feelings of miserable last for weeks
3. You think to kill yourself. It is my own rough idea that when you do not come up with the solution to your problem whenever you are depressed, you think to end up yourself. Your mind tells you that you should die because you cannot do this thing or that thing or you cannot live like that etc.
4. Your mind is filled with the negative thoughts most of the times. Particularly, the thoughts about being guilty, being a bad person and being an unworthy person to the society, parents or your loved ones.
5. Your concentration is diverted and your thinking is inefficient which leads you to difficulties in sorting out problems or making decisions in particular parts of your life.
6. You lose your energy and you do not look physically active.
7. You lose your appetite which leads you to loss of weight.
8. Loss of interest in having sex with your partner.
9. All the day you feel exhausted and yet you cannot sleep.
10. Your speech gets slow and your activity gets retarded.
These 10 symptoms are the most common when you are depressed. If any of the 5 signs are appearing in someone or in you then you are depressed and you need to overcome this depression.
How can you overcome depression and stress or what are the tips to overcome Depression and Stress? This is my next section which I have discussed below.
Tips to Overcome Depression and Stress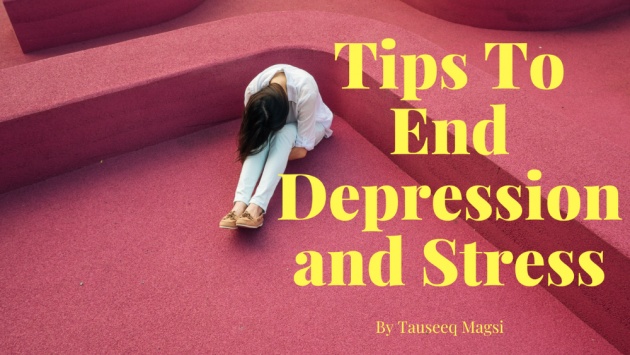 Image Edited in Canva Credits: Tauseeq Magsi Via Bitlander's Gallery
If you are depressed, then it will definitely make you feel helpless. Sometimes, you take some sort of medicines and drugs to release that stress which seems a bad idea to me because you can do a lot on your own and fight back. If you do not know how to cop up with, then I am here for this service and I have written below some tips which you can adapt to release stress and overcome the depression.
1. Get in a Routine
If you are stressed, then definitely you need a routine to follow. No matter whatever the situation you have gone through, you should make it clear that you should not be quitting your routine because your routine is the first step which you take to come out of the depressed and stressed situation. Depression can destroy the structure from your life. If are not able to follow your routine completely, then take baby steps and set a gentle daily schedule which helps you to get back on the track.
2. Stay in Touch and be More Active
Do not withdraw from your life suddenly. Stay in touch with the people of your life circle because socializing improves your mood. When you got in touch with the society, you hear stories from other people and you forget about your depression and you feel alive. Be more active by taking some exercise because workout can lift your mood nicely. Whatever is in your inside gets out when you do some workout.
Image Credits: https://www.allindiablogging.in
3. Healthy Diet and Sleep
Never ever stop eating your daily routine diet. Instead, when depression struck you, eat a healthy diet and get proper sleep because this will make your body energetic from the inside and you will feel strong. When you feel strong, optimism would thrive through you.
Image Credits: http://misterknuckles.com
4. Take on responsibility and Challenge Negative Thoughts
Giving up your responsibilities not only gets you to trouble but also the people who depend on you and love you and care for you. Therefore, take on responsibility and challenge the negative thoughts in a way that you become a new person full of hope and desire. A new you should be more loving and be caring for the people around you.
Image Credits: http://www.wrightwayfit.com
5. Do things that make you feel good
It is a human nature that a person enjoys that kind of things which he loves to do. In a more precise term, we call it a hobby. Whatever your hobby is, do it more when you are depressed because it is one of the best tips to overcome depression and stress.
6. Professional Help for Depression
This should be the last step which you should take. If you have taken all the steps to help yourself through depression and still it is not working then it is time to seek professional help. This does not mean that you are weak, you are just unable to get rid of the disease on your own and now you wanted to have a proper treatment from a doctor. Just see your personal physician and ask him/her to help you to get through this depression. Keep one thing in mind, do not let yourself depressed or stressed for a long time because it could make your mind worse or even take your life or the life of others at your hands.
Image Credits: https://psychologenie.com
I would like to end my blog with a video which will explain more about my topic and gives you furthermore idea about depression, its consequences, causes, effect, and treatments.
Video Credits: Shemaroo Good Health 24/7 via www.youtube.com
************************************************************************************************************************
All rights are reserved for Tauseeq Magsi written for Bitlanders.
Click to see my other Blog Posts.
Click on Facebook to contact me.
Click on Youtube to see my channel.