A little preview of the safari park. Video credit: Jean Beltran-Figues via bitLanders.com
Previously, I have blogged about our Coron Adventure last April. This island composed of more than 200 islets, white sand beaches, ship wrecks and adventure wild life parks. Because of the number of places to check out, a few days stay won't be enough but being there does makes it also possible to enjoy these places in a short time. We did a four days three nights stay in the island and made sure that we would be able to check the famous areas to make this trip an ultimate one.
On our first day, we stayed at land and explore the town. We climbed the stairs of Mount Tapyas and witness sunset from there. The second day was spent on island hopping. You can check the previous blogs here:
On our third day, we all agreed that we will visit a unique experience at the Calauit Wildlife Park together with the animals which are not the usual sight in other zoos in the Philippines. Here goes the story: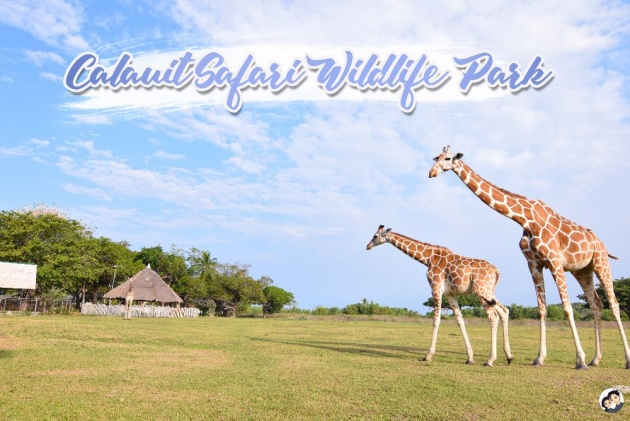 Calauit Safari Wildlife Park. Photo credits: Jean Beltran-Figues via bitLanders.com
I finally found an agency which offers a cheaper rate compared to the rest of the agencies which we have inquired. Php 2400 per head for the whole day tour in Calauit and Busuanga. The tour includes the following:
We only thought of the Calauit Wildlife Park Tour but since they also include another kind of island hopping, we somehow agreed that we should also check it out.
The cashier whom I have communicated the entire time about the tour had willingly went to our apartment at the Patrik and Tezz Guesthouse and we transacted there to finalize everything. After paying the full amount, the deal was good and we were set for the said tour the next day.
▪
Early Breakfast

▪

Call time on the day of the tour was at four in the morning. The tour guide was on time and we were already in the vehicle at exactly four in the early morning. It was a good start compared to the previous day where the tour guides were a bit late. Then the vehicle was also nice, it has an entertainment monitor which entertained us while on the road.

We reached a specific town in Busuanga and the driver made a stop at a restaurant of which has a rustic native theme. It served us our breakfast which was included with the tour.

We were served with fried fish, sunny side up and free coffee too which was helpful to kick our energies up. After breakfast, we went back on road and even if we had coffee, we couldn't resist but sleep. Good thing that the road was already cemented and so the trip was smooth.

Actually the reason why we took up a tour instead of renting a motorbike was because of the blogs which I have read stating that the road was super rough and rocky that it adds to the longer travel time. But this time, it seems there wasn't any issue with the road anymore.
▪
Boat from Busuanga to Calauit Island

▪

After two hours the van made a stop at a dead end and the driver declared we had reached the location. All of us went down bringing our stuffs with us, GoPro, digital cameras, tripods and other gadgets for taking photos.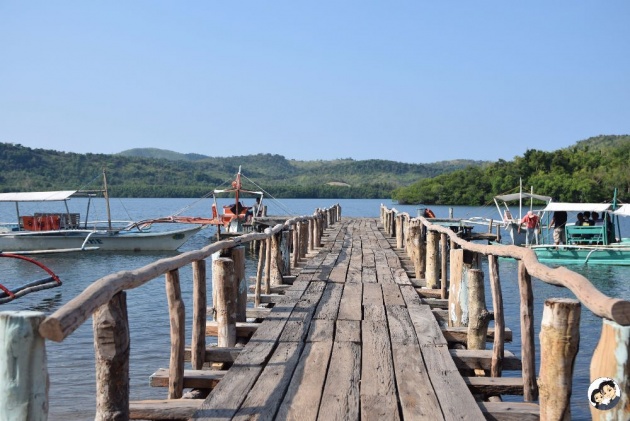 The wooden port of Calauit Island. Photo credits: Jean Beltran-Figues via bitLanders.com
By the time we were down, we realized we were not yet at the location. Calauit Island was still at the distant. Calauit Island is part of Busuanga but it is an island which has been transformed into a wildlife park itself by the late President Ferdinand Marcos.
From Africa, the animals like Giraffe and Zebras were transported to Calauit Island during the the 1970s. The aim was supposedly to save these exotic animals from extinction. This is an entire island used up mainly for these animals with the entire villager and settlers of the island moved to Busuanga to free up the entire island for the coming animals.
From the little port, we can see the island. An motorboat was also docked and was waiting for us. The ride was just a few minutes, around five to ten minutes including the boarding and un-boarding. We were the first visitors and that was good news as it means we can have photos without photo bombers!
▪
A Glimpse of Safari

▪

Registration was needed upon arrival at the island. A local guide welcomed us as well and showed us the way towards the main spot where the gazebos and shelters were available. There were old or vintage jeepneys available outside the welcome area but it was not available for ride so we have to walk towards the park.

The video above shows the animals in the Calauit Safari Wildlife Park.Video credit: Jean Beltran-Figues via bitLanders.com

While on the way, the local guide was giving us brief information about the animals. We learned that there were originally 20 giraffes, along with dozens of zebra and antelope (impala, gazelle, bushbuck, eland, waterbuck, and tobi) were shipped from Africa but these ones had already died and the ones at the island were all born in Calauit. Calauit Safari Park is almost 3800 hectares and currently, 24 giraffes, 38 zebras, and around 1000 Calamian deer on the island today. Calamian deer are local deers which are only available in the Philippines. Unfortunately, the Antelopes had all died out. So basically, all animals here are all Filipino, each of them were named after their sponsors.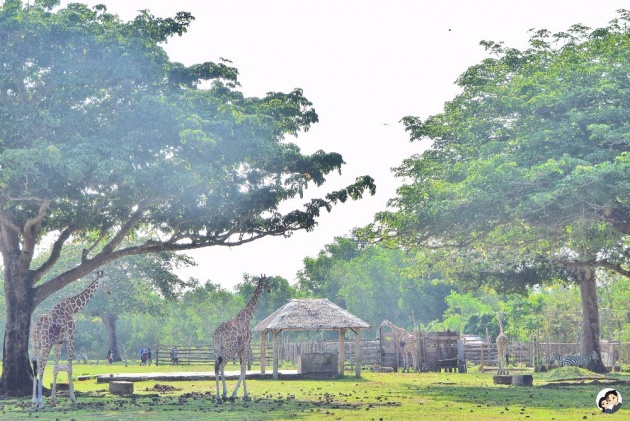 Giraffes walking towards the fenced feeding area. Photo credits: Jean Beltran-Figues via bitLanders.com
There were one named after Noli De Castro, Kuya Kim Atienza and others. Aside from the freed animals which roam the entire island, there were also animals which were caged such as four Philippine crocodiles, three porcupines, two pythons, a civet cat, a wild boar, a sea gull, and a number of tortoises. The baby giraffes are also caged to ensure that they are safe until they are mature enough to go around the island.
▪ Upclose with the Giraffes, Zebras and Calamian Deers ▪
A local worker banged the gong a few times and just a few minutes while we were still on our way to the shaded trees, we have already spotted two long-necked animals referred as Giraffes walking towards us.
The tour guide said these animals are already used to the sound of the gong, it somehow signifies breakfast time for them. Unfortunately, they need to be fed as the island somehow lacks specific trees and leaves needed for their diet.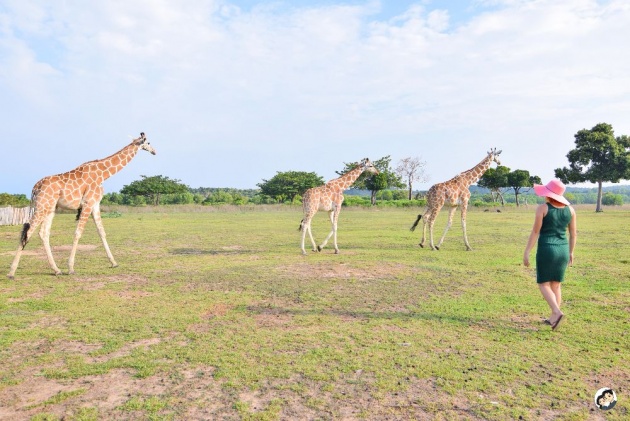 Gecell, my sister in law walking with the Giraffes. Photo credits: Jean Beltran-Figues via bitLanders.com
Giraffes are graceful animals, they walk slowly and gracefully both male and female. They can't go backwards so they can only move forward but they have strong behind legs that they used for fighting or attacking. If frightened, they can kick you from behind and you might not be able to wake up afterwards. They are strong but also weak at the same time. Weak in a sense that they are not able to help themselves if they get wounded, and the bad news is that they easily get wounded when they roam around and they pass by any sharp trees like bamboos, once they get a cut, the local workers need to treat it immediately as the wound might become worse.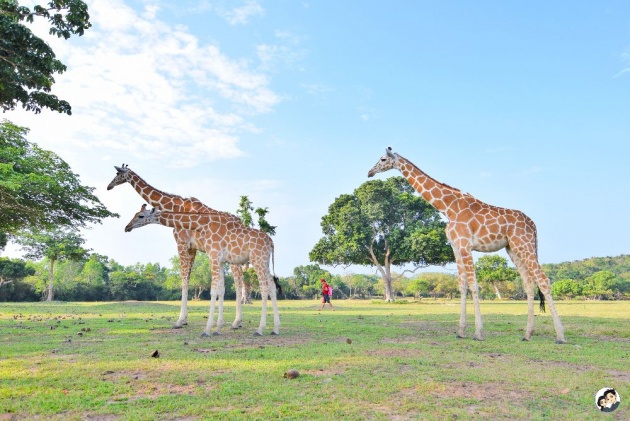 James from a distance, he looked really small between the legs of the giraffes. Photo credits: Jean Beltran-Figues via bitLanders.com
Zebras on the other hand are more lively and more active compared to the Giraffes. Just like the giraffes, they have the tendency of kicking when they felt they are in danger. It becomes their defense mechanism. Aside from that, they bite too! So we have to be careful not to come very close to them although they are already used to seeing humans walking around and feeding them, they still have their animal nature of defending themselves if they feel like they are in trouble. An estimated five meters distance should be observed when coming close to them to ensure that they won't be able to kick us in case the situation occurs.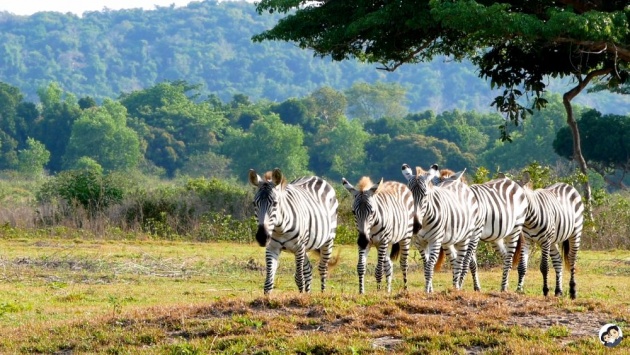 Zebras marching towards the feeding area. Photo credits: Jean Beltran-Figues via bitLanders.com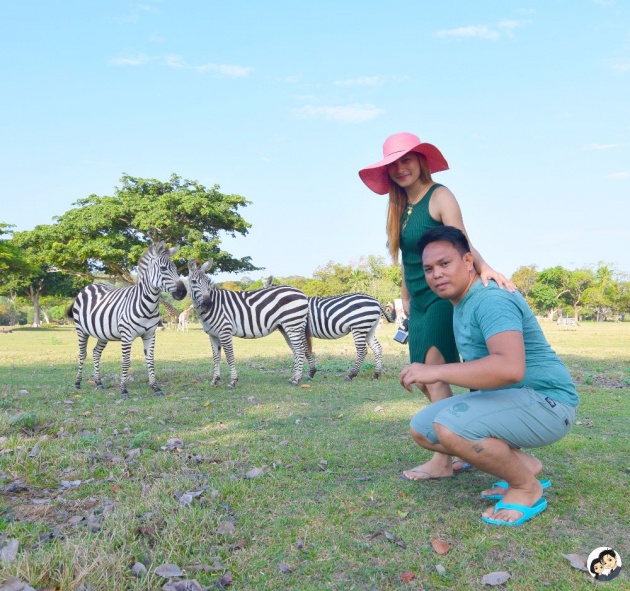 My brother and sister in law with the zebras. Photo credits: Jean Beltran-Figues via bitLanders.com
The Calamian Deers on the other hand are just distant animals. They multiply easily so there are lots of them in the island. They came a bit later but they just gets fed on grasses so they stay at a distant area, just observing the people around. The male ones have horns while the female ones don't. They seem calm and very nice but we didn't bother getting close to them.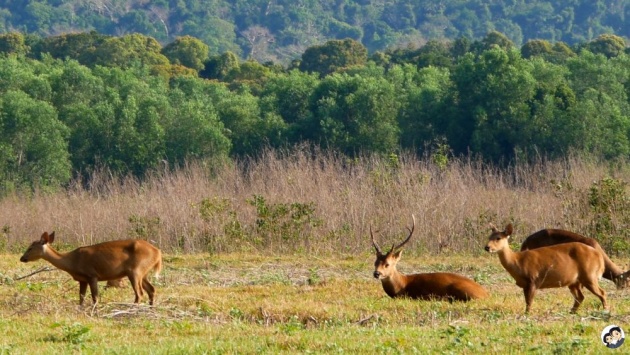 Calamian Deers are endemic to Calauit. Photo credits: Jean Beltran-Figues via bitLanders.com
▪ Feeding the Giraffes ▪
The island of Calauit has been surrounded by mangroves and Giraffes love its leaves locally called "Bakhawan". On our way up to the guarded gazebo where we will be feeding the Giraffes, I spotted one worker carrying a huge pack of these shrub leaves.
The giraffes saw the leaves and came towards the gazebo. We were then advised to try and feed them. I grabbed a handful of the mangroves and presented it to one of the three giraffes which came close. It was scary at first because of their long neck however, they seem nice but when it grabbed the leaves, it was definitely strong that I have to let go of it.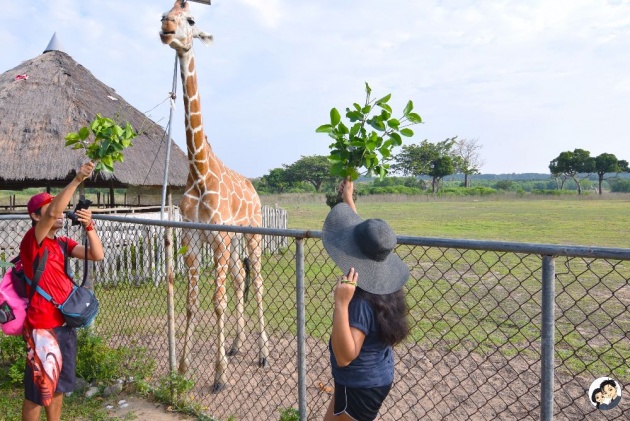 James and I feeding this giraffe. Photo credits: Jean Beltran-Figues via bitLanders.com
Amazingly, these giraffes have beautiful thick eyelashes. It looked like they have been wearing fake mascaras! Their tongue is also long that they use it to grab the leaves and definitely strong in pulling them. They only eat the leaves so the branches and the sticks are left alone and they spit them out.
It was fun actually but after learning that they are also being fed with artificial feeds because of the shortage of food, it became a sad truth that these animals are now deprived from their normal habitat and normal way of living.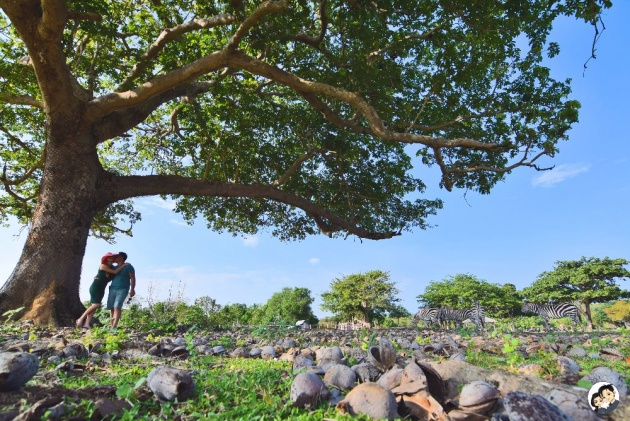 Jonas, my brother with his wife together with the zebras in a photo. Photo credits: Jean Beltran-Figues via bitLanders.com
We spent the entire time taking photos and videos of these animals. James had a great time with filming and we also consider this as a once in a lifetime experience. I believe I won't be able to go to Africa in my entire life so it is nice to have a little glimpse of these safari animals. I just hope though that the workers will be given their due salaries on time and that the government will give proper support to this park as these animals need proper care and food supply too.
All images and videos are mine, all rights reserved.
©Jean Beltran-Figues