video credits: Warner Bros. Pictures via Youtube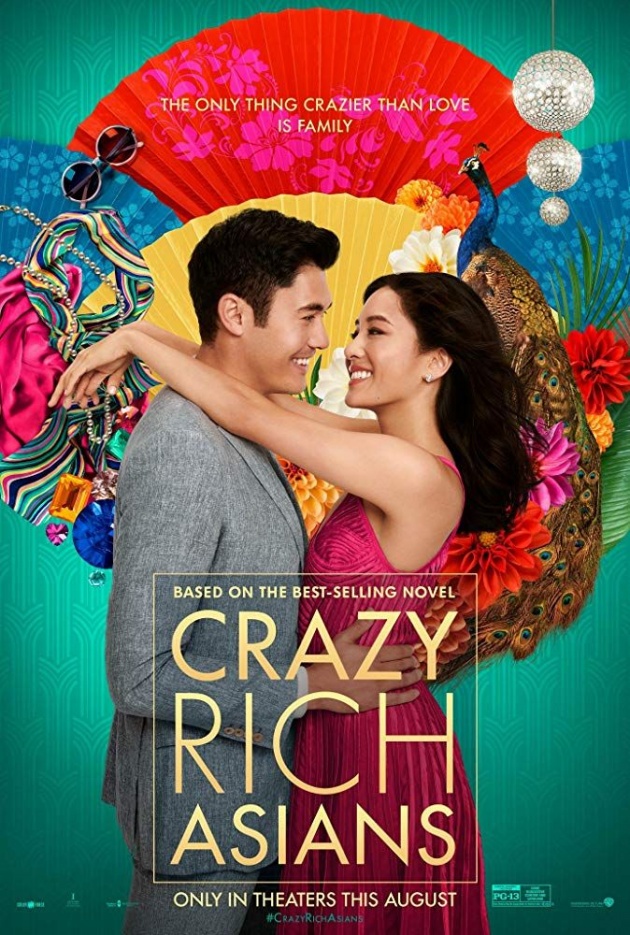 image credits: IMDB
Crazy Rich Asians Movie Review
In 2013, Kevin Kwan published his comedic novel Crazy Rich Asians and did not even know that the novel will be adapted to a movie and make this much impact on people of all races.
The Singaporean American novelist Kevin Kwan was named in 2014 as one of the Five Writers to watch as published by The Hollywood Reporter with the likes of Ernie Cline and Emma Donoghue. It's clear that when ingenuity meets with perfect production, the output is worldwide acceptance.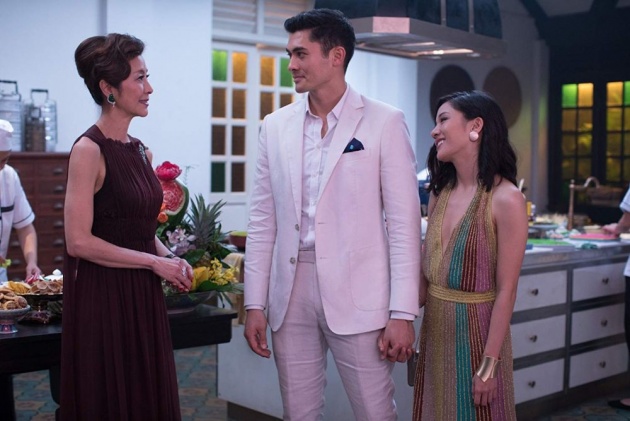 image source: IMDB
It's public knowledge, a prince marrying princess, for countless reasons, this has been the norm in the society. But when the son of a rich man is marrying a commoner, it becomes a source of inspiration. This is a story about a rich kid, whose social class, money and firm haven't blind him from following his heart desires.
True love cannot be found where it does not truly exist, nor can it be hidden where it truly does
Kissing A Foo
Crazy Rich Asians is a Romantic Comedy-drama. The movie stars Constance Wu as Rachel Chu, an economics professor. Henry Golding as Nick Young, the youngest old money rich bachelor in Singapore. He is every girl's dream. Michelle Yeoh as Eleanor Young, the mother of Nick Young. Gemma Chan as Astrid Young Teo, Lisa Lu as Ah Ma, Awkwafina as Peik Lin Goh
The movie was directed by Jon M Chu, Screenplay by Peter Chiarelli and Adele Lim. With a budget of $30,000,000 and a cumulative Worldwide Gross of $219,756,957 as of 3 October 2018, I'm proud to say, the adaption of Kevin Kwan novel into a movie was a great success! Crazy Rich Asians is the highest-grossing romantic comedy in a decade now. Meanwhile, Constance Wu has been nominated at the Golden Globe award for Best Picture and Best Actress (Comedy)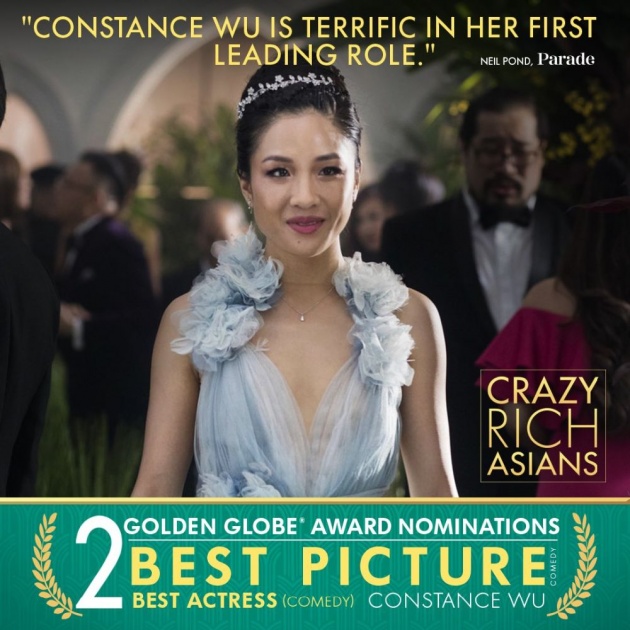 image source: CrazyRichMovie
Crazy Rich Asians Story
England 1995, Eleanor Young arrives at the Calthorpe Hotel with her son Nick & his sister Felicity and their niece Astrid. The clerk and manager denied them their reservation when they asked about it. For an obvious reason-racism. Eleanor calls her husband, he calls Lord Calthorpe, and he came down from his private quarters. The Lord who has a good relationship with the young family apologies to Eleanor and told his employee that he has sold the Hotel to Young 's family. The clerk and manager looking foolish.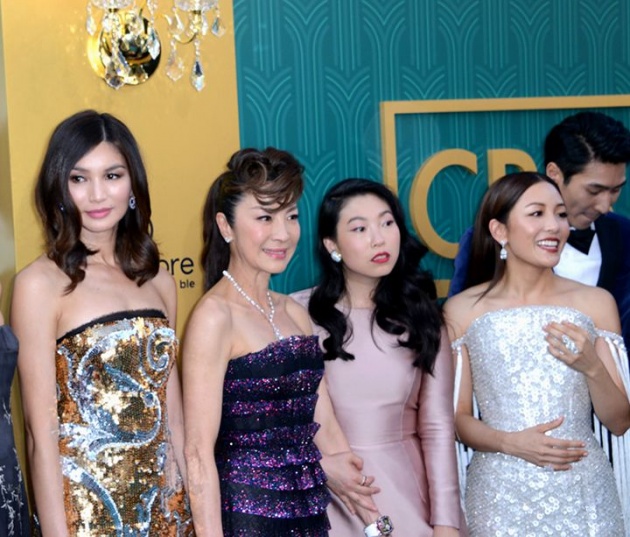 image credits: IMDB
New York City 2018, Rachel Chu, a professor of Economics and Game Theory, playing poker with a student as part of her lecture demonstration. She beats the student and explained to the class why the student lost the game even though he has the potential to win the game.
The key is playing to win, instead of trying not to lose
-Rachel Chu Crazy Rich Asians
Soon afterwards, Nick Young walked in at the end of the class. Rachel Chu and Nick both left for a meal.
Rachel accepts an invitation from her boyfriend Nick to accompany him to Singapore for his best friend wedding-Colin Khoo and his fiancée Araminta. After arriving in Singapore, the next morning, Rachel pays her old college friend Peik visit. Peik lin was shocked when Rachel told her she was dating Nick Young.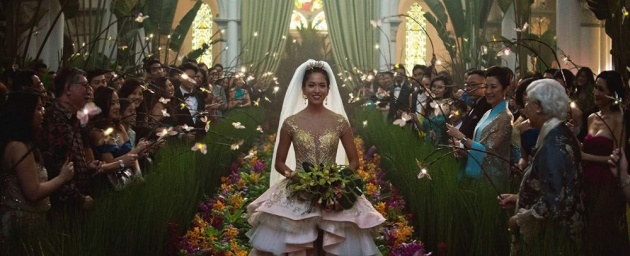 image credits: IMDB
Peik Lin explains to Rachel the history, the fortune, and the glamour lifestyle of the Young family. Peik Lin warns Rachel about how she'd would be treated by Nicks family, friends due to their money and high societal class. On the same day, at a dinner party in Young's family mansion, Nick introduces Rachel to his mother-Eleanor. Eleanor expresses dislike and contempt. However, Rachel made a good impression of Nick's grand-mother-Su Yi. Su Yi gave Rachel the warmest welcome.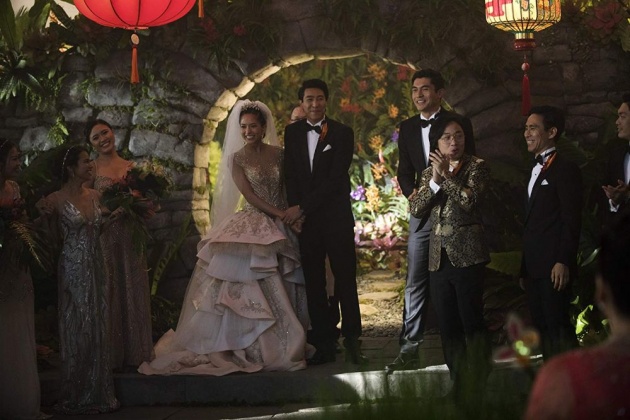 image credits: IMDB
Meanwhile, Rachel was invited to Araminta's bachelorette party and had to be away from Nick. Rachel met with Amanda, who declares, she was Nick exes. Amanda and her friends perceived Rachel as a gold digger and therefore, vandalize Rachel rooms at the bachelorette party by gutting fish on her bed and a lipstick graffiti
Gold digging bitch
Nick's cousin Astrid was also at the party. She found Rachel depressed and was comforting Rachel. Astrid admitted to Rachel that her life isn't perfect as her husband was having an affair. Nick was alone with his best friend Colin, and Nick told Colin he wants to propose to Rachel.
Colin becomes concerned that Nick's family will not approve of Rachel because of cultural difference. The next morning after the bachelor party. The Young's family and Rachel are making dumplings when Rachel noticed Mrs Young distinctive engagement ring.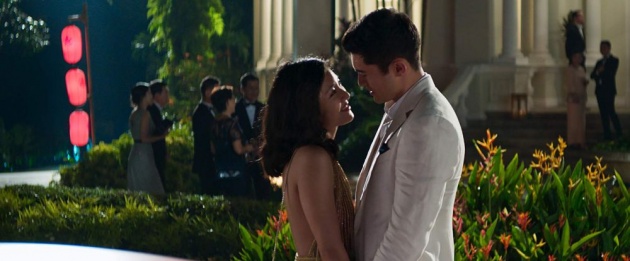 image credits: IMDB
Rachel and Eleanor did not get well together. Eleanor details her sacrifice to become Nick's mother and Nick's grandma never approved of her, and why Rachel will never be good for her son Nick. Rachel left Young's mansion heartbroken and was considering leaving town. Peik Lin convinced her otherwise and had a glamorous makeover for Rachel to attained Colin's wedding.
At the wedding, Rachel looks stunning. She displayed a degree of social class, that cut the attention of the press and also created an impression on Princess Intan who was described as
Vicious woman
Princess Intan was impressed with Rachel opinion on the economic benefits of woman empowerment.
After the wedding, comes the party! Haha!
Things took a downturn when Rachel and Nick were invited to see Nick's grandmother. Nick's mother reveals she hired a private investigator, who look into Rachel family. Rachel and Nick were perplexed to find out that Rachel was conceived via an adulterous affair. Nick's grandma and mother, demand Nick to stop seeing Rachel, for fear of scandal.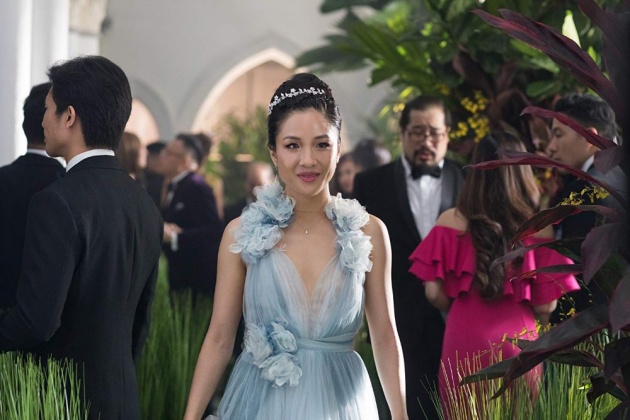 image credits: IMDB
Rachel was devastated and refused seeing Nick or picking his calls, so Nick had to fly Rachel's mother to Singapore to convince Rachel to see Nick. When the two met, Nick apologies to Rachel and propose to her, but Rachel turns him down.
Rachel then invites Eleanor to a Mahjong parlour. She explains to Eleanor that she declined Nick's Proposal in other not to ruin his relationship with his mother.
I just love Nick so much, I don't want him to lose his mom again. So I just wanted you to know: that one day-when he marries another lucky girl who is enough for you, and you're playing with your grandkids while the Tan Hua's are blooming, and the birds are chirping-that it was because of me: a poor, raised by a single mother, low class, immigrant nobody
-Rachel Chu
The Collective Works of the Actors
The actors were well selected to make Crazy Rich Asians a success. I want to drop a bag full of praises and applaud to Constance Wu in her performance in Crazy Rich Asians. Henry Golding made the male character Nick Young, a man of every-girls dreams. Michelle Yeoh played a wonderful and most inspiring role to make this movie what we see and love.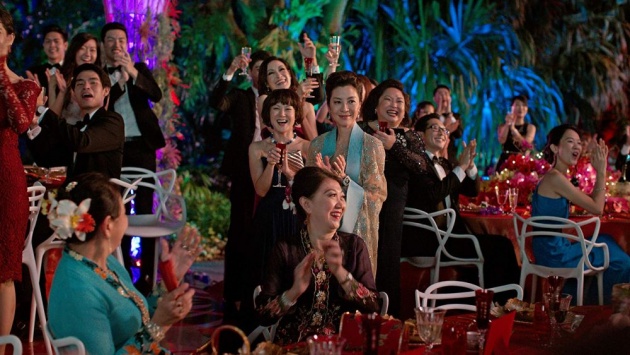 image credits: IMDB
Constance Wu performance was flawless from my own point of view. It's no wonder she was nominated at the Golden Globe award for Best Picture and Best Actress (Comedy).
Acting a character is one thing, but embodying the character in a novel is on a whole different level. It is a very sensitive role, an obvious fact that the rich in the society preys on the poor for selfish, biased and nonfactual evidence that poor people are gold-diggers.
The movie crazy Asians, is it any good to watch?
Unlike the cliché of Rom-Com, we are used too. This movie will make you fall in love with the genre of romantic-comedies over and again. Often, Rom-Com portrays their heroine as damsel that need saving or sawed by their emotions and not quite having her acts together. This may not be said of Rachael Chu. She may have temporarily lost her footings, but she is capable, clever and in control to handle situations with an open mind.
This has nothing to do with the fact she's is an Economics professor, but she's proven to be a better game plan strategist. She sure knows how to throw a knock-down punch.
So, is the movie any good?
video credits: TODAY via Youtube
This is the best Romantic Comedy I have seen in my life! Crazy Rich Asians is a classic love story, full of fascinating Asian rich lifestyle. A breathtaking display of wealth, glamour, social class, with all that money can buy.
On A Finale Note
Rom-Com is emotional-heart-felt movies to be watched with loves one. I'm sure, this movie can help rekindle a failing relationship and prove that in a relationship love is enough.