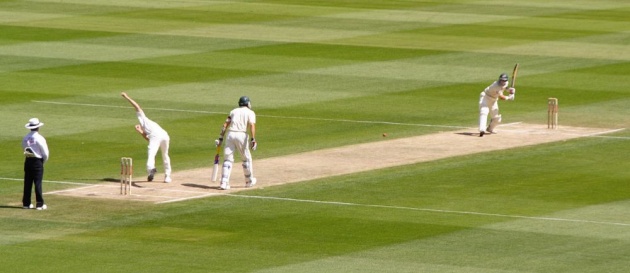 WHAT IS CRICKET ?
Cricket is a sport played between two teams which consists of eleven players each.Cricket is also referred to as a 'bat and ball game'. It is played on a rectangular 22 yard long pitch which is in the middle of a ground.Cricket was first played in England and as the British Empire expanded so did the game of cricket.It is the national sport of England.Not only this, it is the 'world's second most popular sport'.
HOW IS A CRICKET MATCH PLAYED ?
A toss is held between the captains of both the teams before the start of any cricket match.Whosoever wins the toss will decide on the behalf of his team that whether his team is going to bat first or bowl first.
One team bats first and sets up a score for the other team in 20/50/unlimited overs (depends on the type of cricket being played).
The other team has to chase that total in order to win the match whereas that team will try to defend that total to win the match.
TYPES OF INTERNATIONAL CRICKET
1-Test cricket
2-One day international cricket
3-T20 international cricket
TEST CRICKET
Test cricket is the longest and oldest form of cricket.It is a four innings match, both the teams get 2 innings to bat and bowl.It can be played up to 5 days.It is also considered as the most honorable form of cricket.Only 10 teams have the test status who can play the test cricket at the international level and those ten teams are:
Australia
Pakistan
India
South Africa
West Indies
New Zealand
Bangladesh
Zimbabwe
Srilanka
England
Test cricket is quite different from the other two types of cricket.There is no limit of overs in test cricket unlike T20 and One day international cricket.The team which bats can bat for unlimited overs until they get bowled out or they decide to declare their innings.If till the end of the 5th day no team wins so the test match will end up as a draw.Here is the picture of latest test rankings: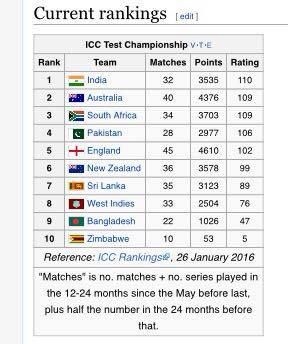 Here is the video highlights of the highest individual score in an inning of a test match, it was made by a player from West Indies, Brian Lara against England.He made the first and the only quadruple century in the history of cricket, let's have a look at his remarkable record-breaking inning: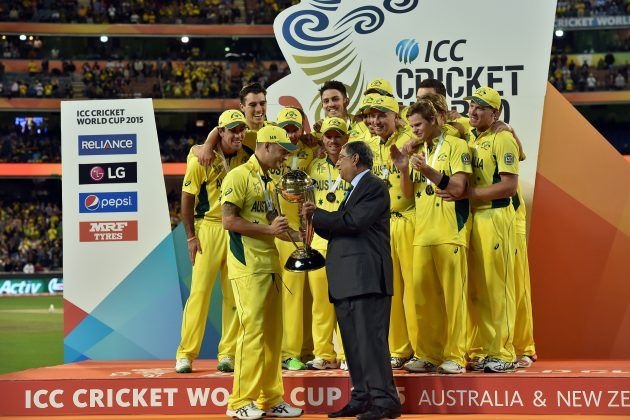 ONE DAY INTERNATIONAL CRICKET ( ODI )
One day international cricket is also known as ODI is a limited overs cricket.Each team has to play 50 overs not more than that.The most prestigious event of cricket which is the ''ICC cricket world cup'' is played on this format.It is played in every four years and Australia is the current champion as they won the latest/2015 cricket world cup.There are ten teams which have the permanent ODI status and those teams are:
Australia
Pakistan
India
England
South Africa
West Indies
New Zealand
Bangladesh
Zimbabwe
Srilanka
The other six teams which have temporary ODI status until the ''ICC 2018 cricket world cup qualifier'' are:
Ireland
Scotland
Afghanistan
United Arab Emirates
Hong Kong
Papua New Guinea
Here is the picture of latest ODI rankings: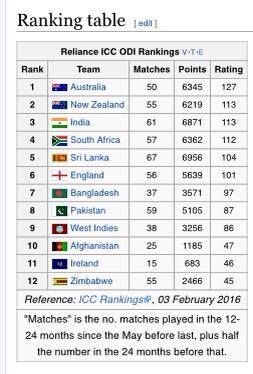 T20 INTERNATIONAL CRICKET
It is shortest form of cricket and it has been introduced by England.The first ever T20 international match was played between Australia and New Zealand in 2005.This form of cricket has gained a lot of popularity in a very less time.There is a limit of 20 overs in this form of cricket and therefore it is also known as ''T20''. There are 21 teams who have played international T20 matches so far :
Australia
South Africa
Pakistan
India
England
Srilanka
West Indies
New Zealand
Bangladesh
Zimbabwe
Ireland
Scotland
Afghanistan
Bermuda
Netherlands
Kenya
Canada
Nepal
Hong Kong
United Arab Emirates
Oman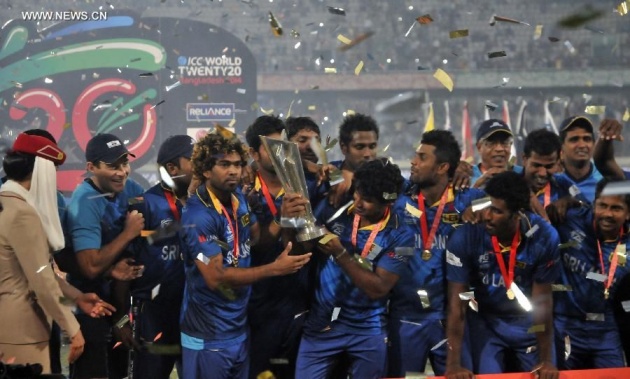 Apart from the ''ICC cricket world cup'', a world cup is held on this format as well with the gap of every two years which is known as ''ICC T20 cricket world cup''. Here is the video highlights of the match between Srilanka and Kenya at the '2009 T20 World Cup' , in this match Srilanka made the highest T20 team total of all time so far of 260 runs, let's have a look at it :
BITFASHIONISTA
To promote the upcoming ''ICC 2016 T20 cricket world cup'' , Bitlanders has also made the kits for each team which are available at ''bitFashionista'' who are going take part in the upcoming world cup.They are available for two gems only and we 'bitsers' can get one buzz bonus for three days on each item we buy.Here are some of the pictures of those amazing kits available at ''bitFashionista'' :
Pakistan's kit


India's kit

Australia's kit

New Zealand's kit

Here is the picture of latest ICC T20 rankings :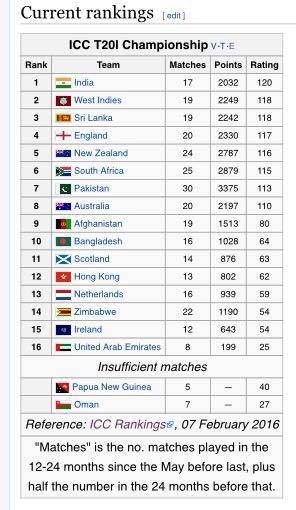 *I hope you guys are going to like this blog.
Thank You !
*All the images are taken from google.
*All the videos are taken from youtube.