Junebride31 is my twitter account name, you don't have to ask as to why I named it that way, I guess it is quite obvious that I want to get married on June and be called a junebride. Anyway this post is not about my Twitter account name but instead my Twitter account statistics.

See I had been on Twitter long time ago, I have some friends, like around fifty or more friends who are just the ones from Facebook as well and I was okay with that. I had never been active in Twitter and I had set cross posting between Facebook and Twitter so whenever I post something on twitter, it would also post on Facebook and vice-versa. I had actually disabled that when I started sharing bitlanders quotes and other stuffs from other users as well as my own posts. I usually post those which interests me.

But the great achievement that I had acquired after sharing quotes, videos, photos and other stuffs in twitter is the fact that I earned followers . These are twitter users whom I don't know personally and that I have not requested to connect to as well. Here are just some of those specific users whom I didn't expect them to follow me: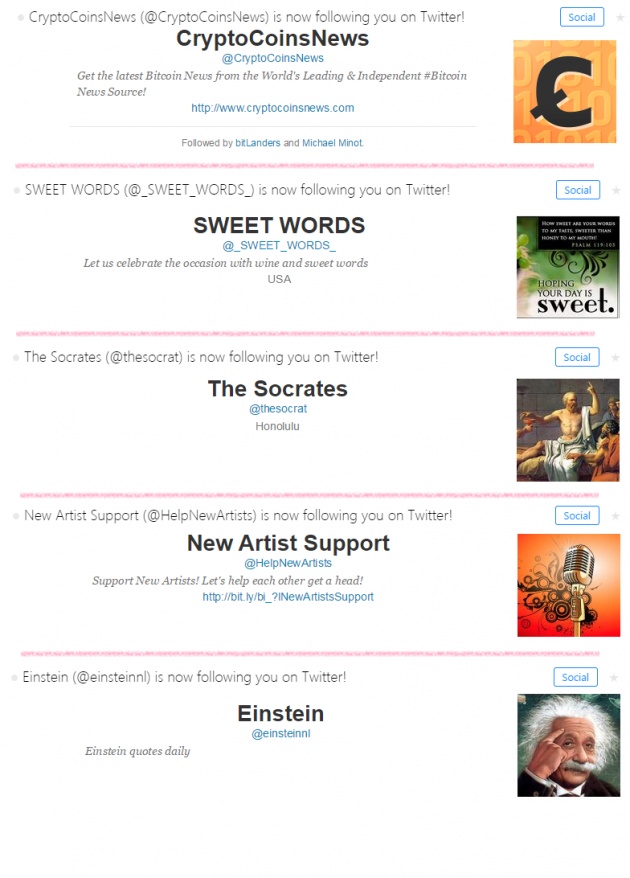 These are just the a few of them, the recent ones but I still have a lot of them on my email, I don't really check twitter always but I am glad that my followers are increasing. I am really glad that those quotes I shared are really doing something and I credit half of it to all my co-bitlanders who had posted them all in their pages too!