One of my favourite football player.He is a Portuguese footballer and plays for the Spanish club Real Madrid.Ronaldo also known as CR7.He became the most expensive player in the history of football when he left ManU.Ronaldo was the first in England to take all the main PFA and FWA awards and he did same in 2008 and 2013.Ronaldo took the title of the best player on the planet as he won FIFA Ballon d'Or award.He was given the Golden Shoe.One in 2008 and the other in 2011.Ronaldo was the first to score against every single team in La Liga.He also holds the record of scoring most goals for Real Madrid.Ronaldo scored his 400th goal in 2014.Ronaldo's kit number was first 9 but then he won 7 number.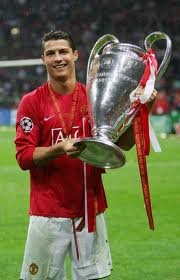 Cristiano Ronaldo is known for his amazing dribbling skills,his positioning,his pace and his agility.Ronaldo usually plays through left wing but he can also manage it through the centre of the pitch.Although Ronaldo is right footed but he can score goals by left foot.His strength,his jumping ability and his speed makes him different from the others.He has an outstanding vision ability and can score unpredictable goals with headers.
Ronaldo seems to be the most important player for his current team.Cristiano Ronaldo is 29 years old player.His absence can cause a great loss to his team.