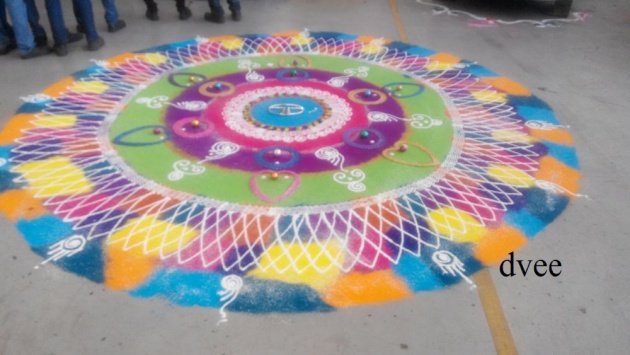 Rangoli
Rangoli as seen above is a geometrical pattern drawn on the floor and colored with either color kumkum or flowers.
The custom of doing this is still widespread in India and done daily.
People do this rangoli to attract the goddess of wealth.
Early morning, the houses are swept clean and water is sprinkled so as to drive away the negative energy present during the night.
The floors are then adorned with such patterns to attract prosperity.
Complex patterns are used only on festival days like DIWALI.
On ordinary days, some small pattern is used but nevertheless it is also well done.
The people of kerala draw rangoli and use flowers to fill the pattern during the ten day festival of onam. This custom is performed to welcome the king Mahabali who is supposed to visit his subjects once a year.