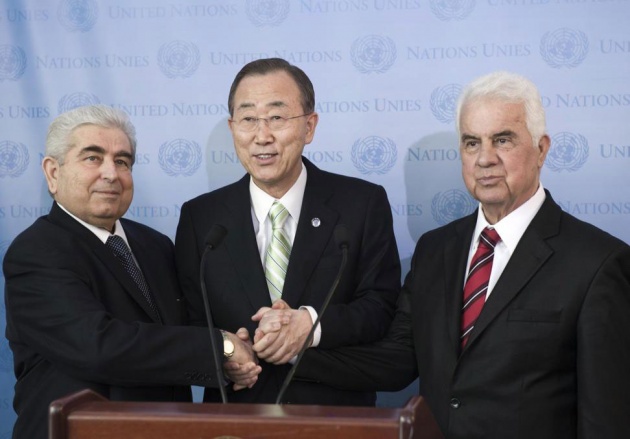 UNSG Ban Ki-moon has concluded that there is not enough progress in talks between the two Cyprus leaders to move forward toward an international conference that might have helped deliver a final settlement. In fact, it is unclear what next step s and when. The UNSg contacted the two leaders, of Cyprus' Greek Cypriot and Turkish Cypriot communities, Demetris Christofias and Derviþ Eroðlu, that there was not enough progress on key aspects of reunification talks to warrant holding an international conference as had been earlier hoped. See our Blog for Video: "Cyprus Talks Stalled – Will UN Security Council Step in?"
According to the UNSG's Spokesperson: "He (Ban) informed the two leaders that he met the previous day with his Special Adviser on Cyprus, Alexander Downer. On the basis of this discussion, the Secretary-General shared his assessment that there is not the sufficient progress on core issues that would provide a basis for calling an international conference at this time." The Spokesperson added that, in his calls to the two leaders, Mr. Ban urged the two sides to take bold and decisive action in order to move the process forward; and, that he his conclusions would be discussed with them in more detail by Mr. Downer, who will travel to Cyprus next week for this purpose.
Read our Blog for Film -"Can Religion Bridge Cyprus Divide"
Also See Video for Blog "Cyprus Needs Push"
Ambassador Muhamed Sacirbey - FOLOW mo @MuhamedSacirbey

Facebook-Become a Fan at "Diplomatically Incorrect"







Twitter – Follow us @DiplomaticallyX







See more at our Popular Video Blogs & Current News Event Articles at http://diplomaticallyincorrect.org/c/war-crimes-justice