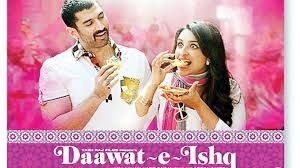 The recently released movie 'Dawat e Ishq' was perceived with mixed emotions by the people across the country and also by the critics. Though this movie was highly talked about and greatly anticipated before it's released but somehow it managed to disappoint the people as soon as it hit the big screens.
'Dawat e Ishq' cannot be called as a bad film as it managed to entertain the people but there was no special ingredients in the movie to make the people stick to their seats and enjoy it. The director of 'Dawat e Ishq' Habib Faisal failed in more than one ways. Though the cast of the movie has some good potential but still the so called taste of the movie was bland to majority of the people who watched this movie.
Anupam Kher's acting was as usual remarkable and polished in the movie where he played the father of Parineeti Chopra, Gulrez Qadir. The plot of the movie is that the father-daughter duo comes to Lucknow, leaving their house in Hyderabad where they are fed up with several timid and nervous grooms for her daughter's marriage and their greedy for money parents who could think of only money and nothing else. The movie 'Dawat e Ishq' upholds the evils of dowry system and how it affects the family of the girls in the various levels of the society.
In Lucknow, Gulrez meets Tariq Haider played by Adtiya Roy Kapur and then the story is pretty much the same traditional and conventional love story which is very common in the Bollywood romantic movies. The whole concept of Tariq falling in love with Gulrez, even though his parents also ask for a hefty amount of money for dowry, whereas he is on a mission of winning Gulrez's heart with mouth watering kebabs and biriyani, which doesn't fall in places and adds to be a confusion for the viewers. Still, it manages to be a onetime watch for people who love food, especially Lucknowi Biriyani.