Mercedes-Benz Fashion Week has arrived. Tomorrow begins Day 1 of the 8 day event that ends September 12th. Lincoln Center for the Performing Arts is the main venue for MBFW. There are other shows being held off site all around the city as well. Including myself, Models WebTV will have 4 photographers, 2 Cinematographers, and a few writers covering the action. That list will of course grow when I have the opportunity to ask with the enormous amount of photographers and writers who make their way to the event from all over the world, to contribute to their content to our platform, many do! 
Simon Ackerman Backstage Fall '13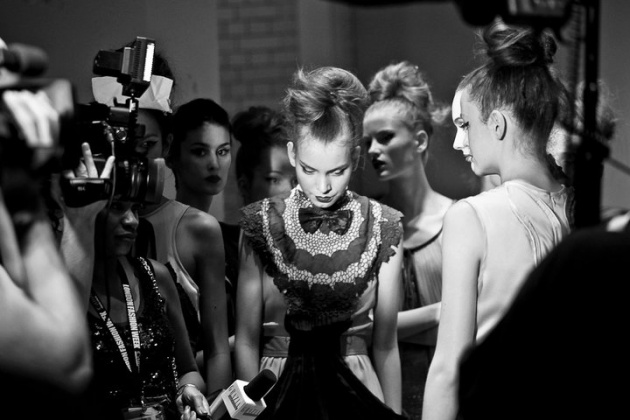 If you don't have the opportunity to make it to New York City to attend the shows or have to work, don't sweat it, MBFW will be live streaming. Thanks to the folks at IMG Fashion and Rightster you can enjoy every designers Spring/Summer 2014 collection from the comfort of your home or desk. 
We're excited to now represent the MBFW fashion show content on our platform (THANKS TO THE HARD WORK OF DIANA MACKIE), these will be the best videos to come out of the shows . Every evening you can go to the Mercedes-Benz WebTV and find your favorite designer and interact with that video through the Film Annex share buttons, by commenting, or to further engage your audience by embedding the video into your own WebTV's blog when writing about the new looks. Your blog will pop with the added video.
A few days ago we produced one of my favorite videos to date with Tabitha Goldstaub the Marketing Director for Rightster. I'm a fan of intricate productions and MBFW is certainly one. There are a tremendous amount of moving parts to make this event a success. One of those parts is video and getting that video content out to the right audience on the web as far and wide as possible. It's Tabitha and Rightster who are responsible for this aspect of production. Her video below gives you a great sense of the company and the relationship to IMG (MBFW). 
The day 1 schedule is below, and if you wan to plan ahead go here.
September 05
Last February Semyon and myself made this video, a diary of our experience at the shows, pairing a few of the shows we attended with the music of legendary composer Ennio Morricone and Romina Arena.