Superhero is a movie term used for characters with supernatural abilities having high moral values. This blog is intented to be a review of such kind of movie, however, it's not that straight as you might be thinking. The super-anti-hero movie, Deadpool is what I will be reviewing in this blog post.
Deadpool is the debut movie of director Tim Miller and is released in 2016. It showcases a character Deadpool from Marvel Comics. Currently owning two MTV Awards, the movie features award winners Ryan Reynolds and Ed Skrein. Both Ryan and Ed won awards for Best Comedic Performance and Best Fights in the said movie, respectively. It is basically an action movie presenting a superhero comedy.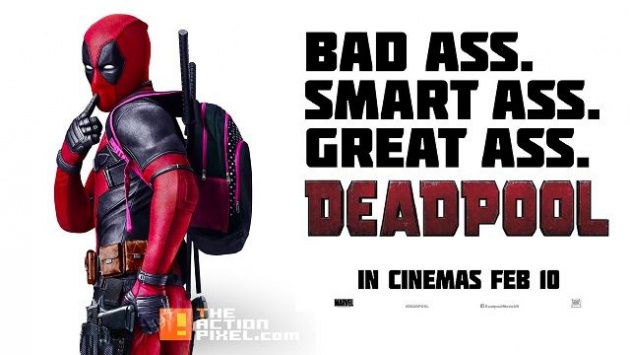 (This image is taken from Google.com)
Story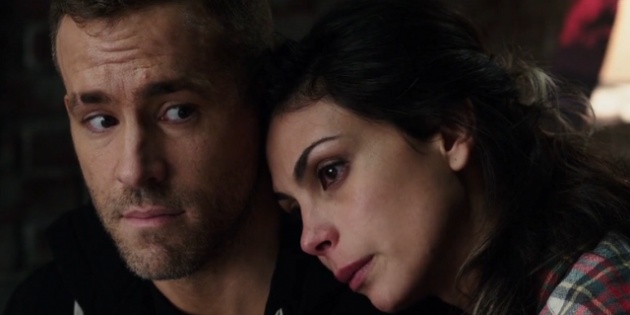 In New York City, Wade Wilson, a former special forces soldier and a current mercenary is diagnosed with terminal cancer after he proposes his girlfriend Vanessa. One day, he meets a person from an undercover organization who offers Wade a remedy for his cancer and make him supernatural. He doesn't want Vanessa to see him die and having no other hope towards life, Wade accepts the offer and leaves his girlfriend.
In laboratory, his experiences don't go really well with, plus he learns that the cure will be achieved by exciting his undeveloped mutant genes. He is constantly given intense torture to mutate his cells but result remains hidden. Already resented by Wade, the incharge Ajax who is also a mutant, tries a final endeavor and fastens him with straps in an airtight chamber. It eventually mutates Wade and he grows a healing ability in his body. His cancer gets cure but he suffers a side effect and his whole body gets covered in burning scars.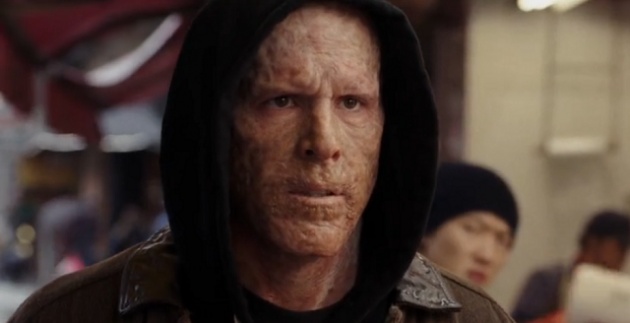 Wade manages to escape from the chamber. His ugly appearance keeps him away from from Vanessa while she presumes Wade to be dead. With the help of his friend Weasel, Wade starts to find Ajax to take revenge from him and get his skin fixed. In order to hide his looks, he wears a dress which covers his body from head to toe and uses the moniker "Deadpool". He starts hunting Ajax's men down and finds him in a convoy passing along a road. However, Wade fails to kill Ajax and get his cure. Ajax runs away.
Later, Ajax learns about Vanessa and kidnaps her. He asks Wade to meet him in order to save Vanessa. Wade asks for help and makes alliance with two X-Men members Clossus and Negasonic Teenage Warhead. With them, he reaches the place where Vanessa is kept. They fight with Ajax's army and in the end, Ajax reveals that there is no cure for Wade's spoiled body. Wade kills Ajax while Vanessa and Wade meet again and she accepts Wade's appearance.
Let's watch the official trailer of Deadpool below.
(This video is taken from YouTube.com and uploaded by KinoCheck International)
Cast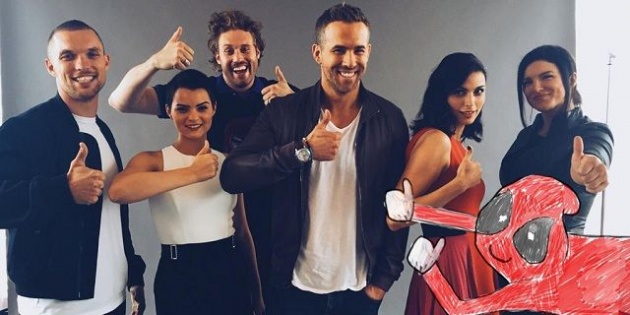 (This image is taken from Google.com)
Cast was pretty good in their characters specially the main character. Following is a short list of movie's main cast.
Ryan Reynolds as Wade Wilson / Deadpool, a former army man and current mercenary.
Ed Skerin as Ajax / Francis, another mutant who doesn't feel pain.
T. J. Miller as Weasel, a bartender and Wade's friend.
Morena Baccarin as Vanessa, a strip club worker and Wade's girlfriend.
Stefan Kapicic as Colossus, an X-Men.
Brianna Hildebrand as Negasonic Teenage Warhead, another X-Men working with Colossus.
All the characters are taken from Marvel X-Men comic books. Though Vanessa is a normal girl in the movie, she is a mutant in original comics.
Deadpool - A rejoicing Anti-hero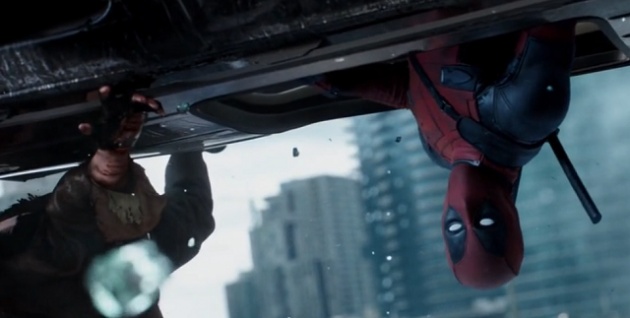 Wade Wilson becomes mutant and takes alias "Deadpool" to prevent his identification. But every thing doesn't end here. Even though he gets powers of a superhero but his entire on-screen appearance was completely different from a superhero. In other words, there is an anti-hero in front audience who takes benefits of being a superpower trouper. It doesn't mean he lacks potentiality of entertaining us; seeing him in action is a great jubilation. With being barbarously violent, he is also gifted with the ability to use an unconventional approach for showing a sense of humor. This is the reason why he is delightedly amazing to watch in the whole movie.
Action is not the only accountable ingredient in Deadpool's tip-top and heart-gladdening tactics. From time to time, he takes a pause his cinematic world and talks to people in the real world. This is what we call a 4th wall break. If I am right, there are more than 20 times when he shatters the 4th wall and jumps around the 3 walls of our theaters. This is just like a fictional character narrates his story and he really knows he is a fictional character. One of his most endearing speeches is,
A fourth wall break inside a fourth wall break! That's like sixteen walls.
And therefore, it will be fully justified to call Deadpool himself, the best part in this movie.
Not for Children!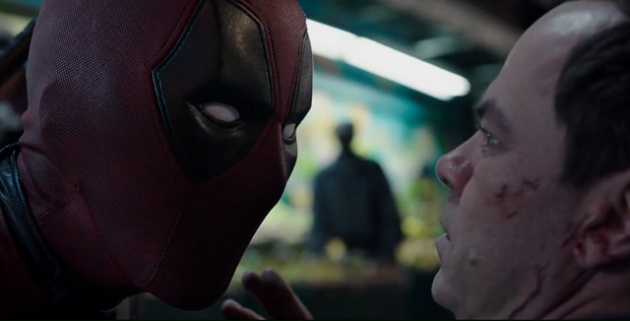 Mostly, superhero movies suit all kinds of audience if age is concerned. And these are usually rated PG-13 which allows teenage children to watch the movie with parents guidance. Unlike most of Marvel's mutant and superhero movies, Deadpool had been given R rating. This rating is abundantly utilized to put different kinds of violence from sadistic Deadpool and scenes containing nudity. Violence includes killings in several ways and some phrases that are not suitable for every viewer. Therefore, it is a movie for mature audience only and has much to enjoy.
Not Just an Action Movie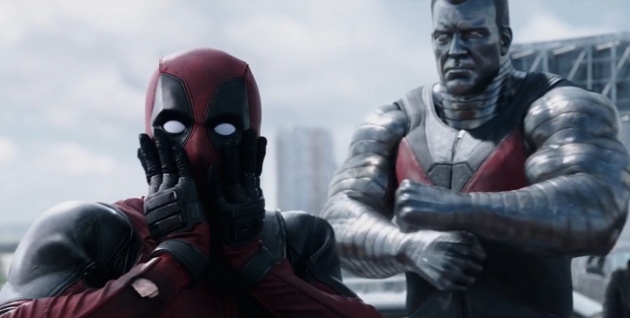 The action is shown all over in Marvel's movie. That's what superhero movies are made up of. But there is a lot more to discuss rather than the action and it's comedic performance delivered by Ryan Reynolds as Deadpool. Dialogues having crass humor during action scenes as well as acting as a funny guy who is also very tough, are the factors that can make you burst into laughter. Also the comedy observed on the screen deserved the award for the actor which he has already received.
Closure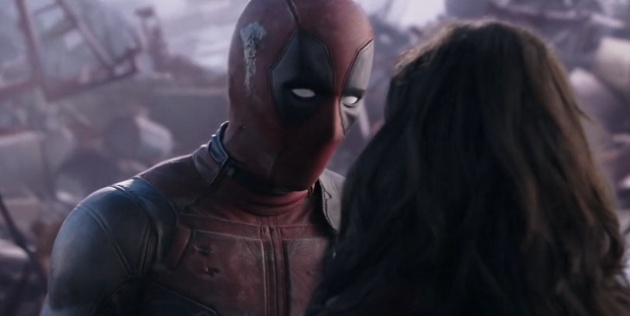 The movie got lucky by its fictional character Deadpool. It has a decent budget, being in-charged by a normal director and has an average story. But it also makes a great balance by having Deadpool aka Wade Wilson in it. Over all, the movie was best, taking advantage from a finest quality of action and superior comedy. it is fun to watch and gives you best of the best in your time and money.
This is a 9 out of 10 movie.