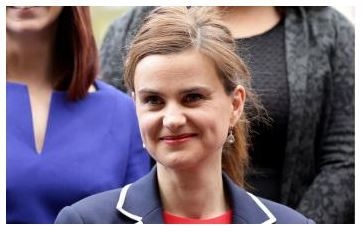 British lawmaker Jo Cox's alleged killer ranted against "traitors" during a brief court appearance on Saturday, as EU referendum campaigning was suspended for a third day in tribute to the slain MP.
"Death to traitors, freedom for Britain," 52-year-old Thomas Mair said when asked to give his name at Westminster Magistrates' Court in London after being charged with murder, British media reported.
Mair, who was handcuffed and wearing a grey tracksuit, repeated the phrase when asked again but then remained silent when asked to provide his date of birth and address, the reports said.
He was remanded in custody until his next appearance at London's Old Bailey central criminal court on Monday and a psychiatric report has been requested.
Mair is also charged with grievous bodily harm, possession of a firearm with intent to commit an indictable offence and possession of an offensive weapon.
A 77-year-old man remains in hospital after being injured trying to help Cox during the attack.
Any previous allegations about Mair cannot be reported under British law in order not to prejudice the case against him.
'Targeted' attack -
Both sides in the deeply divisive campaign ahead of a referendum on EU membership next Thursday have cancelled speeches and leafleting events amid calls for a less acrimonious political debate.
A member of the opposition Labour Party and former aid worker, Cox was an advocate for refugee rights and immigration and was campaigning for Britain to stay in the European Union.
She was shot and stabbed in the street in what police called a "targeted" daylight attack on Thursday in her constituency in northern England as she was arriving for a meeting with local residents.
Although the motive is undetermined, some politicians and commentators have pointed to the heated referendum debate, where sensitive issues like national identity and immigration have featured prominently.
Prime Minister David Cameron and Labour leader Jeremy Corbyn on Friday brought bouquets to a massive floral tribute near the scene of the attack in Birstall in Yorkshire.
Cameron spoke out for "tolerance" and against "hatred" in British politics, saying the country was "rightly shocked" at the killing of the 41-year-old mother of two.
British MPs have also been recalled to parliament, which was in recess ahead of the referendum, for a special tribute to Cox on Monday.
The murder, the first of a British member of parliament since 1990, has sent shockwaves around the world.
US President Barack Obama on Friday phoned Cox's husband Brendan to offer condolences.
"The president noted that the world is a better place because of her selfless service to others, and that there can be no justification for this heinous crime," the White House said in a statement.
Flowers on the river -
Eyewitness Hichem Ben Abdallah, 56, told AFP on Friday that he heard two shots and saw Cox on the ground.
"Her face was full of blood," said Ben Abdallah, who campaigned alongside her before she was elected to parliament for the first time last year.
"I think her flame will carry on," he said, adding: "I hope we learn lessons from this".
A fund created in Cox's memory by her friends and family has raised more than £250,000 (318,000 euros, $359,000) for charities close to her heart.
The money will support the Royal Voluntary Service which helps combat loneliness in her constituency; the Hope Not Hate anti-extremism group and the White Helmets volunteer emergency workers in Syria.
At a vigil in London's Parliament Square on Friday, hundreds of people gathered to lay flowers and pay their respects, holding a minute's silence.
Mourners also laid flowers on the roof of the converted river barge near London's iconic Tower Bridge where she lived with her husband Brendan and two children, aged three and five.
Just hours before the attack, two polls had shown the "Leave" camp moving into the lead in the referendum campaign.
Following the murder, stock markets and the value of the pound rebounded sharply and some financial analysts said this was because the chances of "Remain" winning the referendum had increased.
The WhatUKThinks average of the last six opinion polls currently gives 52 percent for "Leave" and 48 percent for "Remain", excluding undecided voters.
The Internatioanl Monetary Fund has warned Brexit could deal the British economy a "negative and substantial" blow and Russian President Vladimir Putin on Friday suggested Cameron was trying to "blackmail" Europe with the referendum.