In Pakistan Defence Day is celebrated as National Day on 6th september in memory of those who sacrifice their lives in Indo-Pak War and successfully defend the Lahore , Sialkot and other important areas of Pakistan.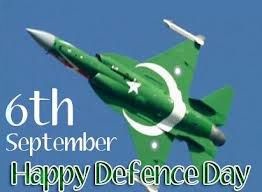 In April 1965 India attacked Pakistan at night with thought to hold control of important areas of Pakistan but they dont know that Pakistani soldier dont sleep at night and Pakistan defend this and India desire of holding control of these areas was failed and this war was fought between April 1965 to September 1965.
This fight is also known as 2nd kashmir war.India with his huge army and large amount of resources and Pakistani soldiers have only Patriotism thoughts in their hearts.

In this war Pakistan people also help Pakistan Army and from all these efforts Pakistan succeed to defend their important areas.
The commander of sargodha airbase said that in war days Pakistan Air force is their for the security of their base.So there is a need of beds for them.Announcement has been made in one of the Masjid of sargodha that beds are need for soldiers.Commander thought that people of sargodha will bring some beds with in a hour i saw that whole aribase is full of vehicles and these peoples brought new beds for soldiers.We take some beds according to need and asked peoples to take rest of beds with them but these peoples asked us that if we cannot take all these then they cannot leave this base and this patriotism will bring tears in our eyes.
It was due to these efforts that India faced defeat and Pakistan enjoy his victory.