DHABA CHICKEN
DHABA CHICKEN is a variant of chicken dishes. It is same like we cook chicken at our home as chicken curry but the method is cooking is a little bit different.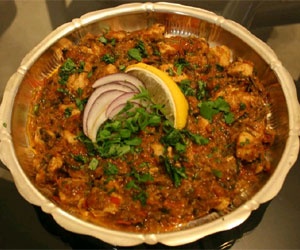 INGREDIENTS
Onion three pieces chopped
Garlic two pieces
Ginger chopped into tiny pieces about 1 teaspoon
coriander powder
cinnamon quarter tea spoon
turmeric powder quarter tea spoom
chicken cut into nice medium sized pieces
salt as per taste
cilantro chopped
Tomato sauce
COOKING METHOD
First heat up the cooking oil in a pan or bowl and add all the small ingredients like cumin, cinnamon, coriander powder and garlic, cook these for just one or two minutes in the boiled oil. Add chopped onions and cover the pan letting the ingredients to cook nicely. Time to time stir the mixture until the onions get crispy brown.
Then add the tomato sauce and a little bit water, cook again for a few minutes until you get a little bit thick gravy. Now add chicken to the pan stir evenly so that the gravy is sticks to every chicken piece evenly. Now put the lid again and leave for twenty minutes over low flame. After this sprinkle salt and any extra masala you want to add, stir a little bit. The dish is now ready to be served with rice or with bread as preferred.