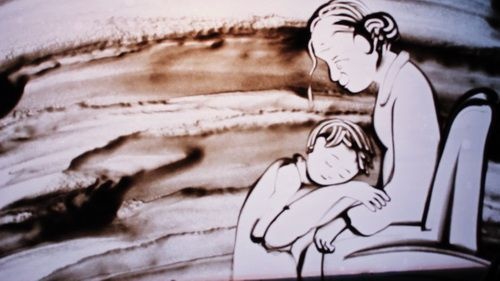 On ...
Mommy, July and mum!
Children taken away from her husband, a long long time to see her. Nearly fifty year old mother but said unsoundable miss the people laugh is not it mother?
Childhood, children often follow their mother to Vu Lan Buddhist chanting. July Vu Lan - signaling season! Listen to what he says he is Lord Buddha's way for salvation parents, telling myself I will always be here to take care of her mother, not her mother left my mother to practice as teachers. Ultimately then I also left my mother to ... get married.

On ...
Today is the first day of school Thuc Vy. Look it come to us with you on the missed class mom. Day she took me to the stars that sacred too! For me what was new, what is also strange. Seeing buses from running next to high, the screaming shaking ... My mother grabbed me into the sheltered, comforted. Before entering the classroom teacher mother son pair was inserted into meat loaf half, I was afraid I was hungry. That day, the teacher would not let me eat in class, I do not know.

On ...
Thuc Vy prepare children for college. It has large, dorm life, then it will get used like a old ... At first when Sunday himself to his mother, like daughter. Then, two weeks, three weeks, sometimes five or six weeks. May any mailing mother, sent money, her mother wrote to me that she just scared me sick. Where's your mom know that I miss everyday since, I sat stroking each mother's hair falls into a bun filled with ... Mom, I love you!

On ...
Thuc Vy it took her boyfriend home to introduce to you. Looking radiant face of it the show feeling so excited. I have so selfish, narrow-minded mother really did not? Days ago, when he was in his mother's house was more fun than me! Con overwhelmed in the whole space is the image of him. Children as songbird chirped happy song. In my eyes, in my heart, around the light-filled, floral, sweet nectar of love. Mommy, I cry! Mother wiped tears did not pat me again! When the tears envy, selfishness, love usually comes down to, you see countless love her. Thuc Vy it was big, it was away from my loving arms. I know it has its own sky, it's friends, dating ... It's the old: the mother for money, clothes, mother, mother prompted to go to bed, Mom parent, that parent sleep warm hug , mom I crave this dish, I like the other dishes, angry, sulky, spectacular ... the now faint shadows on the Thuc Vy, a ball is not missing. In ancient times, the so heartless ... how can I see the silent tears of the mother, how to understand the great heart, the infinite sacrifice of the mother?

On ...
Wedding melted. The house of the strange star empty. Looking at the map of Thuc Vy using the da kill it ... I remember crying. On the cheerful, smiling theft lovers walked arm to float mothers not seem unhappy. In contrast, mothers are always looking down on you smiling, eyes full of love. I'm worried about Thuc Vy. The first time the stranger living in the house it is not used? What is it eating? It has done something wrong does not make people complaining? ... Worries heavy in every human heart. When old mother teaches cooking, sewing, embroidery, teaching children to walk, talk ... She was afraid people blame the mother spoiled daughter. Son grumbles: The only daughter only mother!

On ...
Thuc Vy was born two days. You did take care of it as the mother had been caring for children. At birth Thuc Vy, who first saw when I opened my eyes just as her mother, but that I want to see more than anyone else is Thuc Vy. All of the time that's just Thuc Vy. Her as a kind and gentle fairies generous, giving me the strength and courage to overcome turbulent life. Orphaned sea woman go alone. You're wrong, you're not orphans, children whose mothers too!

Then the broad day ... month, Thuc Vy adopted children grow up understanding the new mother's heart. Where are simply told that breastfeeding drained to make room for the baby, sleepless nights when baby crying, bathing, laundry, dishes made ​​for you, worry when I go away ... Not enough, not enough and never enough!