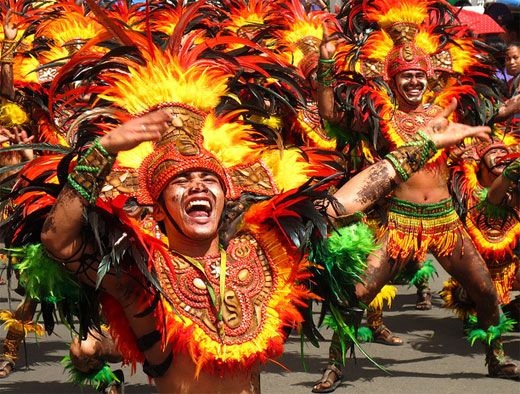 The Dinagyang is a Religious and Cultural Festival in Iloilo City , PHilippines held on the Fourth Sunday of January. This Festival held to Honor Sto. Niño and to celebrate the arrival of Panay of Malay settler and the subsequent selling of the Island to them by the Atis.
On this day, streets of Iloilo City will once again come alive as the Ilonggos celebrate the annual festivity. It is a very colorful parade coupled with a dramatization in honor of the patron Saint Sto.Niño as the object of performs offerings and prayers amidst the cracking of drums and shouts of "VivaSeñor Santo Niño." The thundering of "HalaBira" by the tribe members makes the celebration a lively one. It is also a very popular tagline used by Ilonggosto express their warm participation during the"Dinagyang" celebration. A tribute in honor of Señor Sto. Niño whom Ilonggos believe wasvery miraculous in times of famine and drought.
Every year to this celebration, many people around the phillipines and from other countries around the world go to Iloilo City to watch this festival and to experince this ilonggo culture. Iloilo City now is one of the fast growing Cities in the Philippines, Awardee in the cleanest river in the philippines and 4th in International River summit. Come and visit Iloilo and experience how hospitable and lovable an Ilonggo people.