Who wouldn't like a healthy meal after a long trip? I do so that's why James and I went straight to a newly opened branch of Bohol's pride: The Buzz Express in the new business and food hub in the city of Tagbilaran - Lite Port Center Bohol.
Health and wellness Querlo chatbot here below:
I guess I have gone to most of their branches including in Cebu except for their main branch which is in the main Bohol Bee Farm in Panglao which we as well plans to visit. But for now, we have to check on the newly opened branch.
We traveled from Guindulman to Tagbilaran so we can go back to Cebu after a weekend holiday. Most vans will stop at the Petron station along the main city so we have to take a tuktuk locally referred as tricycle going to the Lite Port Center, it was very new that the driver don't know where it is. We directed the driver towards the right location.
LITE PORT CENTER BOHOL
Opened on the 21st of July and is an affiliate of the Lite Shipping corporation which is one of the best shipping companies in Bohol. They have now invested in real state properties and finally opened their first center which caters various restaurants, cafes, entertainment and more!
I spotted 7/11 Convenience store which is the first branch to open in Bohol specifically, a new one will soon be opened in Panglao. There's also a restaurant which offers unlimited chicken wings, a bar, there's Mooon Cafe too and of course The Buzz Express.
This time, let me share our experience with the Buzz Express.
Video credits: Jean Beltran-Figues via bitLanders.com
THE BUZZ EXPRESS
A short blog was created before regarding our snack time at The Buzz Express before, check it out here:
If I could think of one thing that goes into my mind when talking about The Buzz Cafe, that would be their organic and natural home made ice cream! Yes, that is the first ever product of the cafe which I have tasted and it makes me love it that I keep on asking for it whenever we have the chance to go to any branch or ice cream stand. There are two ice cream stands in Cebu, one in Robinsons Galleria and one in SM City Seaside which is very near to us.
However, there's a store in our place which offers The Buzz Cafe ice cream too. They bought these ice creams in gallons and they had resell them with the same prices and the same cone too! So whenever I crave for it, I would just go to the store near our house.
However, this blog is about our experience at the Lite Port and not about the ice cream stand.
THE BUZZ EXPRESS AMBIANCE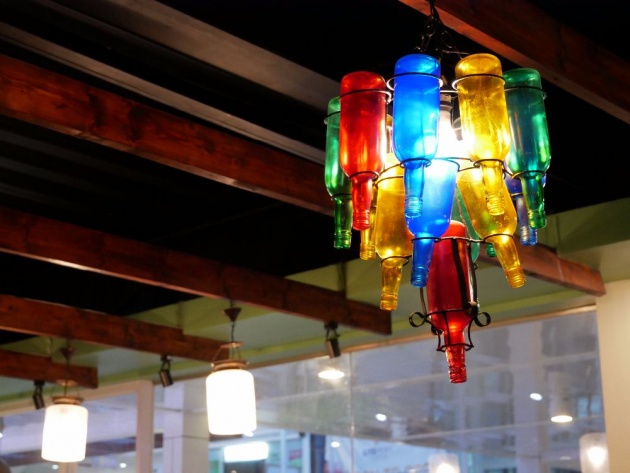 Image credits: Jean Beltran-Figues via bitLanders.com
One of the things I like about The Buzz Express and all their other branches is their restaurant ambiance. They have this rustic theme. Wooden tables, native chairs or woven ones, recycled accessories and displays of their products add a feel of being organic and original. I can't explain further but what I know is that I am very comfortable at their restaurant. This feeling is the same to all the branches they have opened both in Bohol and in Cebu.
Their utensils are cleanly and neatly wrapped with their cloth napkin with cool color combination. There are glass chandelier which are made of recycled bottles of different colors and adds a great color to the restaurant. The light beaming from inside are giving different shade because of the different glass colors too. These bottles are I believe wine bottles.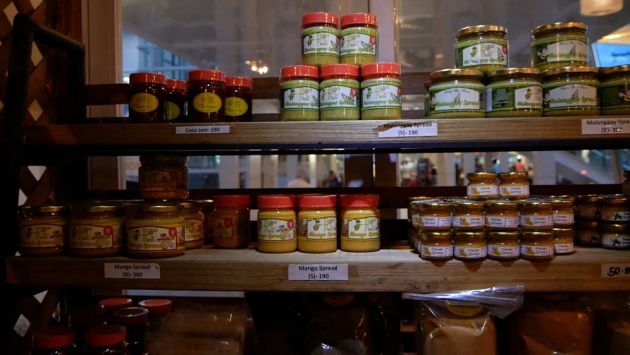 Image credits: Jean Beltran-Figues via bitLanders.com
Another cool thing are their menus and bill booklets. I noticed that the new menu are now printed in a thick card board. However, before I remember their menu is framed by native woven boards.
THE BUZZ EXPRESS STAFF
There were only a few staff in their new restaurants and I believe that is because this is a smaller one compared to the other branches. However, they are all friendly ones, very accommodating and can easily communicate with their guests.
They wear this fit uniform in pencil skirts in color green and their have their hair in a bun to keep it clean and tidy. They also wear this hairnet for all of them specially those who are preparing the ice cream and serving the food.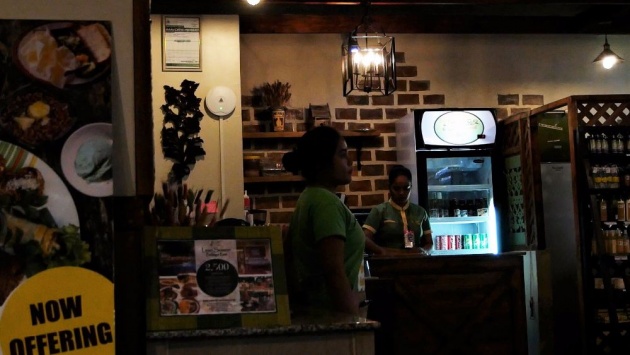 Image credits: Jean Beltran-Figues via bitLanders.com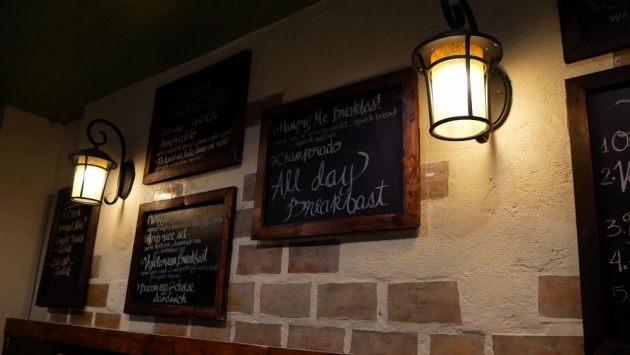 Image credits: Jean Beltran-Figues via bitLanders.com
We were seated next to some Koreans who were trying to select the food they want to order. I like the fact that the staff who took their order gave suggestions for them and they agreed to take her suggestion.
Even their branches here in Cebu have staffs who are from Bohol. The owners of the Bohol Bee Farm who owns all the branches of The Buzz Express have made sure that the people of Bohol are able to benefit from this God-given restaurants.
THE BUZZ EXPRESS SERVICE
Ordering the food was a bit hard because I couldn't really decide which one to order. The service staff usually just let you sit, serve their service water inside a customized bottle, they reminded me of those ancient bottles. And would just wait for you to call them for your order. I like it that way and they are very responsive whenever someone calls their attention.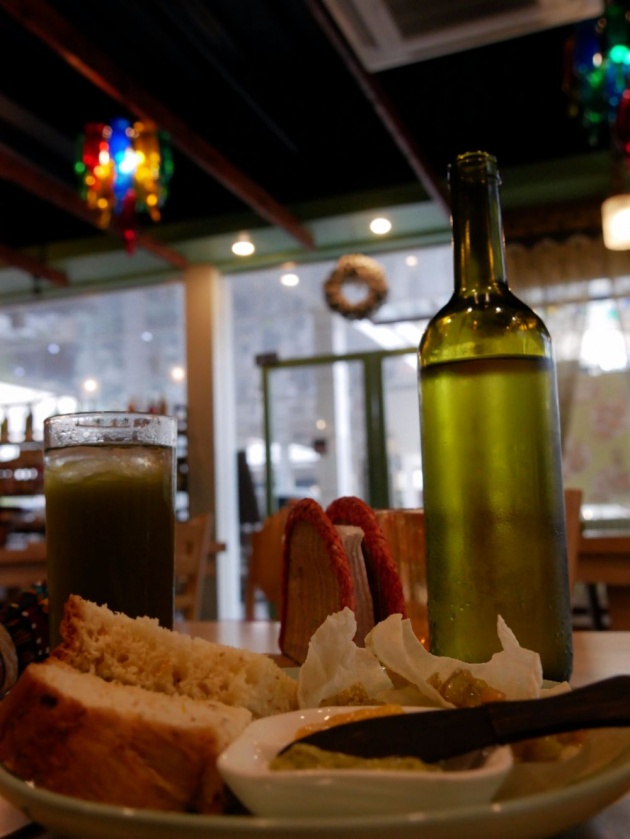 Image credits: Jean Beltran-Figues via bitLanders.com
Because there are staff in each corner, anyone who would be requesting something or would give their orders has no issue with their service.
Another positive note about the restaurant is the fact that it doesn't take a long wait time before the orders arrive. After giving out our orders, some staff came to serve the service water. Then after a few minutes, they served their complimentary meal, the main orders were then served afterwards. I believe the waiting time only took around ten to fifteen minutes which was something I didn't notice while I was taking videos and photos of the restaurant.
THE BUZZ EXPRESS FOOD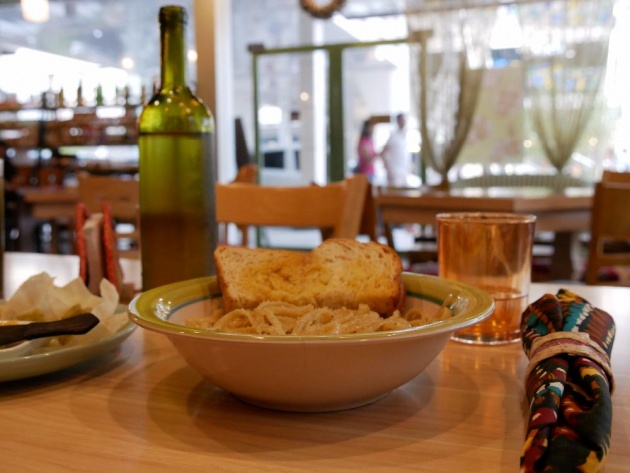 Image credits: Jean Beltran-Figues via bitLanders.com
The most important part is of course the food. Serving is definitely generous. While each meal is good for one person, the served food is something you can share with someone else.
James ordered the Honey-glazed chicken meal priced at Php 260. Note that this comes with a single rice serving, the rice is organic and native red rice which is something I usually seen in the province. It also comes with a side dish which is the fresh lumpia, James had specifically selected it while they have fruits and vegetable salad as two other options.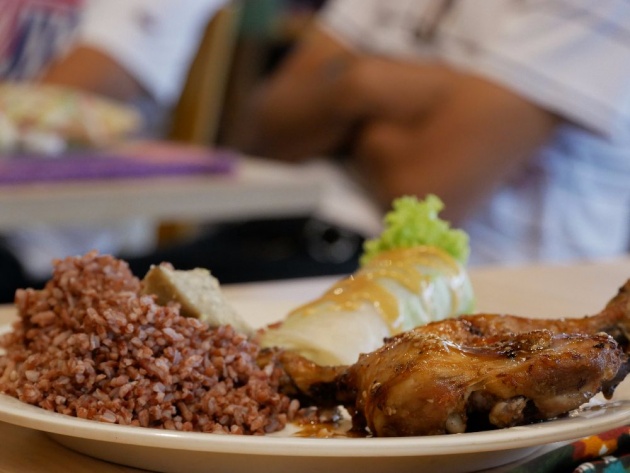 Image credits: Jean Beltran-Figues via bitLanders.com
I love their honey glazed chicken, it tastes better than the ones from Tiktilaok. James let me eat the fresh lumpia, though I was already full, I tried to eat a few and realized it was really good so I finished it as well. It has mango in it and the vegetables were obviously fresh!
My order was the Salad Pasta which was priced at Php 200. It comes with a huge slice of their own garlic squash bread too! The fettuccine pasta was cooked al dante which was perfect! There were local tomatoes in it and was properly distributed with Parmesan cheese. It was not too salty and the pepper added to it was just right that it was almost negligible however, I can still feel its flavor. I like it though.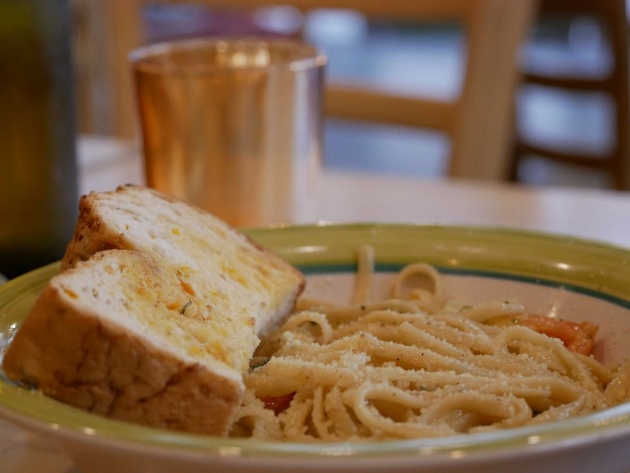 Image credits: Jean Beltran-Figues via bitLanders.com
The ordered meal comes with a complimentary meal which included their own squash bread with pesto and honey butter, there were also chips with salsa.
This alone made me a bit full already. Two bread slices were served, the pesto was a favorite ever since and it got me thinking today why I didn't buy one. The honey butter was another hit, made me want to have anther serving of that tasty spreads!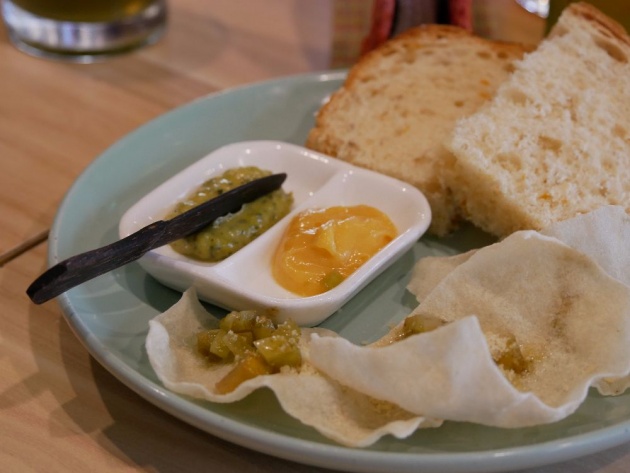 Image credits: Jean Beltran-Figues via bitLanders.com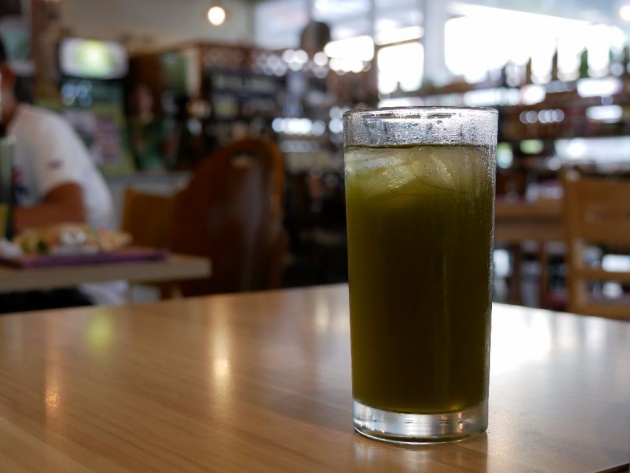 Image credits: Jean Beltran-Figues via bitLanders.com
Another favorite now is their Lemon Cucumber drink. It was good that it complimented what I have just swallowed. We just shared the drink as we already have their service water served.
Overall, it was always a nice experience to dine at The Buzz Express, kudos to the owner for providing a healthy option for the Boholanos.
Image credits: Jean Beltran-Figues via bitLanders.com
It is indeed a Bohol pride!
Best regards,
Jean Beltran-Figues