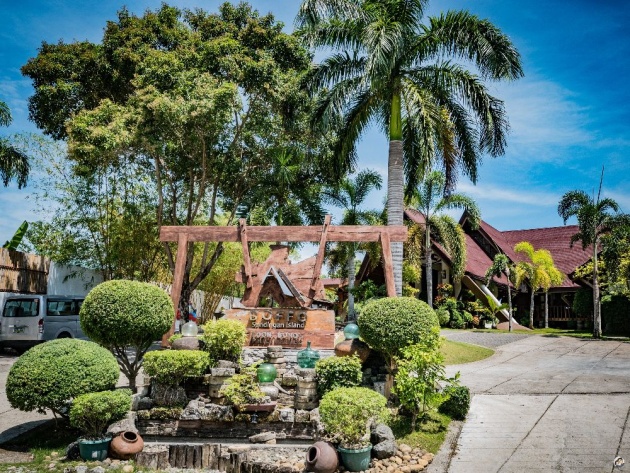 Image credits: Jean Beltran via bitLanders
Airy with a very well designed interior this was what I kept hearing from James as we were walking in the pathway going inside the restaurant of Boffo Resort.
We came from a long drive from Tagbilaran City to visit the new attraction here in Loon, the Coral Garden but when we reached there, it was still high tide so the coral garden was not yet visible so we decided to find a new place to kill time instead.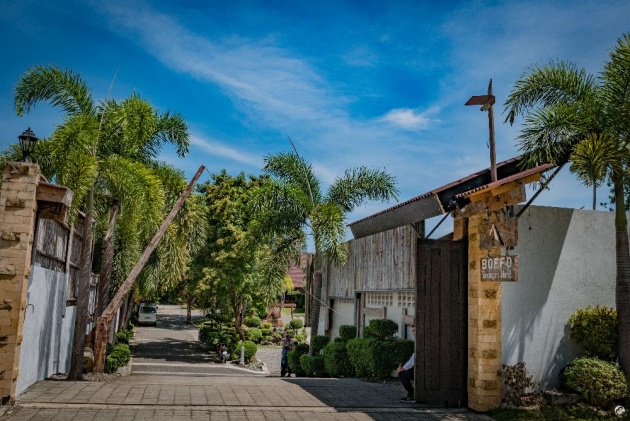 Image credits: Jean Beltran via bitLanders
A few months ago, we brought the family to Vita Isola which was also new at that time. When we were on our way home, we passed by this specific resort. So we both thought of having lunch at Boffo Resort instead. Today's blog is also regarding this resort obviously.
Ambiance
The gates were a little narrow and the sign outside doesn't look very obvious there's a slight chance of missing it out but since we were both aware that this was Boffo Resort's location area, we managed to find it without an issue.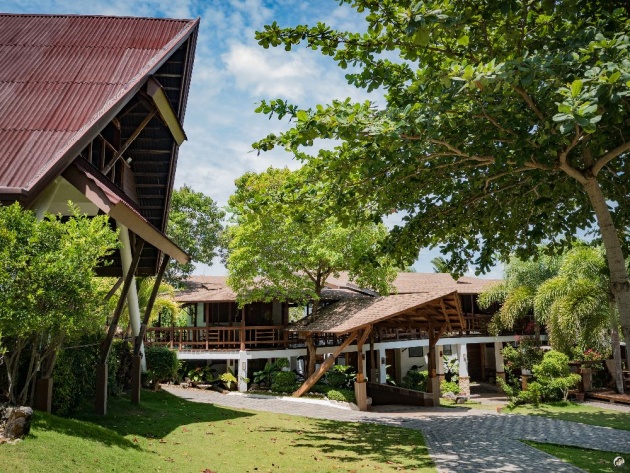 Image credits: Jean Beltran via bitLanders
Upon asking if they serve lunch here, the friendly security guard although was just sitting right when we arrived directly advised us to go straight to their pavilion. After parking our trusty automatic motorcycle bike, we walked towards this pyramidal structure made of wood and timber. This style had made me felt really excited coming into the building.
As I stepped on the concrete platform, I noticed and heard a water supply pumping which attracted me to look down the side of its building entrance. I spotted a group of huge Koi fishes! They are huge ones which were having a hard time swimming! Perhaps due to their sizes but the pond underneath this area was huge enough for them, its just that they prefer to stay in a specific area only of the pond, perhaps due to the water pump!
Video credits: Jean Beltran via bitLanders
After passing by the pond area, James and I came into their lobby where the resort receives their guests. The flooring, the furniture, the walls and even their accessories were made of wood, pretty enough to be appreciated. The lobby lounges had earthy colored pillows too. Aside from that, there were also bamboo-made items.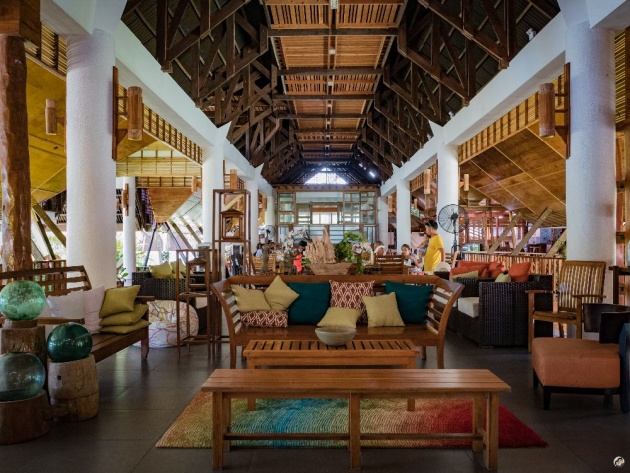 Image credits: Jean Beltran via bitLanders
Passing by the lobby, we reached the restaurant area. It has a view of the outside and I kept on telling James that this reminded me of Puerto Princesa's Mitra House as well as Bukidnon's Monastery of the Transfiguration although I have never been to the latter just yet.
Restaurant Pavilion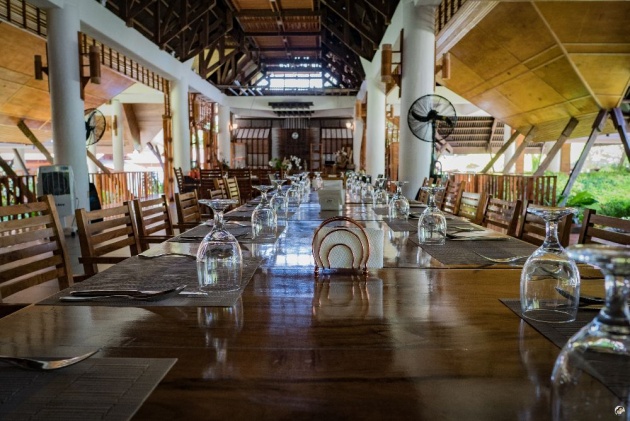 Image credits: Jean Beltran via bitLanders
Again, pretty wood were all used to create this Japanese-y style interior. Each corner of the restaurant gives me a good vibe as this kind of interior styling is my favorite.
The ceiling was high enough for good ventilation. The tables had a really clean look and feel, properly done and nicely laminated! The smooth table texture made me want to bring that specific roundtable where the staff showed us to sit.
Upon sitting, we were given right away a menu to choose from. They gave us the option to either have it served right away or later on and since we were already hungry but most importantly, tired, we requested to have it served right away.
Video credits: Jean Beltran via bitLanders
While waiting for food, we explored the pavilion and James even went out to where the pool area and their accommodation lies. Again, each single accommodation structure had been designed in such a way that although they don't have any Japanese accents to it, simply looking at the building would make you feel like they were inspired by Japanese home structures!
Right in front of the pavilion is their pool which was also huge and looked inviting except that the sun was out at 12 noon that it won't encourage you to have a dip.
At the back was the communal comfort room which has this rustic feel and earthy-color ambiance too. They got capiz-shell bamboo separator used to separate the comfort room and the sink area. I love the simple yet elegant feel inside the comfort room, the lights were not too bright which was just perfect.
Food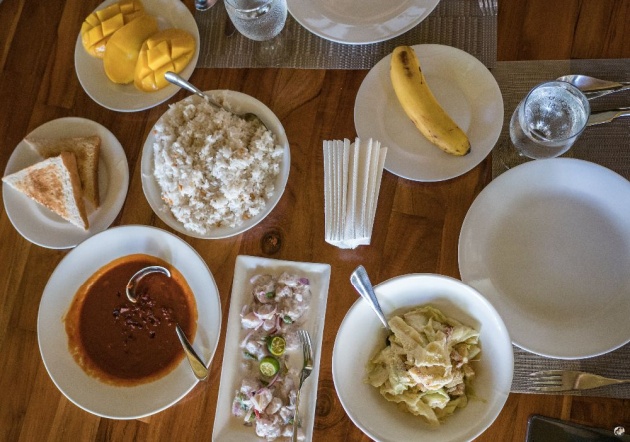 Image credits: Jean Beltran via bitLanders
As soon as the staff started bringing in food, I called James to come to our roundtable where their nicely made furniture awaits us. The high ceiling was really cool and I can't anymore describe how it was constructed but believe me when I say it was really well thought of, kudos to the architect and interior designer for a job well done!
We ordered only a few and here is my own personal review on each one:
Cesar Salad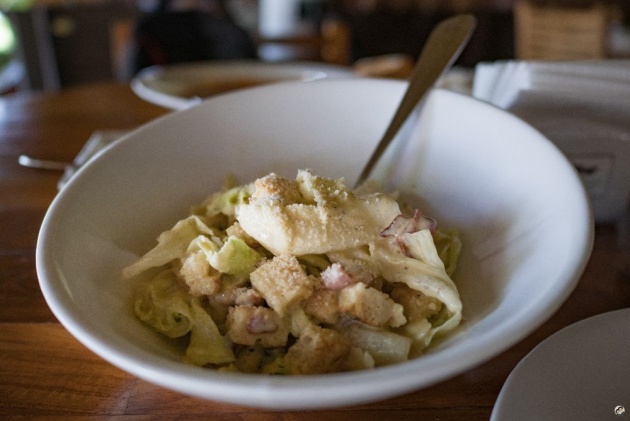 Image credits: Jean Beltran via bitLanders
The plating looks fine but dull. It was not what I was expecting because first, a Cesar Salad is supposed to be a salad, it should showcase the greens but it looked all white because they covered it with lots of mayonnaise and I regret ordering this, I should have ordered the other type of salad, perhaps it has more greens than this.
I still took a few to taste it but the taste of the mayonnaise overpower the leafy lettuces in it. I tried my best to try it again and perhaps I was just not used to the first take. But then the taste was really not okay, I had stopped eating. That was frustrating because I really wanted to eat a salad.
Cream of Tomato Soup
As soon as another plate was brought it, I went ahead and taste-test it right away because again, we were hungry but we had to be very careful with ordering what's on the menu because we don't want to end up having more than we can eat.
I actually was expecting a creamy type of soup this time, one that was like the soup we had at Punta Bulata Resort and Spa in Cauayan, Negros Occidental but this was like a pure tomato sauce placed in a plate with tidbits of bacon in it.
The taste of tangerine, sour tomato soup caught my throat and I felt really bad I stopped eating this as well. James had offered his order instead so I can have something else on my stomach.
Fish Kinilaw (Ceviche)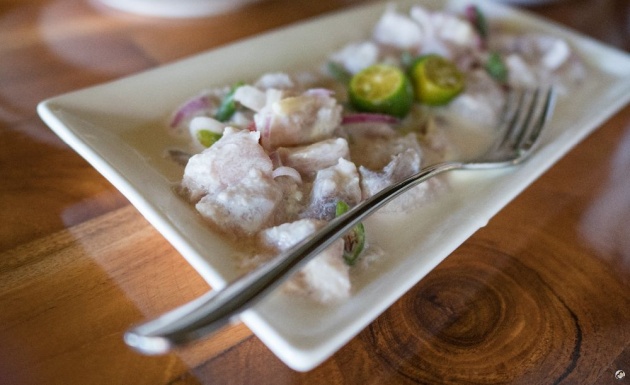 Image credits: Jean Beltran via bitLanders
At last, a favorite dish but upon looking at it, it felt like it lacks something. I don't know but it feels like the restaurant had failed in their food presentation. The plates were boring and I don't know if that was just because we were hungry and tired as well as sleepy but the ceviche was also not the best!
The fish was not very fresh, James can easily tell by just smelling and having a few tastes of its meat. The creamy coconut milk felt like those coming from a canned coconut milk and not from fresh coconut.
Although I was able to take in a few together with some dry garlic rice, it was better than not having anything to eat at all.
Overall, our experience was not very good with their food options. They were pricey but not worth it at all. Good thing there were a few fresh fruits like the banana and mango which were both sweet.
Service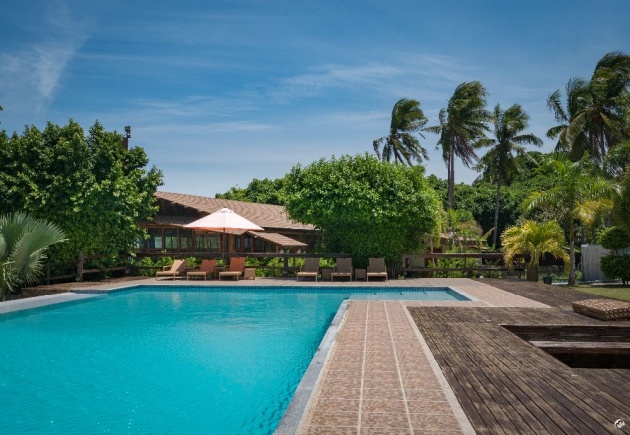 Image credits: Jean Beltran via bitLanders
I have nothing against the Boffo Resort service, the waiting time was alright, the staff were accommodating and very respectful, they also didn't let us pay their entrance fees because we were just there for lunch which I appreciated.
The staff was polite too when they were about to take my plate out as well as the cashier was able to provide us with the needed change without really asking anything from us like a few pesos or coins.
Overall Rating
After the disappointing lunch, James and I had to just take a lot of photos to compensate for the bad food served. We paid Php 900+ for this meal and I can really vouch that this was not worth it!
I believe that Boffo Resort can really improve their food and it might be enjoyable to the future guests. I am rating it three stars out of five.
This blog entry was written and published by Jean Beltran-Figues for bitlanders.com.
Join me, click here to sign up.