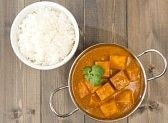 Paneer makhani
( cottage cheese with gravy)
Paneer makhani is one of the famous dish of Indian especially in Punjab. It's taste is amazing and it's a best option to serve in special occasions. You need to put a little bit extra efforts to enjoy this delicious delicacy.
Ingredients: -
1 cup cottage cheese ( cut in dice pieces)
1 roughly chopped onion
1 roughly chopped tomato
1 tsp garlic
1 tsp onion
1/2 cup vegetable oil
2 tsp salt
1 tsp red chili powder
1 tsp turmeric powder
1/2 tsp sugar
1 tsp vinegar
1 tsp chopped green chillies
1/2 cup milk
2 spoon Fresh cream
Direction: -
In a frying pan preheat 3 spoon oil. In preheated oil saute garlic, ginger and chopped onion. When onion get golden brown in color off the flame.
In a mixing jar blend saute onion green chillies and chopped tomato . Yo can add little bit of water to make a smooth puree.
Again in frying pan add 2 spoon oil and pour the blended puree. Now for puree seasoning add salt, turmeric powder and red chili powder. Cook until puree release the oil from sides.
Now add milk , sugar and diced cheese and cook puree for 5 minutes. Finely mix fresh cream and garnish with fresh coriander leaves.
Tips: -
You can deep fry the cheese to add.
You can add cashew paste instead of milk and cream
Adjust the thickness of gravy with adding water as per preference but care about spices.