At the height of his career, famed author and married father of 10 children Charles Dickens falls in love with eighteen-year-old actress Ellen "Nelly" Ternan; that is the plot of Ralph Fiennes' second directorial film, "The Invisible Woman." The film reveals the love story between the two despite their 27-year age difference when Nelly Ternan (Felicity Jones) is cast as one of the ensemble actresses in Dickens' (Fiennes) play "The Frozen Deep." Although her sisters are thought to have more talent, Nelly's beauty and intelligence nonetheless leave a mark on Dickens and he decides to leave his wife for her.
Fiennes shines as Charles Dickens in portraying his lively creativity and generosity to those around him. He ranges from arriving full of life like a marching band at Nelly's birthday party being the natural performer that he is, to a man seriously concerned with the well being of his family determined to hide scandal. Felicity Jones matches him as his on-screen other half. Though young, Nelly proves her maturity and intellectual eagerness, so much so that she contributes valuable insight on Dickens literary drafts. The cast is completed with Tom Hollander playing Dickens' energetic writing partner, Wilkie Collins, who is as equally childish and fun-loving as Dickens as well as Kristen Scott-Thomas playing Nelly's mother who sees the affair as the best opportunity for Nelly to find financial and societal security.
One of the interesting points the film raises is what life as a celebrity was like in the 19th century. Dickens cannot walk down a street in England without being recognized and struggles to keep his privacy although he does not have to live with today's modern paparazzi and social media. Nelly is forced to remain hidden as his mistress as not to damage his popularity with the public, something she continues to grapple with even after Dickens' death. The film opens and closes with Nelly, now married and a mother, directing her husband's students in a rendition of Dickens' "Great Expectations". The love affair is actually a flashback shown chronologically but interspersed with scenes from Nelly's present life that ultimately shows the impact Dickens made in Nelly's life, even after his death.
As only the second film Fiennes has directed, he has proven that he is not afraid to tackle the works and lives of famous figures, yet does so quite differently. In his directorial debut, Fiennes starred in the modern day adaptation of Shakespeare's Coriolanus where he played the title role leading an ensemble of Vanessa Redgrave, Gerard Butler, Brian Cox and Jessica Chastain. However, in that film, Fiennes mixed elements of theater and film to portray the tragedy of the Roman leader often using a handheld camera to show raw emotions the disarray of war as well as the personal and internal battles Caius Marcius Coriolanus fought. Quite differently, The Invisible Woman is a beautifully shot period piece that is definitely more cinematic showing the delicacy of the emotional affair and many of the unfortunate events throughout their relationship. In Coriolanus, Shakespeare's dialogue was the weight of the film, while in The Invisible Woman Fiennes relies more on the interactions between each character. Fiennes has taken a different, but appropriate approach to each of his films. Although in both films he plays lead, he also let his co-stars shine, proving he is on the way to be one of the next great directors.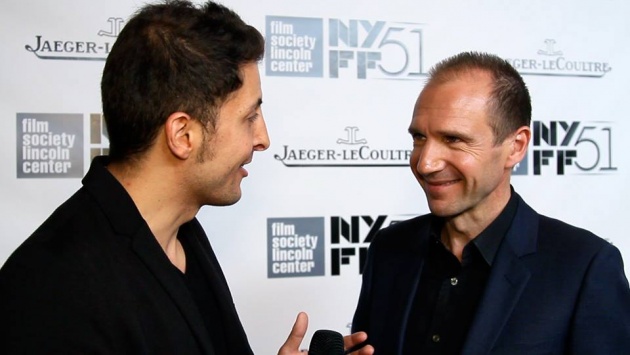 Check out our interview with Ralph Fiennes when he was honored at the 51st New York Film Festival and presented "The Invisible Woman"