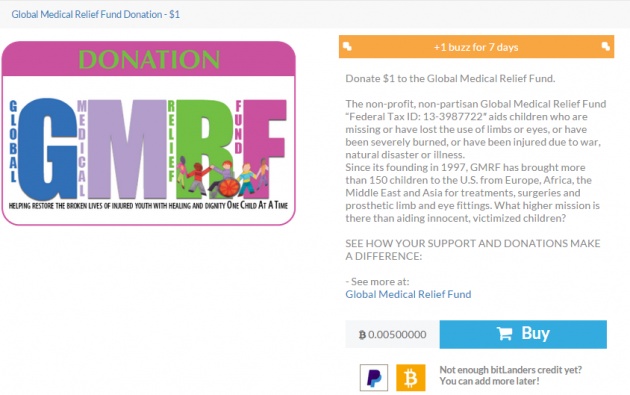 I was looking at shop today, no specific aim in particular, I am just trying to see if there's anything new in the it but nothing yet so far and then I went into the charity option and was a bit wondering why the appearance or the sequence of the foundations were not the same as before.
My aim was to donate from top to bottom and so the last donation I had made was for Soles4Souls and they are now in the bottom area but because of this sequence, something in me said that I should just donate the few bitcoins I still have in my wallet. I had purchased some items earlier today and I thought why not just donate the remaining ones.
Let's check the information about the Foundation:
The non-profit, non-partisan Global Medical Relief Fund "Federal Tax ID: 13-3987722″ aids children who are missing or have lost the use of limbs or eyes, or have been severely burned, or have been injured due to war, natural disaster or illness.
Since its founding in 1997, GMRF has brought more than 150 children to the U.S. from Europe, Africa, the Middle East and Asia for treatments, surgeries and prosthetic limb and eye fittings. What higher mission is there than aiding innocent, victimized children?
Here's the website: Global Medical Relief Fund
I had to add more funds because the balance is not enough, I took a video of the donation through PayPal.