Don't look back, you're not going that way !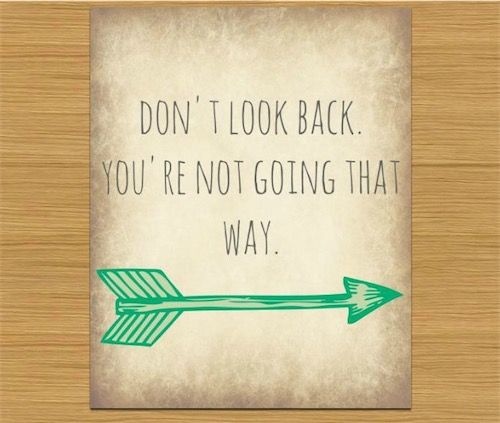 Very long ago an Athenian herald was sent to Sparta to get help when the Persians landed in Greece. It was said that he ran 240km in 2 days and after that he ran 40km to announce the victory of the Greeks only to collapse and die on the spot from exhaustion but he never looked back.

If you ever feel like things are difficult, imagine what it would be like to run 240km in 2 days.


You are stronger than you think. One little setback is not enough to stop you from achieving your goals. Neither are 10 or 100 or 1000 setbacks.
Like Fiddy (50 cent) says, "Get rich or die trying". 50 Cent is rich, he made it (although he did get shot 9 times) because he over came his past, he never looked back and changed his future.
Face your fears and don't take the easy way out by giving up.

There will always be haters. There will always be plenty of naysayers and people who try to tear you down. Don't pay attention to them and don't take what they say to heart. Let the haters hate and you keep believing in yourself.
There is a famous saying by Haruki Murakami that
"Once the storm is over, you won't remember how you made it through, how you managed to survive. You won't even be sure whether the storm is really over. But one thing is certain. When you come out of the storm, you won't be the same person who walked in. That's what this storm's all about."

So keep in mind that "Our greatest glory is not in never falling, but in rising every time we fall." and to do that you have to always focus on future and not looking back.
P.S. NEVER GIVE UP, NEVER LOOK BACK!
--- OMAIR