Teachers must update their practice by removing notetaking from the work their students do. I don't just preach this idea. I practice it. In every class I am responsible for, students are given all teacher notes, slides, videos (with transcript) and materials. When students have the notes, rather than worrying about recording what the teacher says, they can make meaning of what the teacher says. This allows students to move to higher order thinking skills and get to the thinking faster.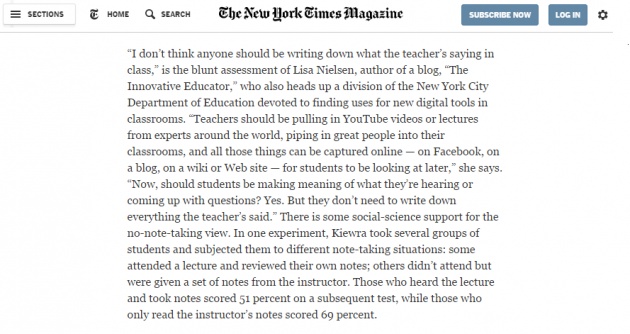 If you believe this premise, read the excerpt below from the New York Times which shares my take on this, and some research to back it. Then, scroll below to check out one smart way to go beyond traditional note taking.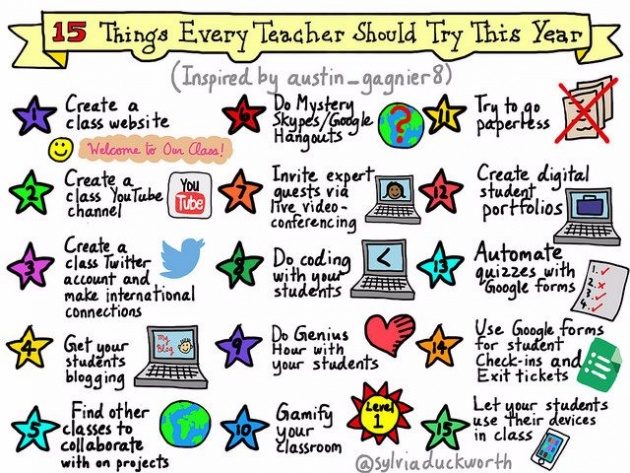 One smart way to go beyond traditional note taking is sketchnoting. It allows students to creatively engage in meaningful practice is sketchnoting. If you work in education and use social media you are likely to have seen one of Sylvia Duckworth's popular Sketchnotes. Duckworth has become talented at sketching what people are saying, writing, or what she's thinking using some of her favorite iPad apps.

This sketchnote was making it's way around my face-to-face professional learning network recently. 20804744230_dfefb98012_z.jpg

Not only do sketchnotes provide a great way to visually represent ideas, they also are very compelling as conversation starters in social media and simply printed out and displayed.

Sketchnotes don't need to have a fancy tablet or computer program either. Here is a sample of one done on paper:
Note by Bill Ferriter @Plugusin
Want to know if sketchnoting is right for you or your students? Think of why the notes are being taken, and also, how things change when students have notes at their fingertips from the onset. Also consider how you are assessing students. Memorization and regurgitation of facts is no longer important in the age of the internet. Finding, validating, and making meaning are more important for modern learners.
If you or your students want to generate ideas to share with others, then sketchnoting is a way to mash up the ideas heard with the speaker's and the sketchnoter can make it their own. Another benefit of sketchnoting, is that unlike traditional notes that die in the notebook of the note taker, sketchnotes live on and are ideal for sharing.
Rather than asking students to take notes when they read, listen to, or watch something, invite them to sketchnote. Different students can select different parts of the reading or viewing to represent, and the notes can accompany the lecture, video, or text in the present or future.

Sketchnoting provides an innovative way for students to make meaning of and reflect upon what they have learned. Their creations can also be a better way for students to discuss with their parents the answer to that age old question: "What did you learn in school today?"