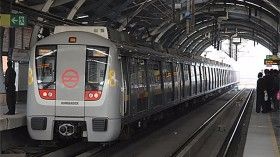 Driverless trains could soon be a reality for Kolkata Metro commuters in 2018.
"There is a target that all the new metro rakes in the city from March 2018 would be grade of automation 3 (GoA 3) driverless rakes," said Yatish Kumar, Director, Research Design and Standards Organisations, Indian Railways.
The grade of automation (GoA 3) refers to driverless train operation where starting and stopping are automated but a train attendant operates only the gates of the trains.
Kumar said the new rakes could be imported from China and will be for existing metro routes, including the new East West and Dum Dum-Garia metro sections.
Chennai, Bangalore and Lucknow already have GoA 3 rakes.
GoA 4 rakes on the other hand are trains where even door operations are automated. One rake is running on a trial basis, Kumar said on the sidelines of the CII-organised Manufacturing Excellence conference here on Saturday.