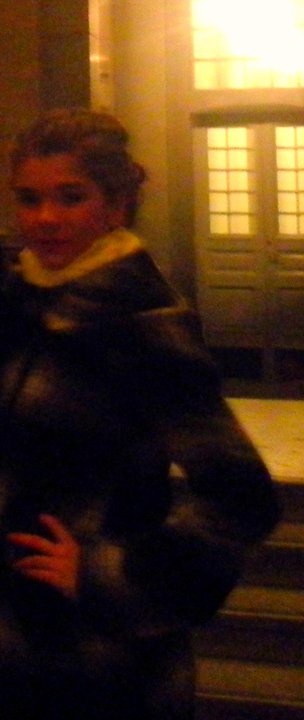 NAIDA SEKIC, DIPLOMATICALLY INCORRECT'S guest writer sends her concluding installment of "A PLACE TO CALL HOME." Her inspiration for this story was love of her Bosnian homeland and its children, and all of the children of the world. Naida served as UNICEF's ambassador at the 2010 World Child and Youth Forum. This tremendous honor enabled her to present her message of what needs to be done for the children of BOSNIA and HERZEGOVINA. The message is universal: CHILDREN are to be treasured, protected, loved, and educated with blind eye as to their race, ethnicity, and gender.
The photos Naida includes were taken at the Royal Palace of Stockholm in Sweden during the 2010 World Child and Youth Forum. Following is Naida's role and CV in the programme agenda:
Naida Sekić, a Bosnian and Herzegovinian student at the International Baccalaureate Diploma Programme in Stockholm represented UNICEF at the Royal Palace of Sweden at the premiere of the World Child and Youth Forum. Delegates from around the world as well as King Carl XVI Gustaf and Queen Silvia of Sweden participated in the celebration of the 21st anniversary of the creation of the Convention of the Rights of the Child. The November 19th 2010 Forum, initiated by the Swedish Royal couple, reinforced its support for the Convention, and stated its ambition to inspire countries to embrace the practice of Children's Rights, in order to improve the conditions of all children. In Her opening speech, the Queen underlined the importance of following the Convention and explained how "our childhood imprints our adult life." UNICEF representative Sekić speaks of how it truly did so in her case. Forced to flee Bosnia and Herzegovina at the age of eight months because her rights were denied due to the war of 1992-1995, the family relocated to Sweden.
Miss Sekić is grateful to Sweden for reinstalling her rights again, yet she does not underestimate the difficulties faced being brought up in a different culture from her own. To preserve her Bosnian heritage, the parents of UNICEF ambassador Sekić dedicated much time and energy to keeping her Bosnian spirit alive, yet still encouraged her to access Swedish society. From this upbringing it was a natural step for her to become active in UNICEF with its strong focus on giving support to children. Her desire to contribute to the establishment of a secure and stable environment for children has been a dream of hers for many years. This long-term dream of working with promoting Children's Rights in Bosnia and Herzegovina moved closer to fulfillment when she was given the honor of representing UNICEF Sweden at this important convention.
DIPLOMATICALLY INCORRECT is honored to send the conclusion to "A PLACE TO CALL HOME" and looks forward to more articles from Naida.
----Regards, Susan Sacirbey and DIPLOMATICALLY INCORRECT
"A PLACE TO CALL HOME," By NAIDA SEKIC - (Conclusion)
"Only As High As I Reach Can I Grow, Only As Far As I Seek Can I Go, Only As Deep As I Look Can I See, Only As Much As I Dream Can I Be"
UNICEF - United Nations Children's Fund, such a beautiful ambition, is it not? I wish to believe so as I have always born the mighty character of UNICEF in my burning passion for the realization of the Rights of All Children. The pursuit of making sound states of trust and securing the most beautiful gardens beneath which rivers will flow to water the blossoms of all children shall forever remain a priority of mine. As a child, many of my rights were taken from me as the right to my home, which will forever remain a heartbreaking verity. "Far away there in the sunshine are my highest aspirations. I may not reach them all but I can look up and see their beauty, believe in them and try to follow them." That is my ambition and my heart spreads the widest of smiles across my soul every time my ambition takes me one step closer to the fulfillment of my goal.
"In the Depth Of Winter, I Finally Learned That Within Me There Lay an Invincible Summer"
Home bears a meaning of peace whose song sounds so beautiful and serene just like music to my ears, a melody I can replay a thousand times over. Home is a feeling of right whose comfort and love nurses one to life. Yes, I was driven from my home, yet a bird's wings always flies back to its nest, does it not? We must not forget that we are entitled to our home. We are entitled to freedom.

We are worthy of love. We ought to taste love, to feel love, and to be loved. We deserve laughter and sunshine, clear skies and singing birds. We deserve the best of friendships, kind faces and true smiles. We deserve beautiful colors and rains of mercy. We deserve to be happy, to feel happy and to think happy thoughts. We deserve to cry happy tears. We deserve to travel without visa restrictions. We deserve to educate ourselves, to work and to make something of our lives. We deserve to be recognized and respected for who we are. We deserve to go to the European Championship, and above all, we are worthy of life and life is worthy of us.
Over the years I have heard many stories of men and women saying how they rather had not survived the Aggression. Good thing they did in order for them to witness my sincere gratitude as many people disregarded the lives of their own families and a chance of their own survival for the protection and survival of the innocent lives of Bosnia and Herzegovina. My heart calls for me to simply say thank you, for everything; for had it not been for you, I would not have a place to call home.
--From Susan Sacirbey
Facebook: Become a Fan at "DIPLOMATICALLY INCORRECT" & "BOSNIA TV""

Follow on TWITTER @DiplomaticallyX

More Film & Blog Reports:
Part I – "A Place To Call Home," By Naida Sekic:
diplomaticallyincorrect.org/films/blog_post/more-from-naida-sekic-a-member-of-the-bosnian-herzegovinian-diaspora-from-susan-sacirbey/42329
Part 2 "A Place to Call Home" By Naida Sekic
diplomaticallyincorrect.org/films/blog_post/a-place-to-call-home-part-2-by-naida-sekic/42873

Part 3 "A Place to Call Home" By Naida Sekic
diplomaticallyincorrect.org/films/blog_post/a-place-to-call-home-part-3-by-naida-sekic/43124

Part 4: "A Place to Call Home" By Naida Sekic
diplomaticallyincorrect.org/films/blog_post/a-place-to-call-home-part-4-by-naida-sekic/43358

Part 5: "Javi Se, Babo, Father Call for Me - A Place to Call Home," By Naida Sekic --
http://diplomaticallyincorrect.org/films/blog_post/javi-se-babo-father-call-for-me-by-naida-sekic/43457

Part 6: " A Child Is a Child, A Place to Call Home," By Naida Sekic-
diplomaticallyincorrect.org/films/blog_post/a-child-is-a-child-by-naida-sekic/43626