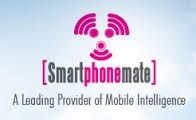 INTRODUCTION
This isn't just an app this helps you to earn a mobile credit or free gift card such as Amazon Gift Card per month. You can use earn from this app until the program ends, lifetime, your mobile device's life or until you opt-out and uninstall it from your phone.. This app is from a company of mobile research, SmartPhoneMate/Informate. Their app called the SmartMeter which anyone who will participate must need to be install on their Android. To install it you must have your Android device ready and visit www.smartphonemate.com or visit http://play.google.com (they don't support iOS devices at this very moment).
INSTALLATION/HOW TO USE/REWARDS
To install SmartPhoneMate is very easy because all you need to do is go to their website www.smartphonemate.com or visit Google Play and search for "smartphonemate" on the searchbox and download the app. The recommended one is you download the app via Google Play so you don't need to configure and verify apps in settings, I mean straightforward, and get the latest updates. After downloading the app, open it and register/create a new account and enter your credentials/information such as your email address or mobile account (which will be use to send your free mobile credit or free gift card) and choose your country (this is required for every country has assigned reward, the reward vary by country) and then click submit. Check your email address to confirm it and go back to the app. You'll see a "POST DATA NOW" button and click it for 2 times every day within the month or 2 times every 20 days within the month so you can receive your free mobile credit or your free gift card.
IS THIS SAFE?
All I can say about this app is absolutely SAFE! Before I write this article to all of you and share this to all users of bitLanders I also use this app. This is from a company of mobile research which surveys of what you're interacting with your mobile mostly from Google Play, they are conducting a research about mobile apps, how would people use it and what mobile apps are mostly downloaded from Google Play. Before using the app, they will pop-up their terms or service and promise they won't sell or steal any information about you. Since I am from Philippines, which mobile credit (load) is the reward for 50 pesos per month. From years of using it now, I received a total of 1,000 pesos including bonuses. I remember they gave me P500 for being an active panel member and received P100 instead of P50 in time for Christmas Eve.
So that's all. Download it now and start receiving rewards. Let's see if you have heard this before or not and you can ask some questions in the comment below.