Asafetida Crusted Scallops with Arugula and Star Anise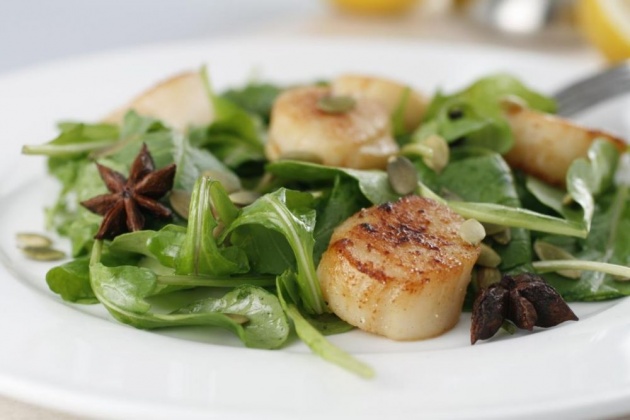 Ingredients
10 to 12 large sea scallops, about 1 pound, , tough muscles removed
1 tablespoon asafetida
3 tablespoons olive oil
3 star anise
Salt to taste
Juice of 1 lemon
4 cups young arugula leaves, rinsed and dried
2 tablespoons pumpkin seeds, lightly toasted
Preparation
1

Gently pat scallops dry with paper towels. In a food storage bag, toss scallops gently with asafetida, 1 tablespoon olive oil, and salt. Refrigerate for about 1 hour.

2

Heat the remaining 2 tablespoons olive oil in a large skillet over high heat. Add the star anise and fry until very fragrant, about 1 minute.

3

With tongs, arrange the scallops in the hot oil and cook for about 2 to 3 minutes on each side, or until golden brown.

4

Remove and drain excess oil on a kitchen towel.

5

Remove the oil from heat and stir in the lemon juice and cool.

6

Toss the arugula in the reserved oil and divide salad onto plates topped with scallops and pumpkin seeds.
Chef Vikas Khanna