Shrimp Sautéed with Rainbow Peppers and Pine Nuts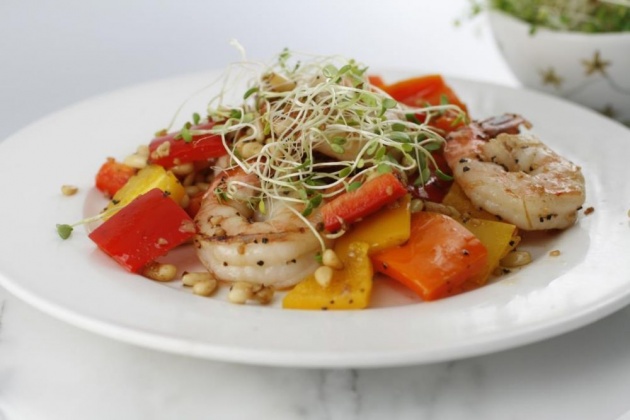 Ingredients
1 tablespoon vegetable oil
1 teaspoon minced ginger
2 cloves garlic, minced
2 cups assorted peppers, cut into 1-inch dices
4 tablespoons pine nuts
10 shrimp (U-15 size) about 2/3 pound, cleaned and deveined
Salt to taste
Freshly ground black pepper
1 teaspoon rice wine vinegar
2 tablespoons water
1 bunch alfalfa sprouts for garnish, optional
Preparation
1

Heat the oil over medium-high heat in a wok; add ginger and garlic and fry for a minute, stirring continuously. Add the peppers and pine nuts and stir-fry for 3 minutes.

2

Add the shrimp, salt and pepper and cook, stirring until the shrimp curls and turns opaque or pink, about 2 minutes.
3

Add the vinegar and water and cook to blend all the flavors, stirring continuously, about 2 minutes. Serve hot garnished with sprouts.