This is so easy. Actually, it is so easy it's embarrassing.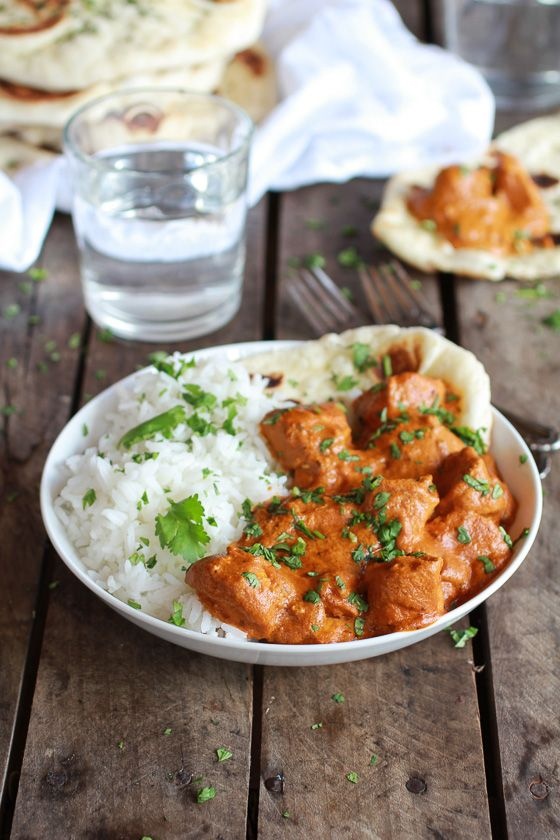 But you see, there was a reason for that Naan yesterday.
Butter Chicken.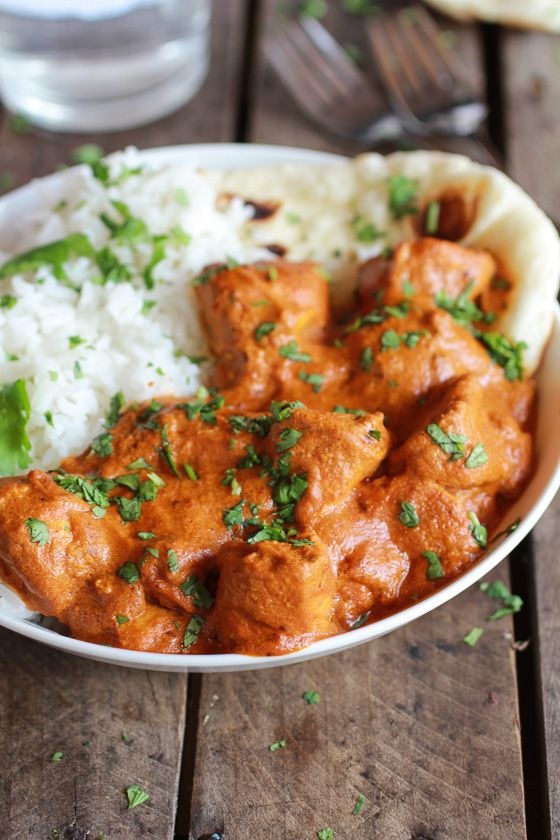 Butter chicken and Naan need each other. Especially when both are homemade and both are incredibly awesome.
And oh my gosh… So easy!
When I set out to make the Butter Chicken I wanted it to be crazy easy.
My cousin Maggie graduated from college with a teaching degree in May, and in August she started teaching full-time. Yeah, only three months later she landed her first teaching job and it is full-time and with her very own kindergarten classroom! I know, right? The girl is pretty awesome and one of the hardest workers I know.
She is also very busy, but really who the heck is not these days?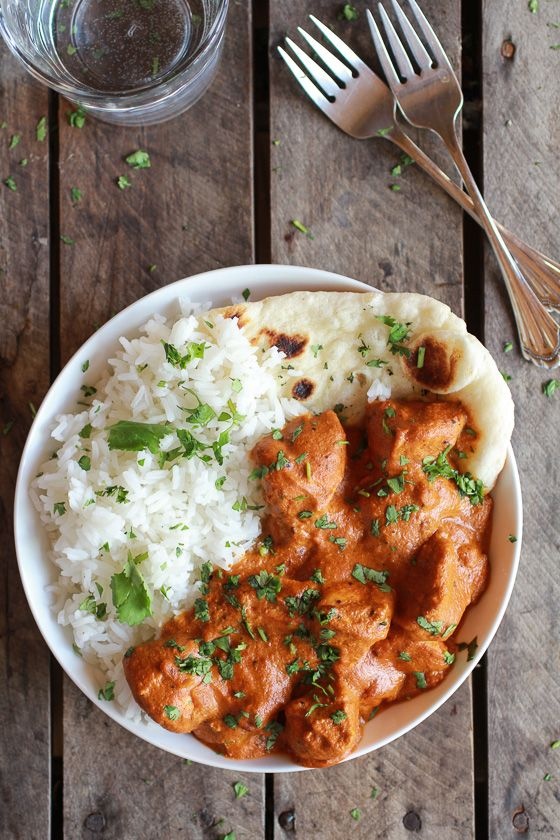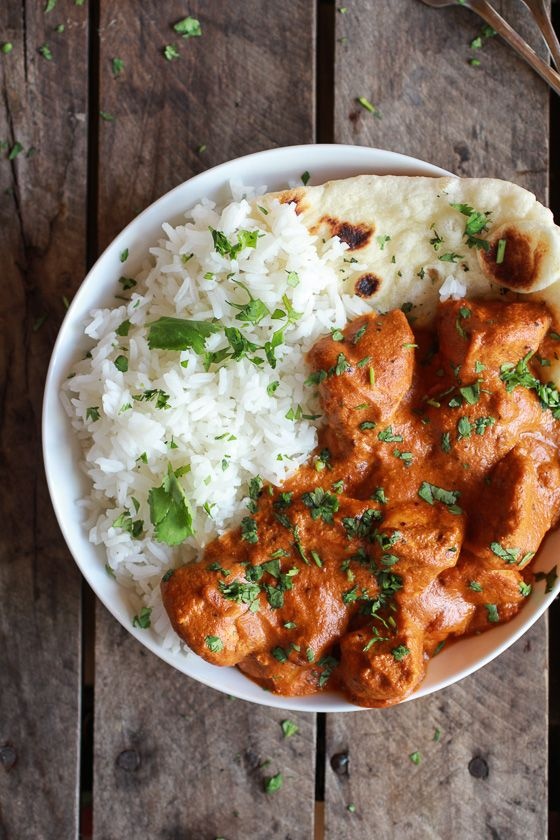 She has been asking for easy crockpot recipes. You know, the one's that you can just throw everything in the bowl, turn it on and go!
So I adapted the classic Butter Chicken recipe, made a few changes to make it healthier, threw everything in the crockpot and prayed. Prayed that this (way too easy, most likely would never work) meal actually tasted somewhat edible.
Sometimes when I experiment things can turn out just plain bad. Like all the recipes I made this past weekend. Ugh…so disappointing. Let's just not talk about that. But sometimes…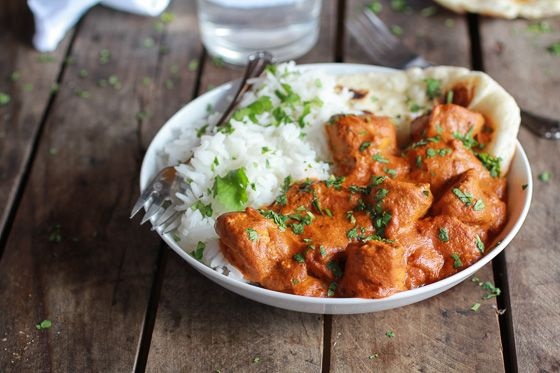 I have to say that normally I like browning my meat before I put it in the crockpot, but for this I did not miss it at all. There is so much flavor in the creamy sauce that you don't need to brown the chicken first.
Which is just kind of awesome. I mean who wants to clean another pan? Not me. I am already up to my eyeballs in dishes.
Oh and seriously, the Naan is a must.
Easy Healthier Crockpot Butter Chicken
prep time:

10 MINUTES

cook time:

5 HOURS

total time:

5 HOURS
serving size: 4
Ingredients
1 pound boneless skinless chicken breast, cut into bite size chunks
1/2 onion, finely minced
2 tablespoons butter
3 cloves garlic, minced or grated
1 tablespoon freshly grated ginger
2 teaspoons curry powder
1-2 teaspoons curry paste ( I used Thai Red Curry Paste and 2 teaspoons)
2 tablespoons garam masala
1/2-1 teaspoon turmeric ( I used 1/2 since my family is not crazy about turmeric)
1 teaspoon cayenne pepper (use less if you are not a spicy person)
1/4 teaspoon salt
1 (6 ounce) can tomato paste
1 (14 ounce) can coconut milk, regular or lite (I used regular), plus more if needed to thin the sauce
1/2 cup greek yogurt (I used 0%)
1/4 cup half and half or heavy cream
cooked white rice, for serving
Fresh homemade Naan, for scooping (a must!)
Instructions
In a large glass measuring cup or bowl mix together the coconut milk, greek yogurt and cream. Stir in the tomato paste, garlic, ginger and all the spices. Mix well.
Spray the inside of your crockpot bowl with cooking spray or grease with olive oil. To the bowl sprinkle the onion over the bottom. Add the chicken and then pour the coconut milk mixture over the chicken so the chicken is completely covered. Add the butter and place the lid on the crockpot. Cook on high for 4 hours or on low for 6 to 8 hours. I like to stir mine once or twice during cooking, but it is not necessary. When ready to serve taste and season with salt and pepper if desired. Serve over rice with a big piece of fresh Naan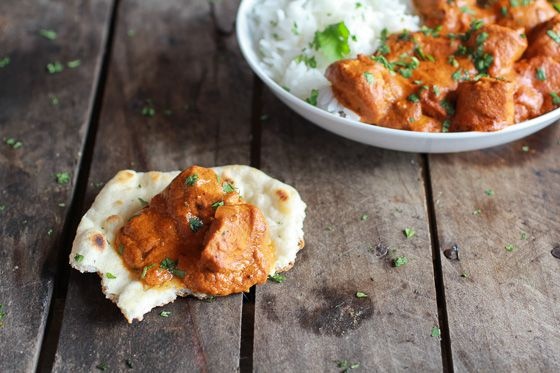 Amazing Dish