EAT FRESH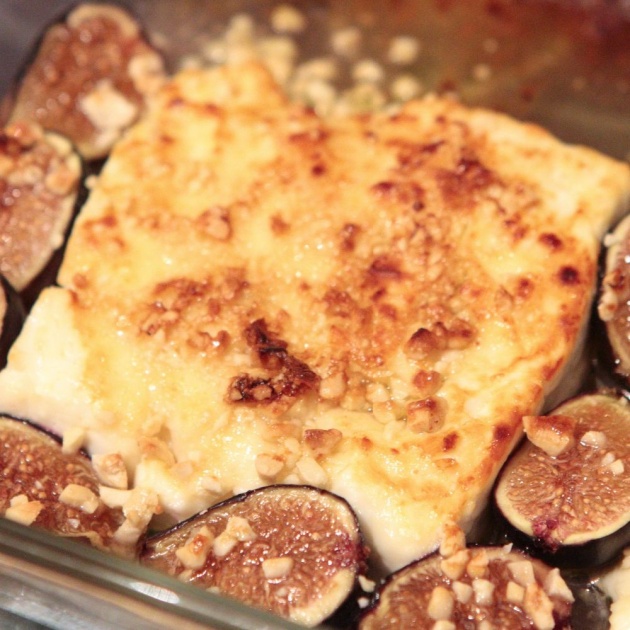 Honey Baked Feta
Some of the best barrel feta in the city is found just 3 blocks from my house, I make frequent stops there through the month, to assure I always have a fresh stock. Sure I could buy a larger batch to last a little longer but feta clean out of the brine is the way to do it. it taste better, smells better, and is still so moist.
Feta is great in salads, on pizza, melted into veggie dishes and can be stuffed into everything from peaches to peppers. But what about just eating it on its own, sure I'll go to the fridge and nibble on the block but never do I sit down with a fork and knife and go at it. I have to admit its is a very overwhelming cheese, the salt alone would make me want to get up and walk away. But what goes better with salty than sweet, nothing… So here is how you can sit down with a block of feta eat it all and still want more for years to come. The first time I ever tried honey baked feta was in 2009, it is 2012 and Im still thinking about it. Now this can be eaten along side a meal or you can set it out as a toothpick appetizer for a dinner parties.
Ginger Quinoa Loaf
I love bread, I love a moist dense bread, I love rich flavourful bread, I love simple bread and I love those "what am I doing trying to make this" bread. Quinoa cornbread was on the top of my list this week, so I split the recipe and made a basic loaf and continued with making the ginger quinoa loaf. Cornbread is a great tasting loaf on its own but adding a few dried fruits such as currents or raisin and ginger bring a new buzz to the taste buds. The ginger quinoa loaf has a subtle natural sweetness making it great for breakfast, snaking or after dinner table dessert. Watch yourself though you may just eat it all once you pull it out of the oven. You can also make a basic quinoa cornbread by following the same direction minus the ground ginger, fresh ginger, currents, and vanilla extract.
Ginger Quinoa Loaf
1 1/2 cupYellow Corn Flour (not cornmeal)
3/4 cup Quinoa to 1 1/2 cup water
1 cup Buttermilk, 3 1/2%
1 Egg, large
2 tsp Ground Ginger
3 tbsp Fresh Ginger, minced & julienned
3 tbsp Dried Currants
2 tsp Pure Vanilla Extract
1 tsp Baking Soda
1/2 tsp Sea Salt

Preheat oven to 350˚F, line 2 6×3″ baking pans with parchment paper and set aside.
Set 1/2 cup cooked quinoa aside, in a large bowl mix the remaining quinoa with yellow corn flour, salt, and baking soda, set aside. In a separate bowl whisk buttermilk and egg together once combined add to flour mixture and stir by hand. Add ground ginger, 2tbsp minced fresh ginger, dried currents and vanilla extract, combine well. Pour into baking pans, evenly spread remaining quinoa and julienned ginger across the tops and bake for 30 min. The loaf will rise 1/2″-1″.
Butternut Ginger Salad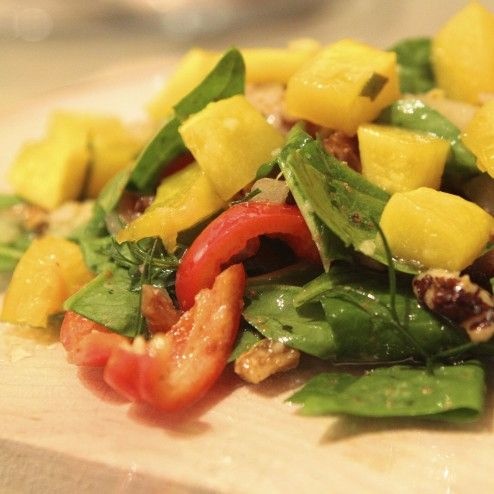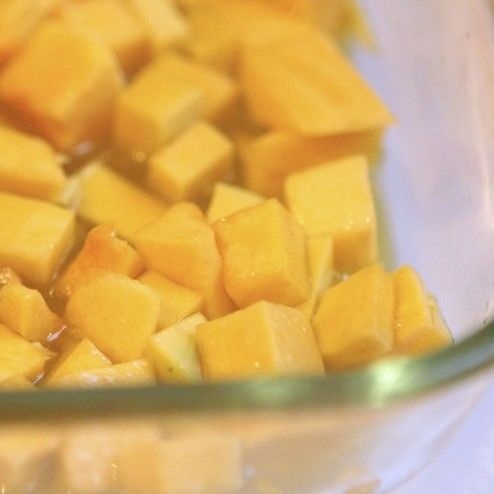 For almost a week now I have been tempting the idea of squash salad, with an abundance of lettuce greens and a bag of locally grown ninja spinach there was no better choice. With a number of amazing recipes popping out at me I struggled narrowing it down to just one. Instead I read through about a half dozen recipe choices picking and pulling all my favourite ingredients. After all of the possible ingredients were jotted down on a notepad I split and mixed all the possible choices for the best dressing and marinade, everything else was discarded. Now for substance, I wanted to go for a nice sweet rich taste with a little bite, I figured adding a few onions may do the trick. As for rich flavours to help bond with the squash I thought figs, walnuts, sweet peppers, garlic and sage would taste great together.
The salad alone wasn't enough for me So I decide to go with tomato peach chicken (this recipe is not listed) as the chicken cooked I prepped the salad in decent time. If you are stressed for time you can quickly whip the dressing and marinade together and store in the fridge for later. You can also conveniently double the recipes and have extra for another occasion.The marinade can also work as a flavourful salad dressing in cabbage greens salad.
Butternut Ginger Salad
INGREDIENTS
4 cups Butternut Squash, cubed
4 cups Spinach or Mixed Lettuce Greens
8 dried figs, chopped
1/4 cup Walnuts, crushed
1 cup Sweet Red Peppers, chopped
1/3 cup White Onion, minced
4 Cloves Garlic, minced
1 tbsp Fresh Sage, ripped

SALAD DRESSING
1/4 cup Walnut Oil
2 tbsp Cider Vinegar
2 tsp Red Wine Vinegar
1 tsp Cayenne Spice
1/2 Lemon Zest

BUTTERNUT SQUASH MARINADE
1/3 cup Olive Oil
1/2 Lemon, juice & Pulp
2 tbsp Honey (Vegan, replace with brown sugar)
1 tbsp Ginger, minced
1/4 tsp Salt

Directions

Preheat Oven to 375˚F
Dice butternut squash and place in big bowl, in a separate small bowl start with marinade. Whisk together olive oil, lemon juice with pulp, honey, ginger and salt. Pour half of the marinade over the raw squash, toss squash around and add remaining marinade, continue to mix until all of the squash is marinaded. Spread a single layer of squash evenly across a large deep baking pan with marinade. Bake for 30 min, at 25 min pull squash out and garnish with sage, continue baking for another 5 min. Remove from oven and allow to cool.


In a jar mix walnut oil, cider vinegar, red wine vinegar, cayenne spice and lemon zest, shake well and set aside. Tear salad greens into a medium bowl with figs, walnuts, peppers, onions, and garlic. Shake dressing up again and pour over salad, toss salad and serve with butternut squash on top.