My buddy Jikz has written a blog about Correlation between Social Media, Technology and Education. In his blog, he has explained the benefits of social media and technology and how we should embrace this in education. He has described the benefits of technology for education but in his enthusiasm, he forgot to mention the objections. I have let him know that I do disagree with his point of view.* So I have challenged myself to write this blog and I will try to explain why it is important that education should not be controlled by digital technology.
*but I still love him anyway
Jikz' 5 arguments to maintain his statement about the good cause of technology in the school system:

No longer bound by classroom walls
Knowledge starts at a young age
To build confidence
Increase social activities
Improve communication

source Image: Ivy Maria
In this blog, I will describe the objections I have against more technology in the education system. I have been a teacher for several years and I have seen a lot of problems that come along with digital technology. It has been my experience that a lot of people underestimate the objection of al this e-learning for young children. A big frustration for is (at least in my country) that lack of money is always an issue in the education system. So I will use this blog to make you aware for children it's better to go down to earth then embrace in the digital galaxy.
I have heard people say. "Well, we do not have to teach children how to write. We don't need history because we have Google. We do not need geography because we have Google maps." "Well, let me tell you one thing. It's not only writing, history or mathematics." Learning is also training your brains to gain information. If you don't train this as a child it will become very difficult as an adult to gain information if you didn't get this mental labour as a child."
This movie explains what the internet does with your brain. Nicolas Carr, the author of, "The Shallows: What the Internet is Doing to Our Brains," is being interviewed about how the Internet is influencing us, our creativity, our thought processes, our ideas, and how we think.
It irritates me that adults who did get a proper education without any kind of technology think that technology will increase the results. For oldies, it is a good thing to search on google. We have had brain-training. But what if we stop teaching our children History? Will they be able to remember all the thing they have to look up for on Google if they have never trained their brain to remember things?
Research of Manfred Spitzer, a German brain scientist has shown us that digitalisation doesn't make people smarter. On the contrary, it makes people dumber. The memory of a child is much better than the memory of an adult. But to learn children need to do mental labour, for example by playing memory, or by multiplying numbers. Spitzer explains that you can see the brain a muscle. You need to train that muscle in order to grow but if you don't the brain will shrink. Spitzer claims that too much technology will destroy the intelligence and causes digital dementia.
Here is a short motion design project that picks out the so-called "digital dementia" as a central theme.
The film wants to tell you the negative effects of digital media on our brain, our body and our social skills. narrator: Kurt Woischytsky. Source: www.youtube.com
Book Digital Dementia: How we destroy our intelligence by Manfred Spitzer

Young children need to play

The best way for a young child to learn is to explore the world through by playing. You can not build a sandcastle or fashion a clay ashtray with a computer. Education for young children is primarily focused on the development of senses. By interacting while they play children learn confidence and language skills. Children do go to school to learn how to write, how to read but also to train their brains. They work on their fine and rough motor system. By playing children will explore the world. They learn how to solve problems and work on solutions. Children are curious by nature and if a computer explains it all for you, where does that leave the curiosity of our kids?
I have worked as a kindergarten teacher. In this job, I have noticed a lot of negativities that children explore by not getting a chance to play. A lot of children don't even know how to play with a ball or how to tie their laces. But they do know how to play on a PSP or use a tablet.
If we would replace play time for digital time, young children will not learn the basics they really need. Maurice de Hond wanted to start I-pad school in the Netherlands. It failed because this kind of learning is not suitable for children under the age of 7. A child is ripe to learn to when he is around 7 years of age.
It's a small world after all.
When I was around 6 years old I really thought that the Netherlands was like the whole world and that everyone spoke Dutch. But I also thought that the world wasn't bigger than the world I lived in. The world a child is very small. Technology breaks all the borders of this natural created small world. A lot of children will be overwhelmed by watching television or sitting at a computer for long hours makes children restless. A screen is an overkill of incitements, that will over-stimulate our children. It is the natural protection system a child has that keeps his world small. Digitalisation will break that natural border and it makes can make children restless and exhausted.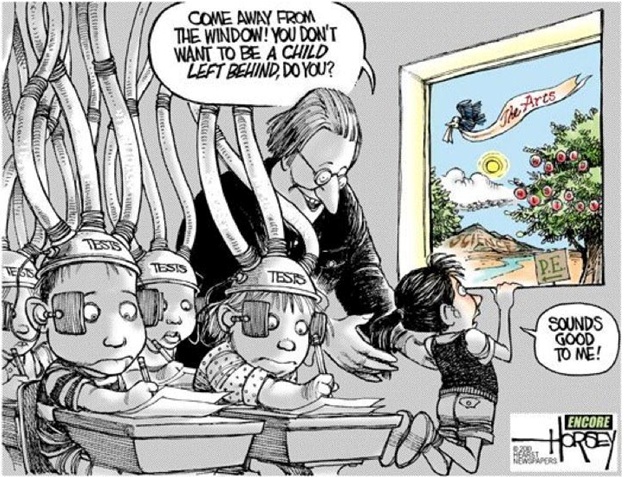 All she wants is to see the real world
The more technology, the less interaction.

This is our street view nowadays.... social?
Off course, you can meet a lot of people on the internet. I have met nice people on this site. But I would not like it if would be the only place I would be able to meet people because I have never learned how to do otherwise. If we would replace real colleges for digital ones students won't be able to raise their finger if something doesn't make sense. The barricade to ask something will get higher especially for the special-needs students.
If students follow the colleges or lessons at home behind the computer they won't have any motivation to go to school, college or university. For children and young adults, school is the place to be. You hang out with your friend, you have social interactions with other students. If students have to follow your assignment and courses at the computer, don't you think they will miss out a lot of social interaction, which is important for your learning skills and motivation.
Off course, it is easy to meet people through social media. We will meet 100 of new friends but less face it. The time you spend with your digital friends will pass by, on the expense of the time, you could have with your real-life friends. Contacts on social media are most likely shallow and fast. That's not a bad a thing as long as it is not the only way to socialize.
Too dependent on technology.

This is probably my biggest objection. I am afraid that we are creating a generation of wifi dependents. Our society is already depending on technology. If we have a power error shops can't open because the cash register d We really do not know how the world will look in 30 years. Maybe we will run out off wifi? Who knows? How do you learn, if all you lesson are digital? Are unable to finish your homework if you have known internet connection? And what If my computer crashes during my exam and I do not have money to buy a new one. Then I would not be able to follow school.
To get back on the research of Manfred Spitzer. He did research on taxi-drivers in London. The ones that only were used to drive with a tom-tom were totally lost when they had to drive without a GPS. The GPS decreases that part of the brain which helps you remember which places you have been.
Marc Zuckerburg (CEO of Facebook) has a desire that all the people will use Facebook as a news source. That means they control what you know.It is the same with Google. Why should we give this company control over what comes into the brains of our children. They already have enough power and thought control in the social time of our youth. Think about cyberbullying. Children rather commit suicide then quitting Facebook.
Bad material, worse connection.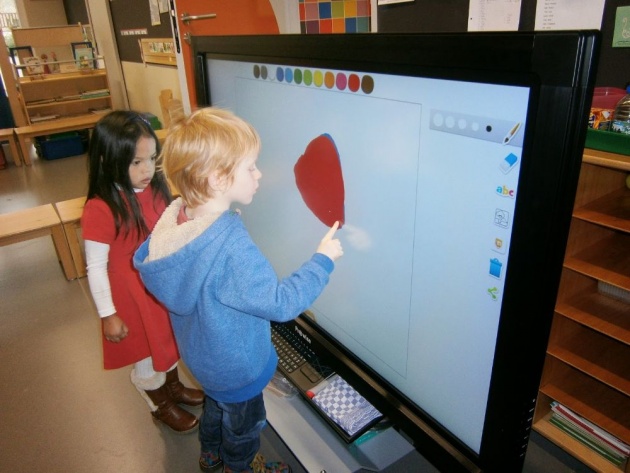 A computer and a good network are expensive purchases. Although I live pretty much in a rich country. Money is always an issue in our education system. Teachers are underpaid and overworked. They have too many students in one class. A lot of school buildings do needs to be renovated. Mostly you will hear: There is no money. If there is no money, how come every school has al least 10 smart boards and over 30 computers in her inventory? I remember we had 4 scissors for my class and we had to share our puzzles. But we did have an interactive learning board.
In 2007, I was working at a primary school. The school was one of the first school back then who bought smart board. A smart board is an interactive learning board. You can watch movies or give a nice presentation of fancy pictures. A lot of times the board didn't work probably or the school this an interactive don't have a good internet connection. You're watching a movie with the class and the movie is buffering all the time. And this is not an example. This is common. I have worked in many schools in Rotterdam. It is annoying and I have heard children say they rather have a book to work out instead of a computer that doesn't work.
I once have organized a digital photo workshop for high school students and it was a big disaster because of bad material worse connection. First we couldn't get the pictures on the computers because the school forget to install the software and then we couldn't show go on the computers because there was an internet error. In the beginning, the students were very motivated but they were disappointed because of the material distraction. And so was I.
Back to Basic. Return to innocence.
Digital technology is a good thing but we do not have to strike through. It has never been proven that it makes our children smarter. I don't think it is fair to our children. If technology gets common, it gets bored. Children will learn how to work with social media outside school anyway so why would we bother them with technology during school time. What is wrong with a teacher that tells a good story and let you learn how to make notes about that?
Conclusion: Jikz has a good point that social media and technology have several of benefits. But it doesn't outweigh the objections for me. Let our children play and interact with each other and not with a screen. They will learn the digital world fast enough when they become older...we did so too.
"I know I may sound old fashioned but I am glad I teach my children to play parlour games. Monopoly, Triviant Pursuit and other games with dices. It is good for calculating. The children will love this even more. It is okay for them to join the digital world but not every day. " - I. Maria.