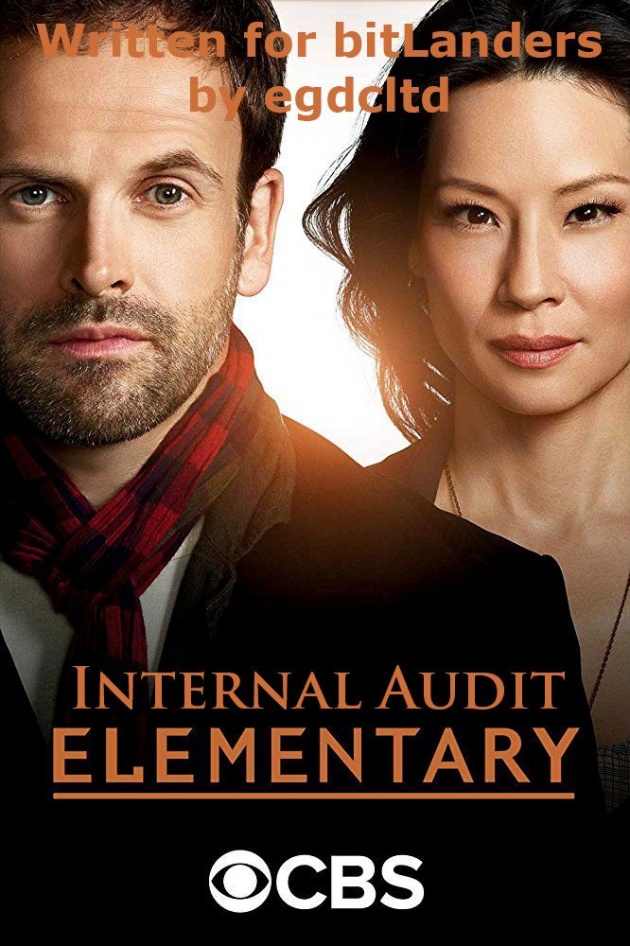 "Internal Audit" is episode eleven of season two of Elementary, the modern crime drama based on Sir Arthur Conan Doyle's fictional detective Sherlock Holmes. In this episode, a money manager who was being investigated is tortured and killed.
Problems for Detective Bell
In the previous episode, "Tremors", Detective Bell got injured when he stood between Holmes and a bullet, the bullet being fired by a man that blamed Holmes for ruining his life and sending him back to prison. As a consequence, Bell suffered a blood clot which might have permanently impaired the functionality of his right hand.
Bell is Back at Work But Not Better
This episode opens with Bell out of hospital and back at the precinct, but writing southpaw, when Watson comes in. He says that physiotherapy is helping, but it's still too early to know if the damage is permanent. Bell's not that willing to talk at the moment, although he's polite enough to Watson.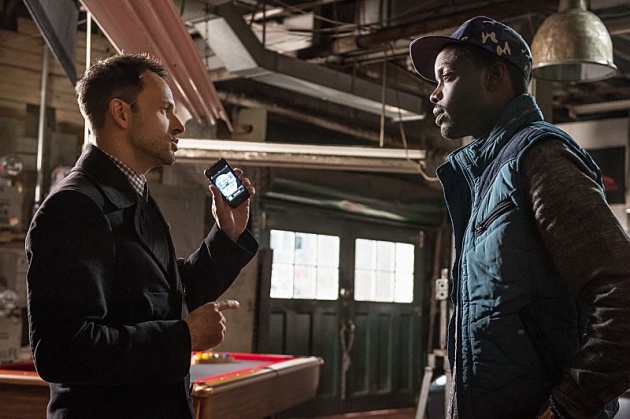 Image Credit: IMDb
Alfredo Wants Holmes to Become a Sponsor
Holmes, meanwhile, is attempting to break into a very expensive car - half a million dollars worth as it happens - under the eyes of his sponsor, Alfredo. Holmes is not doing that well, and Alfredo suggests that he might be having problems concentrating because of what happened to Bell. According to Holmes, he has analysed his actions that led to Bell's injury and that he did everything correctly. Yet he cannot move on, the matter is still taking over Holmes' brain. Alfredo wants Holmes to come to a meeting (and, as it turns out, become a sponsor - which Alfredo thinks will help Holmes).
A Possibly Criminal Money Manager is Tortured and Killed
There is a news article about Donald Hauser, a money manager who ran a hedge fund believed to be a pyramid scheme. Hauser himself is watching the news article and pouring himself a drink. The anchor says that Hauser could go to prison for the rest of his life. He takes a gun out of a draw and is about to eat a bullet when someone shoots him in his knee with a silenced gun. Then the other knee. The largely unseen male assailant wants to talk. Hauser's personal chef finds him, dead, tied to a chair and tortured with the word 'THIEF' painted in blood on the facing wall.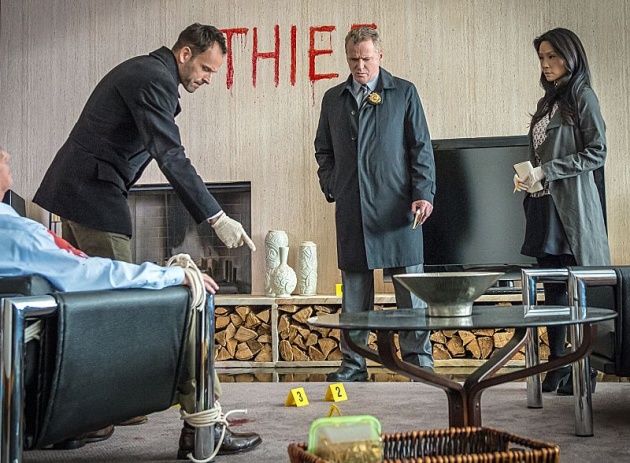 Image Credit: IMDb
Watson Knows the Personal Chef Who Found the Body
At the scene, the personal chef, Chloe Butler, seems to be suppressing a reaction to Watson. Given the pyramid scheme, there are over 1,000 suspects, but Holmes likes Chloe for a suspect, because he is sure she is hiding something. Which she was - she does know Watson, as Chloe is a former addict and client of Watson as a sober companion. Watson asks if she can tell Holmes about the connection, and Chloe agrees.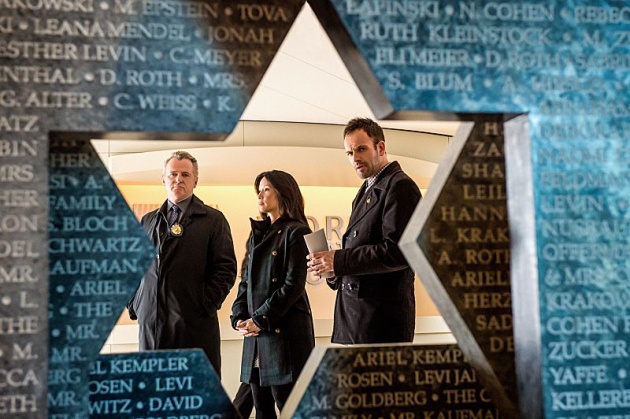 Image Credit: IMDb
The Dead Man Donated His Services to a Charity
The last person to see Hauser alive was a man who runs a charity seeking reparations for Holocaust survivors and families. He had no reason, he says, to want Hauser dead, as the man donated his services free of charge as a CPA to the charity, and the charity never lost any money.
The Reporter Who Broke the Story is Dead the Same Way
Holmes has left a message for the reporter who broke the story about Hauser, but he gets a call-back from an NYPD detective. The reporter is tied to a chair, tortured and dead. Which is awfully coincidental. She seems to have been killed by the same person a few hours after Hauser. The reporter is an odd person for someone unhappy about losing their money to kill. Which suggests perhaps there is more than meets the eye.
Another Connection to the Personal Chef
Then Watson notices someone she recognises on a mobile footage, footage that was taken a few blocks away from where the murdered reporter lived. The man, Nelson, has a connection to Chloe. Which is rather coincidental. Chloe says they were together when she was using, and that Nelson was a criminal, possibly something to do with drugs. Chloe hasn't seen Nelson since, but thinks that he may have been a client of Hauser's. Chloe doesn't want this bringing up with the police, as her being an addict isn't common knowledge, and she doesn't want it bringing up, as she's in a custody battle for her son - and has a contract to enforce this. So, a connection will need to be found a different way. Holmes is not happy. So Watson brings up the fact that this is similar to what happened to Bell.
Something Unrelated to the Pyramid Scheme But Triggered By It
Something else would appear to be going on with the murder that is not directly connected to Hauser's pyramid scheme, but probably something that was triggered by it.
Detective Bell, because of his situation, gets a new job offer within the department.
Elementary Season Two Trailer
Video Credit: AEGTV via YouTube

More Blogs from this Television Series:
Want to earn from blogging on bitLanders? CLICK HERE to sign up and get a $1 reward.