Batad is arguably the best of five clusters of Ifugao rice terraces collectively inscribed as a UNESCO World Heritage Site located in the Ifugao Mountain Province, Philippines. I have this listed in my top to go list and last February, my husband and I got the chance to explore it. This blog is created to share our experiences and how the trip went.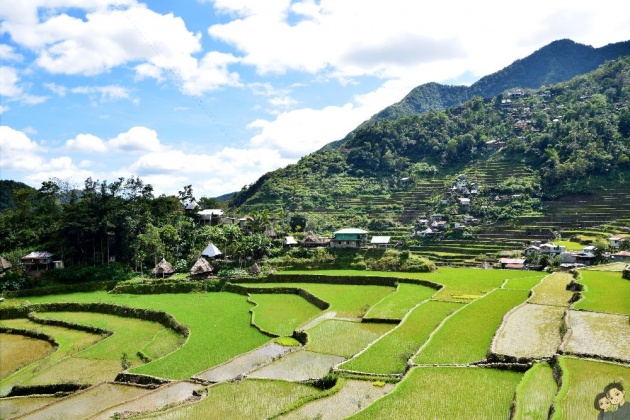 View of Batad Rice Terraces. Photo is mine.
It took me sometime, around a month to be exact before I could finally start writing this blog. I can treat it now as an overdue one and I somehow got the urge to start it while I am on board a fast craft vessel from Cebu to Bohol for our weekend family duties. My father's celebrating his birthday on the 28th, since it falls on a Wednesday, we won't be able to celebrate it with him on that day so we decided to go a weekend before his actual birthday.
So I have been thinking where to start, it does seem like I am fully ready to get this blog up but I am trying to do I guess I will start with what happened after the UAAP experience the day before we had arrived in Batad itself. You can also read the blog posted couple of weeks ago on this link below:
AFTER UAAP
On our itinerary, we were supposed to be at the bus terminal after the UAAP game but since it was still early, the games ended at around 5:30, we both thought it would be better if we'll get to a nearby mall for dinner.
Google Maps somehow showed us that the nearest mall between the bus terminal and the San Juan Flying V Arena was the SM Sta. Mesa so we booked another Grabcar and it took only a good ten to fifteen minutes drive, paid less than a hundred for that.
Upon arrival we thought it would be best to go to the grocery store so we can buy some biscuits and chips for the long travel since James left the plastic bag at home which contained the chips I bought a day before the trip. Since there were also food stalls at the grocery area, we then dined there as well.
We had Turks and Bibimbop. Both of us like Turks, however they didn't have the rice meal, we settled for the doner. Both of us didn't like the Bibimbop meal but we're forced to eat it.
While waiting for the 10PM bus schedule, had to make a timelapse. Video is mine via Youtube.com
After killing time, we took a cab towards the Ohayami Bus Liner, took a few minutes to reach the bus terminal which was quite small for my own perspective but found a lot of foreigners with their very huge backpacks, some were in the waiting seats while others were in line to purchase a ticket. We already had a ticket bought via online to ensure that we won't be having problems with our trip to and back to Manila. I also bought our tickets from Sagada to Manila. The only ticket that we have to think of is the Banaue to Sagada one.
I will have to split my blog to two, one for Batad - Banaue and another separate one solely for Sagada.
EN ROUTE TO BATAD
Manila to Banaue :
Eight hours - it is like a whole day of work shift, that would be the travel time from Manila to Banaue which is the drop point for those who want to go to Batad or simply just stay in Banaue, as there are different groups of rice terraces which make up the Banaue Rice Terraces.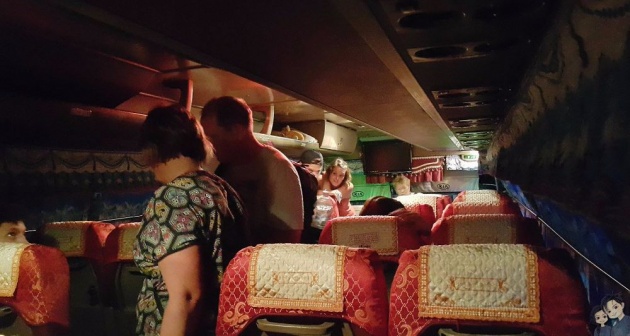 Inside the Ohayami Bus, lots of foreigners inside! Photo is mine.
At thirty minutes before ten, we were already advised to get into the bus, there are designated numbers on each seat stated in the tickets. The bus has allowed certain passengers to seat on the center isle which made the bus a bit uncomfortable. I don't like the thought of disturbing other passengers just because you need to get out of your seats.
We couldn't do anything else but just sleep during the entire trip. James and I got out of the bus on the first stop. There were actually two more stops for pee time or just simply to stretch the legs out but we were both asleep for the two other stops. We woke up to the view of the mountains and the sun peeking through the mountains.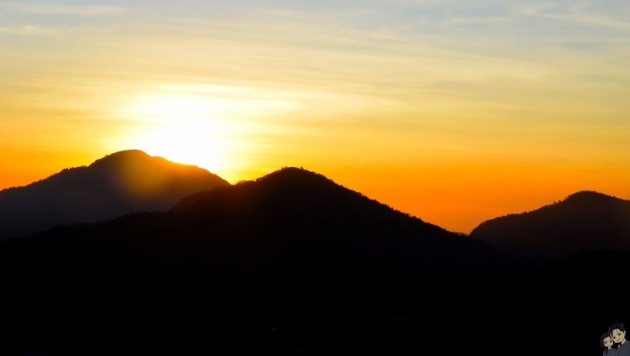 View of the sunrise while inside the bus, amazing isn't it? Photo is mine.
This somehow gave us the feeling that we were already in Banaue and it was confirmed when the bus helper was advising us about getting a return ticket in advance. I love the sunrise view while inside the bus. It felt surreal!
Banaue to Bangaan:
Upon arrival, it is a requirement that one will have to sign up a tourist information log sheet. An environmental fee of Php 50 was collected during sign up.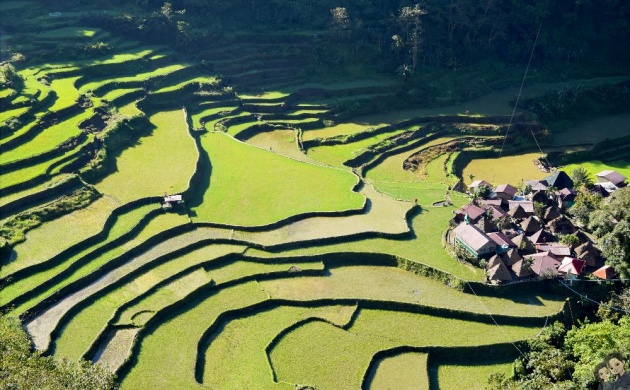 The Bangaan Rice Terraces. It's a small village. Photo is mine.
A pack of locals as well are barking for those who are going to Sagada or Batad. We were referred to a driver and we boarded his oldie jeepney. He dropped us at Halfway Lodge for breakfast and advised us that we'll drive to Batad Drop Point at 8:30 in the morning. While we had an agreement with that first guy, after breakfast we found another guy outside the restaurant and decided to get a tricycle instead to bring us to Batad at 8:00, thirty minutes earlier.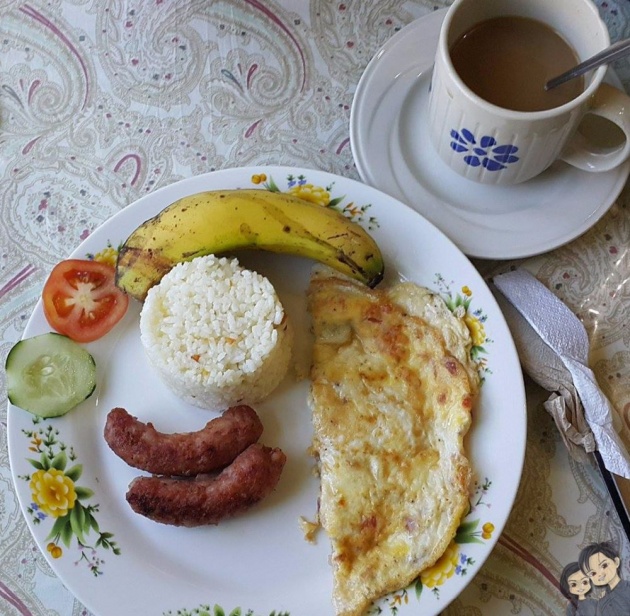 Breakfast at the Halfway Lodge. A Filipino meal. Photo is mine.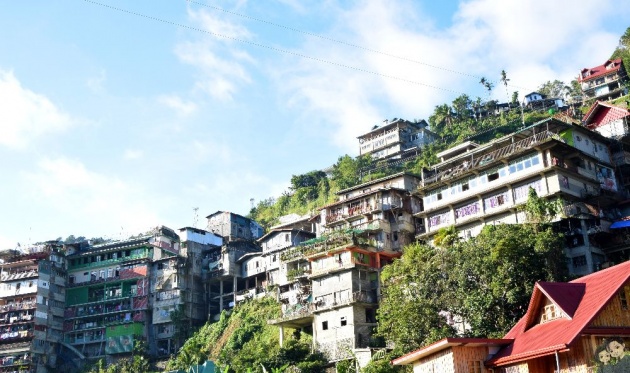 Banaue somehow is becoming populated, this view reminds me of Baguio. Photo is mine.
One thing that I had noticed right after arriving Banaue is that the men or the guys here are eating something which is making their mouths and teeth red. I later learned that they were chewing the coconut's young fruit which they refer to as "Moma". They then referred it as their natural lipstick! I found it funny though and that I was always distracted by their mouth color when they are talking to me specially Kuya Ceasar, the driver who brought us to Batad drop point as well as Bangaan.
Moma- a kind of fruit the locals chew from a tree which look like a coconut. As per Kuya Ceasar, the taste is indescribable but it has an effect that mimics that of a cigarette.
Bangaan to Batad:
On our way to Batad, Kuya Ceasar advised that we should also visit Bangaan. This is one of the clusters of the Ifugao Rice Terraces which have already been filled with young rice sprouts. As per Kuya Ceasar, the Batad rice terraces isn't completely planted yet so it would be better for us to also check Bangaan since it is just a few minutes away from the intersection to Batad, he offered it with an additional Php 200 on top of the Php 1000 round transportation package.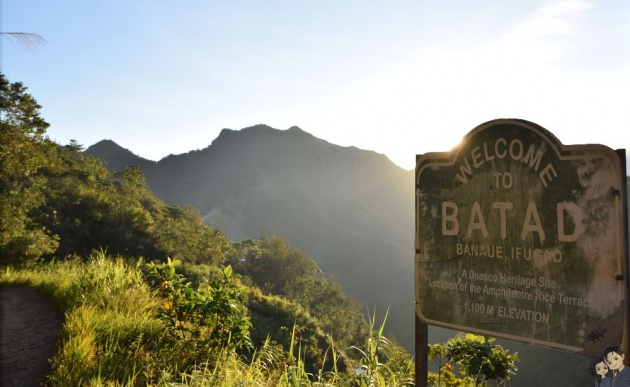 Welcome to Batad sign needs a selfie too! Photo is mine.
Then we learned that Kuya Ceasar is actually a Cebuano who was married to a local Ifugaonon and settled in this province for the past two decades. He was not able to visit his family anymore but he is sending monetary support to his parents every month.
I learned from him the following clusters of rice terraces:
Hapao
Bangaan
Batad
Pula
Cambulo
It would take a lot of walking if we would like to visit the other three clusters. It would also take two full days for us to get to the five of them. We were already glad to check out two of these clusters and I was delighted we passed by Bangaan because the newly planted rice terraces really looked beautiful and amazing.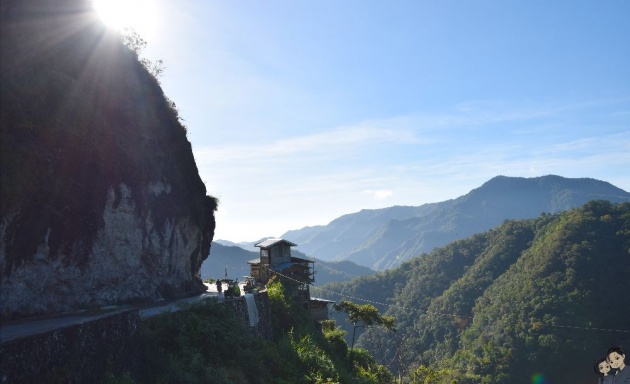 On our way to Bangaan, we spotted a uniquely dangerous house. Photo is mine.
It was only a few minutes stay and we proceeded to Batad. It was fortunate that at this point, the road towards Batad is already cemented. Year 2014 when it was completed and so it was easier for tourists to visit Batad and Bangaan, in fact there were still roads which are not yet cemented, still under construction but the DPWH is working on finishing it soon.
After passing a few snake-y curved road, we finally reached the Batad drop point. It was in the the bottom of the ultra steep road. From this point, the path isn't cemented anymore, there were huge rocks from the blasting of the mountain which they were making into a road towards the community, I believe that in the next months, there will be an easier road going to the Batad cluster.
BATAD Drop Point to BATAD Community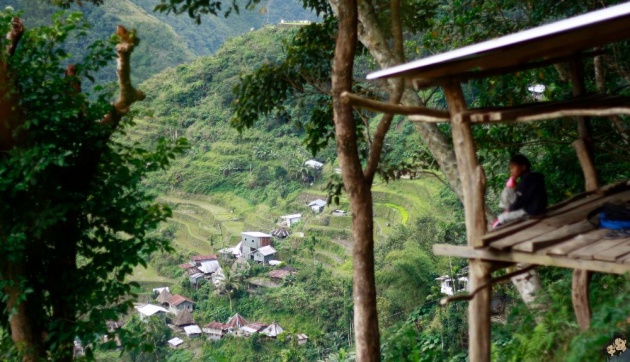 Passed by this area when we were already lost. Photo is mine.
The walking challenge starts by the time Kuya Ceasar dropped us to the Batad Drop point and we have to carry now our heavy backpacks, mine has all our clothes for this four day trip while my husband, James has all the camera and digital gadgets and accessories. Guess which bag is heavier? Yes, his bag of course but my bag looks bulkier and bigger in size which makes people think my husband is being a lazy brat but boy, he has the heavier one, I hope they are not judging it by their sizes!
On our way to the Batad View Inn and Restaurant where I had booked a room for two in Agoda, we met a couple of locals offering tour guides but we had refused to their offers which we regret but then we thought we will just be walking around the rice terraces and don't really need any tour guide at all. However, we got lost in the long run and finally thought of getting a tour guide after. We found a teenager named Charlie who offered to show us the way to the inn and we agreed but later on, we found out that the local government is not encouraging the service of teenagers and kids as they won't be able to help tourists and other guests in case of emergencies, it would still be better if the tour guides are adults. This decision was one of the things we regret during this trip but anyways, it was still nice to have Charlie around. He was a sweet guy!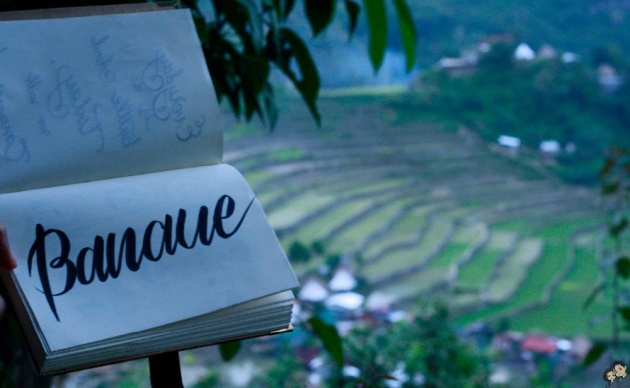 Batad is definitely a place to visit if you want to learn about Ifugao culture and such. Photo is mine.
Here's the table of expenses for that part of the day:
Cab going to Mactan Airport: Php 250
Promo Air Fare via Air Asia : Php 450 / person
GrabCar To FilOil Arena : Php 300
UAAP Game tickets : Php 175 / person
Ateneo Lady Eagles Shirt : Php 420
GrabCar to SM Sta Mesa : Php 80
Dinner : Php 300
GrabCar To Ohayami Bus Terminal: Php 100
Bus fare to Banaue via Ohayami Bus : Php 470 / person
Banaue Environmental Fee : Php 50 / person
Breakfast at Halfway Inn: Php 110 / person
Round trip tricycle fare to Batad Saddle Point : Php 1000
Side trip to Banggan : Php 200
Total expenses for this would be Php 5160. However, please note that the Ohayami Bus fare was taken out of my PayPal account while the airfare was bought a year ago since it was a promo ticket. Part of traveling is spending, one most be of good talent in limiting the expenses.
Hope that helped!


Here's a video which sums up all the things I had mentioned in writing. This is in film so that if in case you are too lazy to read the blog, you can just watch this in this video.
Video is mine.
Regards,
Jean Beltran-Figues
bitLanders user since 2015