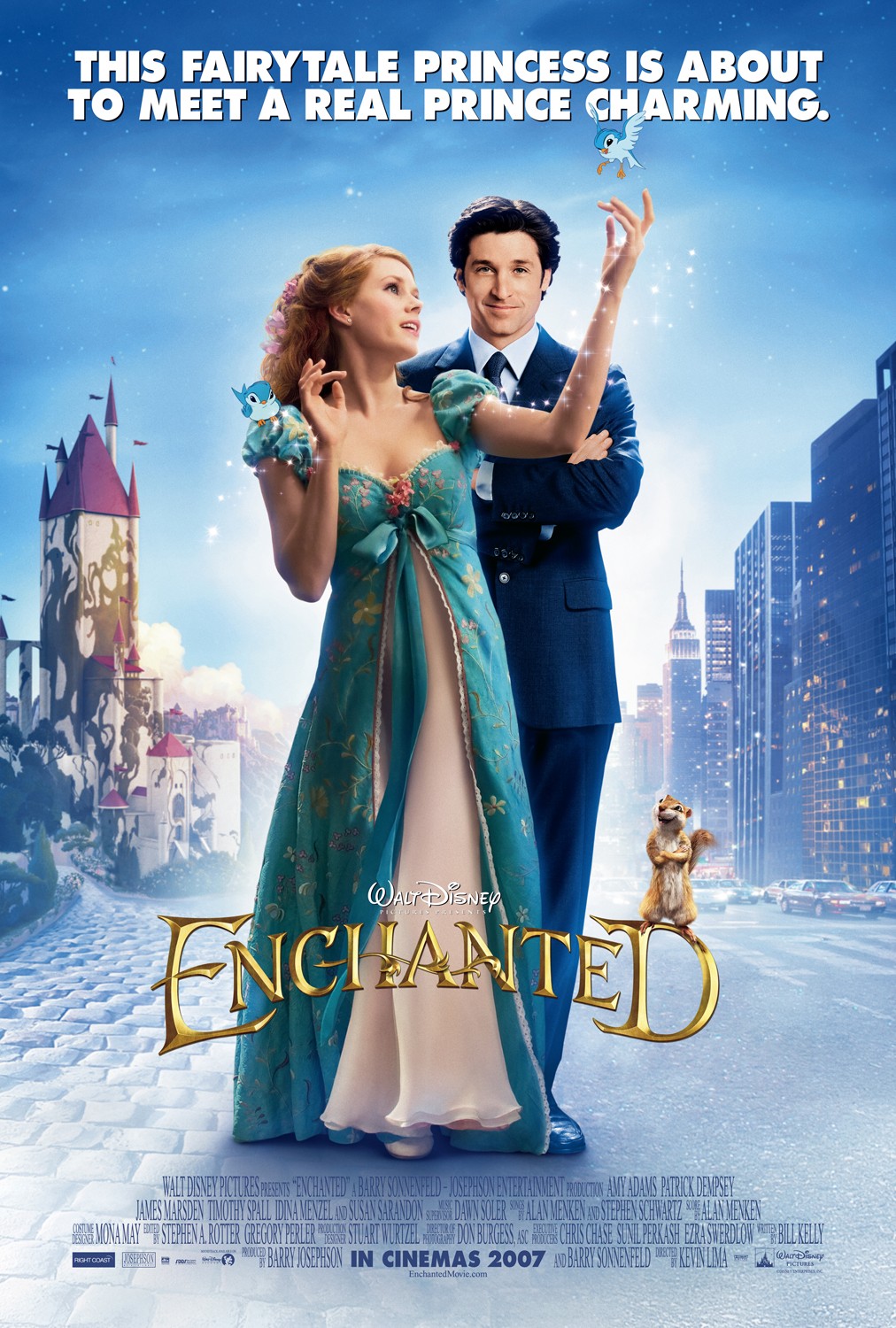 Image credits: disney.wikia
After much thinking, I decided to write another movie review for The bitLanders Film Series to support women empowerment. The first one I wrote was about Frozen, it is a movie which I had watched several times with my niece, neighbors, cousins, and friends.
Whilst the previous movie was very familiar to me and which encouraged me to write, this new film I am going to review isn't. As a matter of fact, I opened a Netflix account just so I can watch it. I am sharing my own insights specifically to the events surrounding the main woman protagonist. Let's dig in!
• Walt Disney's Enchanted 2007 •
Image credits: disney.wikia
I admit I am not a cinemaphile or that someone who is passionate about movies cinemas but I am all out for exploring new things, especially that of which is out of my comfort zone. Hopefully, I could deliver my own point of views on this matter.
Enchanted was a film produced by Walt Disney Pictures and was categorized under musical fantasy romantic comedy with Kevin Lima as the director. Knowing it to be a Walt Disney film is already setting the bar high for its picture quality and animation.
• The Enchanted Movie Trailer •
Video credits: Kevin_Lima via bitlanders
Because I never have seen the film, I decided to watch its trailer first. From bitLanders, I hit the play button, Disney's classic fairy tale movies started rolling on screen, Lion King, Tarzan, Aladdin, Beauty and the Beast and of course who would forget Snow White?
That scene where Princess Giselle was pushed by the evil witch brought me my childhood memories, I had watched Snow White and Cinderella out of a VHS tape! My goodness, I couldn't count how many times I replayed and pushed that replay roll on our VHS player! So the 2D graphics were very nostalgic!
Image credits: rabat2013
Anyway, I was certainly entertained by the sequence of funny scenes most especially those of musical interludes like that in the world of Disney princesses movies.
I found myself laughing already watching the trailer so I didn't wait any further, I grabbed my tea and started watching the movie. Read on to know more.
• Enchanted Story Line •
Image credits: tallwriter
Giselle who lived in a tree trunk was overheard by Prince Edward who was hunting trolls but was attracted by Giselle's voice, found her and decided to get married the next day!
Prince Edward's stepmother Nerissa, however, don't want to be replaced as Andalasia's queen thus plotted a way to get rid of Giselle. She sent her to the city of New York, one which she refers as a place where there's no happy ending.
But her plans never came to materialized when Prince Edward himself went over to find Giselle too. The adventure of moving around the busy streets of New York in a Prince Charming suit was a little uncomfortable but for the sake of getting Giselle back, he went through the different turn of events in the big city.
Image credits: Entertainment Pictures
Giselle, on the other hand, was found by Robert and Morgan, his daughter. Robert was on the verge of proposing to Nancy, his girlfriend, however, everything changed when he met Giselle, that one lady who has all the positivism, kindness and gentleness of which can possibly be found only on fairytales. Weird and very unlikely, he let her stay with them in their home, even if they were often surprised by her weird and innocent demeanor.
Until Robert started to look at Giselle a different way most especially when she was at the ball. Then Queen Nerissa, showing off her powers and turning into the same evil witch. She convinced Giselle to eat the poisonous apple putting Giselle into a deep sleep. Prince Edward tried kissing her but she didn't wake up until Robert's kiss. However, Queen Nerissa turned into an actually pretty purple dragon. Killing her was easy, it was Pip the chipmunk who did the job!
Image credits: tippett
While Robert and Giselle found each others' arms, Prince Edward and Nancy also got together, even bringing Nancy to Andalasia instead!
• Enchanted Review •
The film was superb at that year because it won three Saturn Awards, including Best Fantasy Film and Best Actress. Enchanted also received two nominations at the 65th Golden Globe Awards and three Best Original Song nominations at the 80th Academy Awards, information from Wikipedia.org
Image credits: cosplay
Amy Adams playing the role of Princess Giselle totally nailed how Disney princesses walk and talk. Her eyes and facial expressions are all way out for this movie. Although I understand it is because she's an actress, I truly believe in my heart that the role she's playing is such an enjoyable one as every girl dreams to be a Disney princess!
I am easy to please and so I had no issue about the movie, I enjoyed it, laughed a lot of the hilarious scenes, it was playful, child-friendly and entertaining. Also to note that because the movie was released on 2007, the movie has obvious animation concerns, not much of an issue though but because the technology wasn't the same as what we have right at this day.
• Movie Points Noted •
Here below are some points within the movie that I have taken note of because either they were remarkable for me or they were scenes that bring out women empowerment.
Before that, please do check the followign Querlo chat. Do you support women's empowerment?
1. That scene where Robert gave his daughter a book entitled "Important Women of Our Time" by Nora Kasarda featuring Rosa Parks and Marie Curie.
2. Palm Treo device used by Robert. This is remarkable for me because I worked before for Palm. They were first in manufacturing those smartphones, however, their new operating system was not very much of a success.
3. Cleaning can be fun with flying cockroach, dirty rats fly from some rubbish! While that might not be much of a realistic scene, it was quite funny to find those rats and cockroaches swiping off the dirt! Unfortunately, one pigeon ate the cockroach.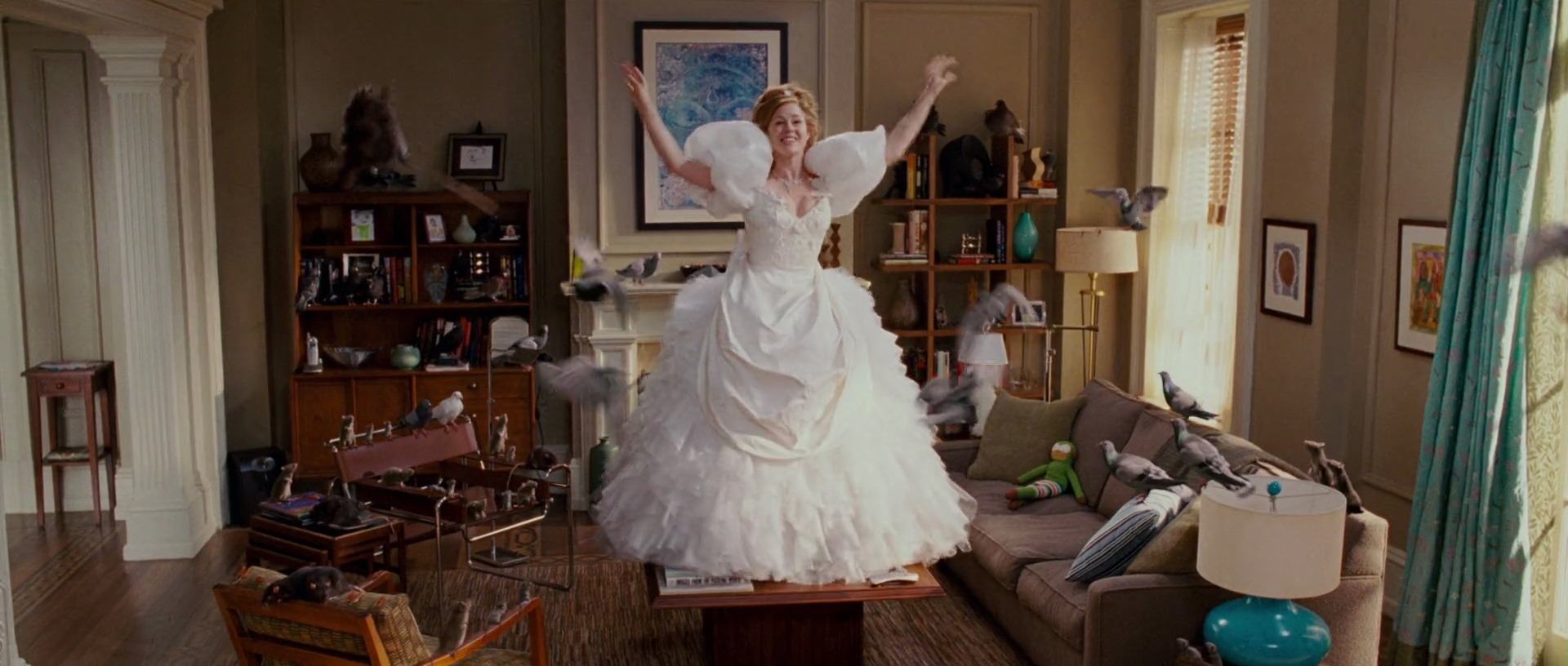 Image credits: disney.wikia
4. The truth about the presence of pain on this side of the world. That's why she prefers to be in the fantasy land of Andalasia than in this land, however, she also showed certain promises of love and happily ever after.
5. Everybody has problems, everybody has bad times, do we sacrifice all the good times because of them? Quote from Phoebe, Robert's client.
6. Giselle talking about stepmothers. "There are so many wonderful stepmothers". I truly believe that even though stepmothers are mostly displayed as the antagonist and evil ones, in reality, there are indeed a lot of good stepmoms out there.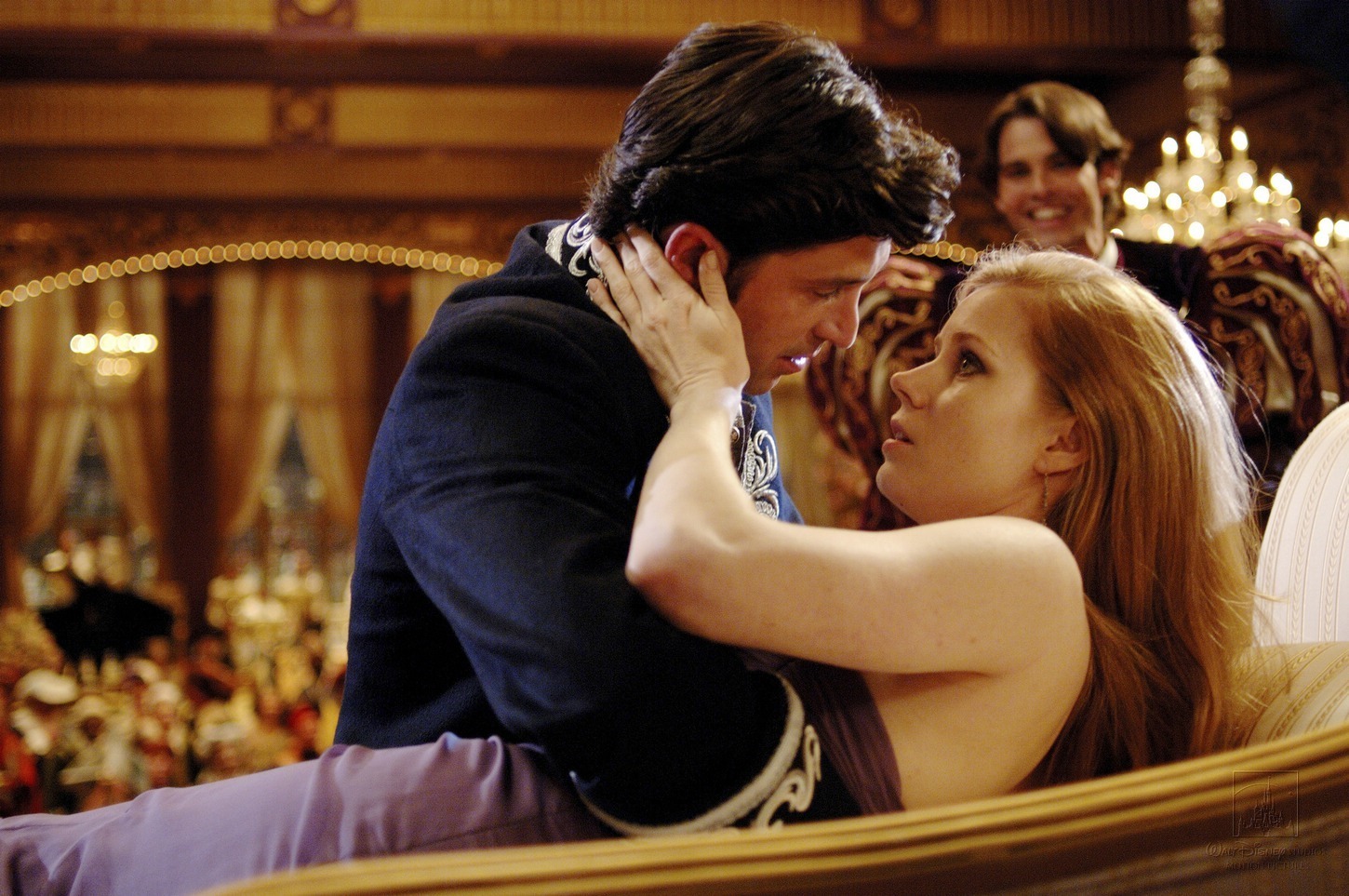 Image credits: community.wikia
7. Everyone has a chance of a happy ending. At the latter part of the movie, I liked that it showed each character's good ending except for Nerissa. Like how Prince Edward and Nancy ended up getting married in Andalasia and Nathaniel becoming a writer as well as Pip and finally for Robert and Giselle together with Morgan as a family.
Image credits: viewerscommentary
The musical interlude was cute, it resembled scenes from Disney Land, especially the parts where they were walking across the park with all those commoners singing and dancing together with Princess Giselle. That somehow makes me think of Disneyland's parade of stars.
Video credits: kidsliveshows via YouTube
Although the story went the same way as how other Disney Princess movies do, it was nice to see a twist of the story with how Prince Edward and Nancy ended together. There were a lot of hilarious sequences and James joined me smiling all throughout the movie! And finally, I like the pop-up scenes at the end!
What kind of movies do you like?
Thanks a lot for readng!
----------------------------
About the author:
Jean Beltran-Figues is a photography enthusiast.
A traveler who wants to promote her beloved country, the Philippines.