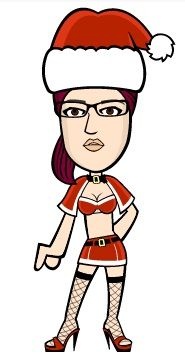 Have you noticed the new items in the inventory? It's already Christmas season here in Bitland and so the admins here thought of giving our avatars a new sexy look! Have you come across BitLanders' blog? If not, I suggest you go read it yourself. Here's the link
Honestly, I got really encouraged upon reading his post regarding the +20 Buzz bonus that we can get here for 5 days when we avail the complete Christmas costume set for our avatar before Christmas. And so I avail it as soon as I finished reading the post. Hell yeah, for me that's one great opportunity to earn more! By the way, the whole set cost me around 0.01 BTC.
I avail the complete set yesterday morning and made my avatar wear the costume right away. I am just a bit sad because they tied my gorgeous hair making me look like I have a mango-shaped face. HAHAHA Lol anyway, after I log in today at 6:30 pm, I noticed that my buzz score already went up to 75 from the usual 55 score. And then my hunch was right, the +20 Buzz bonus is already added up to my account!
Thankyou Bitland! This is just exactly what I need.
For those who don't have enough balance yet to buy the complete set, don't worry 'cause you can still avail it 'til after Christmas and before the end of the month and you'll be able to get +10 buzz bonuses for 5 days as well.
Happy Christmas everyone! :)