This week was very inspiring for me. I met wonderful people, attended amazing events, and interviewed powerful and inspirational women about theatre, the arts, and female empowerment.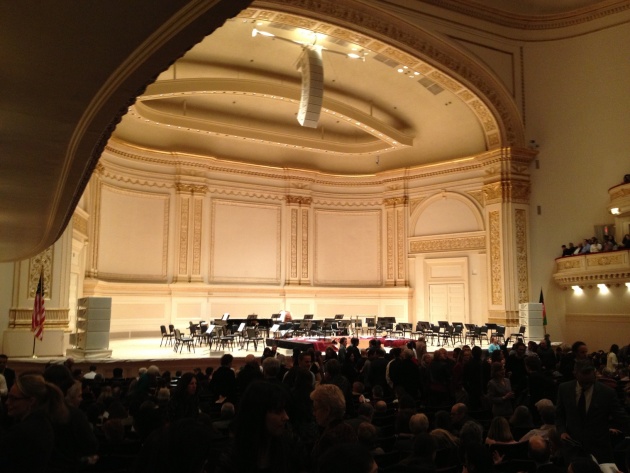 Carnegie Hall, February 12th, Tuesday
I will remember Tuesday night as the meeting of cultures. It was my first time at Carnegie Hall, and I got to see students from the Afghan National Institute of Music perform with those from Scarsdale High School. In addition to introducing us to traditional Afghan music, the young musicians performed western classics like Vivaldi's Four Seasons, Ravel's Bolero, and Chopin's Nocturne in C Sharp Minor. Thank you, Francesco, for making this night possible along with Fereshteh (Women's Annex) and Mike (Target Marketing Annex). Music is a great tool that brings people together and promotes peace, just like film. I really enjoyed the ensemble's rendition of Bolero - it was so powerful and had hints of Afghan music in it. Combining eastern and western instruments and music was key to the performance, because I took it as a symbol for promoting peace in Afghanistan with the help of Western allies. Foreign forces might be leaving the struggling country in 2014, but I think this performance was proof that Afghanistan will stand for its culture and traditions and won't be afraid to show the world what she's got! With all the talented, passionate kids, the future of Afghanistan is bright, and Afghanistan's culture will keep expanding.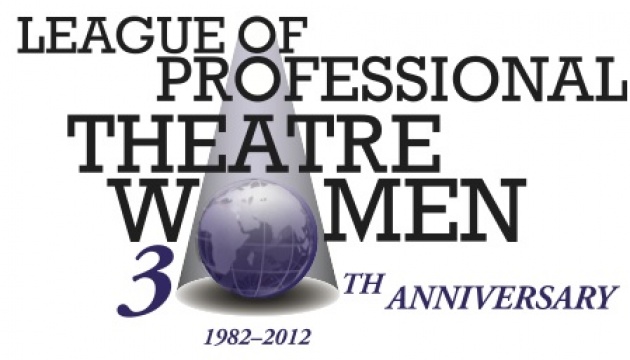 Wednesday night, I attended a networking event organized by the League of Professional Theatre Women. Thank you, Mari Lyn Henry, once again, for inviting me to this amazing mingling session, which brought together so many special women. From actors to theatre makers, from producers to advertisers, the night was filled with the chatter and laughter of talented women who were existing or prospective members of the League. One of the prospective members I met, Laura Hooper, told me she is a theatre maker, and when I asked her what that means, she said she puts together plays in unique places like supermarkets and people's kitchens. How awesome is that? I've never heard of this type of theatre before, but when I talked to a few people about it afterwards, I was informed that it was a kind of street theatre that was prevalent in the 1960s. I kept thinking about how cool it would be to host a play in MY kitchen, and how fun it would be to see a play that took place in a supermarket. Laura is already one of my new favorite people, and I can't wait to meet more women like her, which is why I should join the League (if they'll have me of course)!
Thursday was one of the best hectic days I've had recently. I had two video interviews with two incredibly talented and inspiring women: Jenny Lyn Bader, the Artistic Director of Theatre 167, and Angelina Fiordellisi, the Founder and Artistic Director of the historic Cherry Lane Theatre. With Jenny Lyn, we talked about her play 167 Tongues, which is a part of the Jackson Heights Trilogy, currently up at 777 Theater in Manhattan. I recently wrote about this great play in my blog, and I recommended it to everyone. In addition to being an eye-opener by introducing the audience to different cultures co-existing in one neighborhood, the play takes us back to the basics, the emotions that make us empathize with one another like love, loss, compassion, jealousy, and anger. I also talked to Jenny Lyn about her theatre company, Theatre 167, her plays, and how to empower women through theater, writing, and the arts at large. It was also fascinating to find out that both Jenny Lyn and I, when we first started writing, told our stories through the eyes of a male narrator. This shows how much we were influenced by the male perspective, the cultural default setting, and how as we got older and got to know ourselves better, we were able to shift to the female perspective.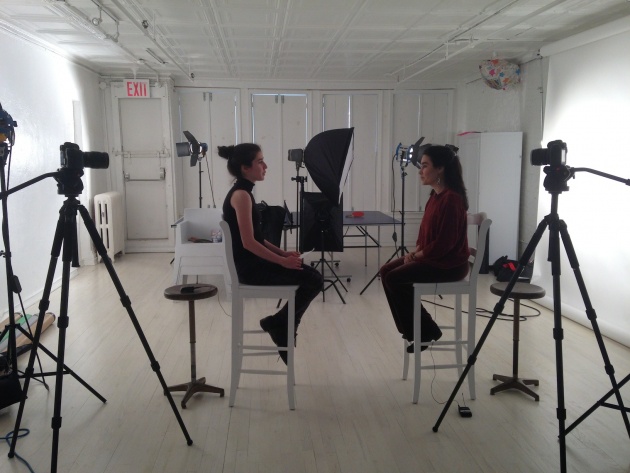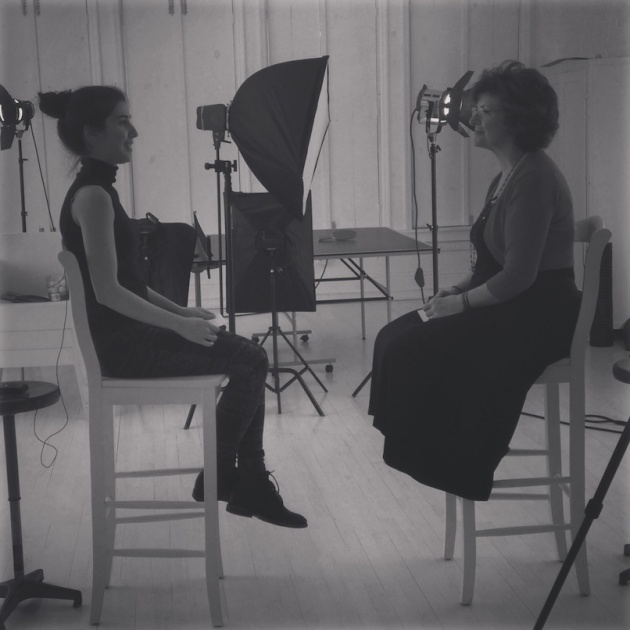 Jenny Lyn Bader and Angelina Fiordellisi
Later in the afternoon, I met with Angelina, and honestly, I could talk to her forever. She's one of the most inspiring people I've met. I was so fascinated by her story, her background as an actor, how she revived Cherry Lane Theatre when it was falling apart and how she has been running it so successfully since then. We talked about how she met Edward Albee and got him involved in Cherry Lane's Mentor Project. We also discussed the Celebrating Women Playwrights Program and why it was important for women in developing countries and all over the world to be introduced to theater as a way of self-expression and empowerment. Both videos will be online soon, and I can't wait to share them with you!

OK, I'm wrapping up. But, there's one more thing. You might be yelling at the computer screen right now, "Isn't your week over already?!" Almost! I promise. Last night, for V-DAY celebrations, I went to the Hammerstein Ballroom with my dear friend, actress, writer, and activist, Lillian Rodriguez for the One Billion Rising event to stop violence against women around the world. Amongst the speakers were Glenn Close and Rosario Dawson, and we watched the live performance of the song, Break the Chain TWICE!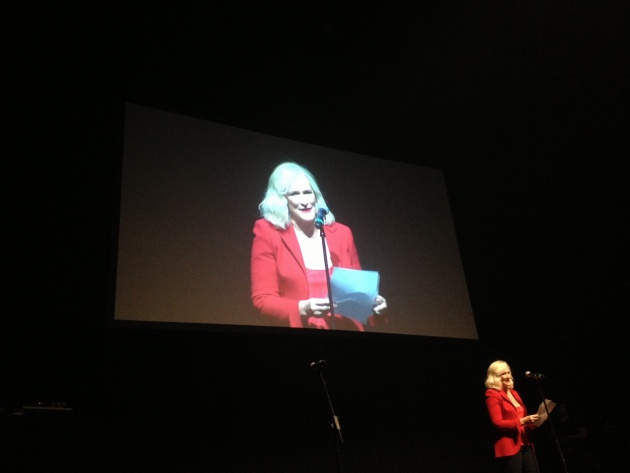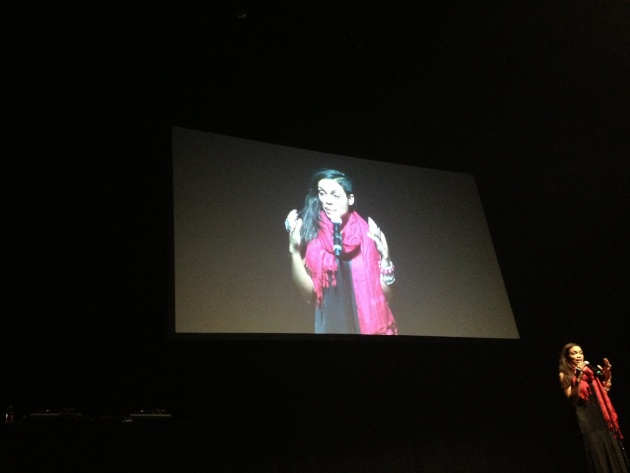 Glenn Close and Rosario Dawson
One Billion Rising is a global movement that was initiated by Eve Ensler, the writer of Vagina Monologues. It's inspiring millions of women to speak up about abuse, rape, and violence. For more information, please visit their website. My goal is to promote the movement's videos also on Film Annex's online film network. At the end of the night, Lillian's eyes were glowing, and she said she felt like her heart was expanded. I think she had a Eureka moment.
-- EREN