I grew-up eating different kinds of fish. I enjoy both fried fish dishes and fish dishes with sauce. I am always excited to have this dish because I personally think that the result of fried fish being cooked in any type of sauce is truly amzing. You get the good flavor of the sauce while enjoying the texture of the fish — which is not too soft at all. Having escabeche is like eating fried fish with a hint of atchara.
How do you like your fish cooked?
Try this Escabeche Recipe and let me know what you think.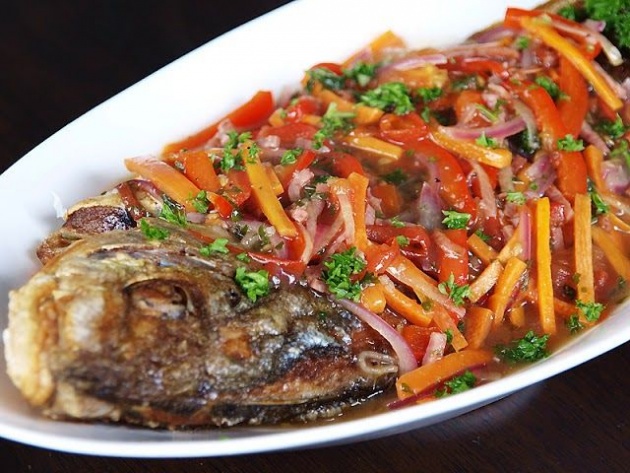 Ingredients:
1 large fish (1 to 2 lbs), cleaned and salted
1 medium red bell pepper, sliced into strips
1 medium red onion, sliced
1 cup white vinegar
5 cloves garlic, crushed
1 teaspoon whole peppercorn
1/2 teaspoon salt
1/4 cup sugar
1/2 cup cooking oil

Cooking procedure:
1. Heat cooking oil in a frying pan then fry both sides of the fish until a bit crispy. Set aside.
2. Heat a clean pan and pour-in the vinegar. Let boil.
3. Add sugar, whole peppercorn, and galic. Cook for 1 minute.
4. Put-in the onion and red bell pepper. Stir and cook until the vegetables are tender.
5. Sprinkle salt and then stir.
7. Put-in the fried fish. Cook for 2 to 3 minutes.
8. Turn-off heat and transfer to a serving plate.
9. Serve.