Good day to all humans. Let me tell you first this is not Lady Khokarjamal69. This is an alien who lives on Earth but belongs to Uranus. I am sorry to Miss Hillary that she won't see more blogs from that human lady. I just started this blog because I have nothing to do.
I just got up from chair and sat on sofa after watching Escape Plan which has already been watched once by me. I am not fond of this kind of genre but this movie made me continue watching it. I liked it because of a series of mysteries which are able to grab your 2 hours. The movie Escape Plan is directed by Mikael Håfström who is famous for showing his direction abilities in horror movies and. I will give you a sneak peek of the story of the movie while showing you my opinion and views about the duet of Arnold Schwarzenegger and Sylvester Stallone.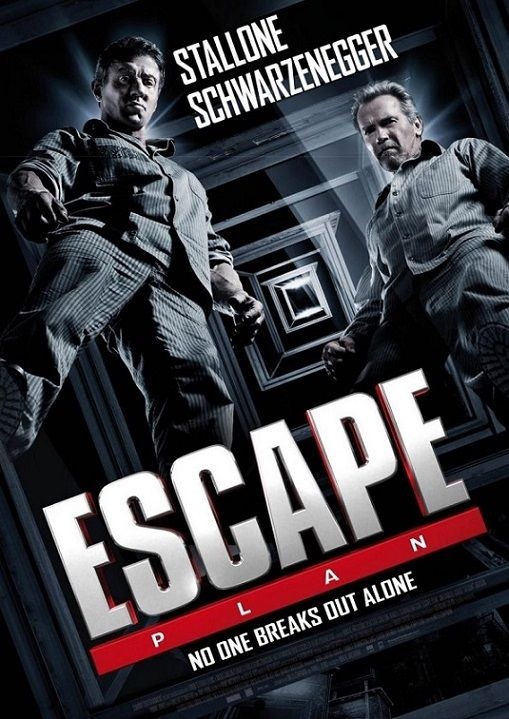 (This image is taken from Filmaffinity.com and edited by me.)
What The Story is All About

(This image is snapped from the film by me.)
The story of the film starts with a former prosecutor Ray Breslin who is specialized in testing the integrity of maximum security prisons in the United States, gets a job offer where he is required to test the prison which is coded as The Tomb. Before that offer, he has already tested and successfully escaped from different maximum security prisons. But this time, he, his wife and another partner who involve in helping him from outside to escape, were informed that they will not have the location of prison where Ray is being sent to test. His firm was offered a double fee for this work which he accepts. As usual, he is given evacuation code, his fake name Anthony Portos with criminal record and name of the warden of the prison he is going to test. A transponder is injected into Ray's body to so that he can be easily located. But a twist starts when private contractors take that transponder out of his shoulder and signal for his locations is lost. When he reaches the prison, he finds a warden with different name who says he doesn't know about any evacuation code. While the warden already knows about him and he was informed that Portos must not escape the prison. He, then meets a guy who tells his name Emil Rottmayer and helps him in getting out of the prison. They start to make plans and observe prison's layout. He first tries to find out where they actually are discovers that they are on a ship. Rottmayer asks help from other prisoner and these three start working on a plan.
Watch the trailer of Escape Plan below.
(The video is taken from Youtube.com and uploaded by hollywoodstreams.)
Who is in The Main Cast
This movie made my 2 hours pretty enjoyable and full of mystery. One of the reasons I put my time in watching this film is its crazy mystery and a little bit of thrill.
Some of main cast of the movie Escape Plan is listed below.
Sylvester Stallone as Ray Breslin and Anthony Portos
Arnold Schwarzenegger as Emil Rottmayer and Victor Mannheim
Jim Caviezel as Warden Hobbes
50 Cent as Hush
Sam Neill as Dr. Kyrie
Vinnie Jones as Drake
Caitriona Balfe as Jessica Mayer
Vincent D'Onofrio as Lester Clark
Amy Ryan as Abigail Ross
Graham Beckel as Brims
Matt Gerald as Roag
Faran Tahir as Javed
How did The Movie Get Me

(This image is taken from Philadelphia.cbslocal.com.)
In this movie, two legendary actors Arnold Schwarzenegger and Sylvester Stallone are seen in one frame. After having their standalone movies knows as The Last Stand of Arnold and Bullet To The Head of Sylvester Stallone, they are together in their duet movie called Escape Plan directed by Mikael Håfström.
(This image is taken from Royalegg.tumblr.com.)

Some of the supporting cast as villain in this film are Jim Caviezel who became a figure Hobbes who shows a quiet but deadly smile. Other supporting character is Curtis Jackson who played nicely. Well, maybe he can be said only as a sweetener. Another factor that might boost the film Escape Plan is Amy Ryan as Abigail, the wife of Ray Breslin. The only actress in this film.
Mikael Hafstrom was designated to be a director of their action and thriller film. Escape Plan, the title of the movie which was originally called The Tomb and Exit Plan. Mikael Hafstrom himself is more experienced in handling horror films. 1408 and The Rite are two well known titles he has ever handled. Escape Plan can be said a film with a different concept. Adventure which he gave is different from most action films belonging to Arnold or Sylvester Stallone.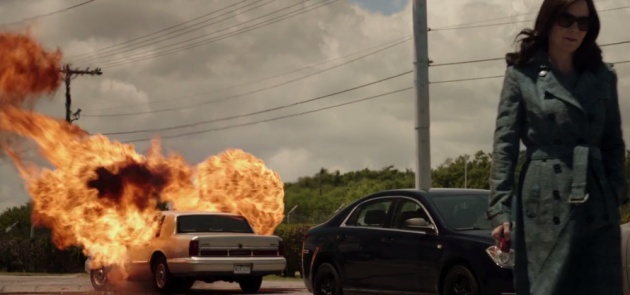 (This image is snapped from the film by me.)
What is offered by Escape Plan is not just a movie with instant action alone. Escape Plan is also filled with stories that are complicated but tasty to follow. It is not only the film that "just has a lot of action and explosions". Escape Plan is able to provide a different adventure. The journey to save them from prison is showcased in a fun and not just in the action scenes only. The audience will be invited to think and participate to trace each scenes of mystery in this film.
(This image is taken from Hdmovies51.com.)

It is seen true that more often handles Mikael Hafstrom are horror movies. It is the first action movie he directed. The tone presented in this story is much darker and elements of the mystery are more pronounced. So really, if it prefers mystery, Escape Plan has deep mystery in it. Very pleasant for me that it is not like other action films which are more instant. Escape Plan was able to be a thought provoking film that made me stare at the screen in every series of scenes and I witnessed them.
How did I criticize
But, that does not mean Escape Plan has been absolutely perfect. Even so it is still evident of shortcomings of the film. Escape Plan looks right in engrossing both screenplays written by Jason Keller and Miles Chapman. They were able to put together the mystery of each scene in one the screen properly. But the problem is with the director who was looking overwhelmed in interpreting every mystery that is in the script well.
They were able to build a good chemistry in this movie. Creating a successful dynamic duo. Riot happened to be more massive than their stand alone films. I really like Arnold Schwarzenegger in the film. Sylvester Stallone is a person who's smart and silent. Well, their characters complement each other in this film. So no one.
Overall, Escape Plan is not just an action movie and didn't follow ceremonial ways. This film will take the audience to think with this scenes. The mysteries that exist in the stacking are because of Mikael Hafstrom who looks very overwhelmed in directing every mystery so that some parts of it still look raw.
See you in next blog.