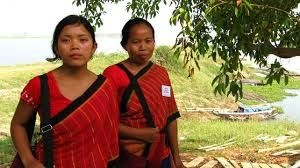 Ethnic is one kind of tribe or community of people . they are different from us. Their religion is different from ours.
They are very important part of the culture of our country . Their culture is different from modern western culture and therefore interesting for the people of western countries. Their clothes , jewellery , cooking and eating habit is different
from ours. The majority of those people live in chittagong Hill-Tracts .some of them live in some regions of Mymensingh ,
Rajshahi , Bhola and Sylhet. They live in the forest areas , in the hills and in rural areas. They practice jhum cultivation.
By religion they are Hindus , Christians or Buddhists. They speak their own mother tongue along with the affected / unnatural pronunciation. They have some characteristics . They have their own lifestyles. They build their houses on bamboo or wooden plat from . Rice is their staple food. Men wear lungi and women wear thamis or sarongs and angis .Hunting and fishing are their favourite past times . They are fond of songs , music, dance , theatre and fair .