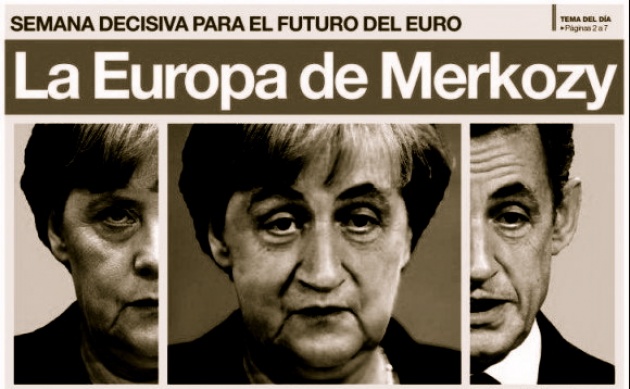 Is this the fruit of austerity? - employment spikes and economic activity recedes across the Eurozone, and it is not just Spain or Greece. The new Eurozone unemployment rate hit another high of 10.9% (it is much worse for the young) in the last several years since the global financial crisis. Meanwhile the PMI (Purchasing Managers Index) dropped below 50 (45.9)which indicates a receding economy. Even Germany which was perceived as the economic star of the Continent, the rate went into recession mode at 46.2. Manufacturing fell at a steep rate of 2% for the quarter. See our Blog for Film –"Austerity is Killing Jobs & Economic Health".
Equity markets across Europe plunged. Ironically, the only one that did not fall further was France. While election of a Socialist, anti-austerity President was seen as a negative only a few days earlier, now perhaps France is perceived as ahead of the curve in dethroning the austerity policies of Nicholas Sarkozy.

"The reason is simple: no one has any cash or any desire to spend the cash they do have or any way to earn cash or any way to borrow. It's a demand problem that the Eurozone insists on treating as fiscal problem," according to 24/7 WallStreet.com -Read more.The "Merkozy" (Combining Chancellor Angela Merkel's name with Sarkozy) scheme of fiscal austerity is rapidly being eroded and many of its advocates have become the political walking dead perhaps now perceived as in the way of a relivened Euro economy. See our Blog for Video -"French Vote Against Austerity".
Ambassador Muhamed Sacirbey - FOLLOW mo @MuhamedSacirbey

Facebook-Become a Fan at "Diplomatically Incorrect"







Twitter – Follow us @DiplomaticallyX







For many further current news event articles, see our popular video blogs at "International Financial Crisis" Channel
Photo Courtesy of - http://www.elblogdedemostenes.com/