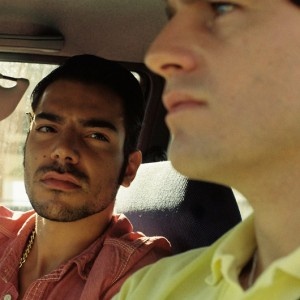 London's premier short film showcase – sorry, Portobello Film Festival - 'Shorts On Tap' opened its doors on 3 July for a screening of seven short movies based around the theme of violence. 'All you need for a movie is a girl and a gun,' someone once said, to which I would add, 'yes, and a story.' The submissions were strong, though perhaps one of the directors would not like a technical exercise placed alongside very accomplished work (one of the films had a budget of 55,000 Euro). Still, lack of money is no impediment if you have invention, wit, sincerity, competent technical ability and good acting.
Once more I was on hand for judging duties as the resident film reviewer sandwiched between a director, Frederic Casella, whose film 'Tooty's Wedding' won last month's event and a cinematographer with an amazing show-reel, Fabrizio Accettulli. For the first time, 'Shorts on Tap' had partnered with the London Film Academy and was offering a 30% discount on their one day course 'cinematography: shooting and lighting for DSLR' taught by Signor Accettulli. (Course held on July 19, cost £136.50: check out www.shortsontap.com/specialoffers.)
So could any of the young filmmakers coax a thumbs-up from the three hardened judges? (Or even a like on Facebook?) First up was British filmmaker Sara Jewell's New York-based story, 'An Intimacy' about suicide and getting it right. 'Self hate is the same as self love,' wrote Hermann Hesse but I wouldn't recommend suicide as a response to love problems or not being able to pay the rent. Ms Jewell's film has a twist that I won't spoil and begins with voice over: girls out, getting shots, one lonely young woman going home, getting into the bath and misusing a razor. There is also a man with a picture of her and new shoes. He comes home – and then.... I wasn't entirely sure why the shoes were given away to an old man at the end. Maybe it signifies hope – your life may be bad but at least you won't feel the rain on your feet. Great blood effects, utilising Hershey's Chocolate Sauce as one of the key ingredients, well-lit and stylish, it got Mr Casella's vote.
Next up, 'Just Talk To Me', by Ross Birks. With an image converted to monochrome – there is no black and white film anymore, though I have an expired cartridge of Super 8 stock in my fridge (it fools the mice) - it is the story of a 'shock Jock' DJ (he is even Scottish for good naes sake) trying to get a bomber to explain why he sent a bomb to someone. Short, sharp, cinematic, it made its point. Could have used a better twist, but the cinematography got Signor Accettulli's vote.
Third up was 'Illegal' by Raphael Baker, the equivalent of a Transport for London warning about the perils of getting into unlicensed mini-cabs. Those ads did it in 90 seconds; Mr Baker took thirteen minutes. Still, powerful acting and controlled use of flashback – looking at the aftermath – belied a central plot flaw; on the day of the attack, why didn't the boyfriend respond to the victim's calls? Still, the storytelling got my vote.
Student Vicki Kisner gave us 'Intrusion', a film about the threat of violence. A burglar prowls around the bedroom of a sleeping couple, taking wallet, cash and a laptop. Would they wake up? The film was conceived as a dialogue-free exercise in suspense (based on the theme of spying, though this didn't come across). It was indeed just an exercise, but competently done.
To me the title 'Gypsy' is a song by Suzanne Vega, 'You come from far away/With pictures in your eyes' ... 'fingers of a potter/Laughing tale of a fool', and all that. It is also the title of Portuguese filmmaker David Bonneville's accomplished short (the Portuguese title is 'Cigano'). It is the story of a moderately wealthy young man, Sebastian, who discovers his car has a flat tyre. A gypsy man, Ze To, circles the car and offers to help. After Ze To changes the tyre, Sebastian offers him money, but he wants more. He wants a lift. Sebastian is on his way, but he can't say 'no'. Ze To has his key. Once inside, he takes over the stereo, blows cigarette smoke in Sebastian's face. Ze To looks enviously at Sebastian's Sporting Lisbon ticket; Sebastian can attend football matches, Ze To – it is implied – can only experience them from afar. What follows is a suspense thriller of sorts: where will this encounter go and what binds them together? With the taut pacing of a Patricia Highsmith story, 'Cigano' is relatable. We have all been in situations when someone has forced their presence upon us and brings out sides to our character that we don't want to air. It is not about the tension between Portuguese and gypsies per se but between any group of haves and have-nots. The confined space and empty roads add to the atmosphere. Bonneville's film had the aforementioned 55,000 Euro budget and was shot over four days on a RED camera, with very professional production values, contrasting with Kisner's shooting schedule, 'I shot mine in three hours'.
Its qualities weren't recognised on the night – the American filmmakers were absent – but Sashia Dumont's 'A Fine Line' stayed with me. A woman comes home to her partner. 'How were your parents?' asks the guy. 'Did you say hello to them from me?' The woman's response is minimal. Eventually she confesses she was with another guy, but he knew that, why didn't he stop her? She claims equivalence. The man still sees his ex-wife, bound by the tragic death of their young son. Why couldn't he stay married to her? 'Because I kept seeing my son in her face,' he responds. Ultimately, the film explores the inadequacy of a response to tragedy. You can get angry. You can threaten your partner but you know there is no release from the simultaneous desire to move on and to honour the dead, helping those who share your loss. I was reminded on Buñuel's quote: 'I don't make a film knowing the answer in advance; to do so would be like cheating'. The makers of 'A Fine Line', which stars Dumont as the aggrieved partner, don't know either.
Finally, a bit of silliness: Chris Chung's 'Handuken'. The set up is the archetypal build up to an East Asian fist fight in a restaurant – gangsters with toothpicks in their mouths, illegal gambling. However, the fight moves are all 'rock paper scissors', or 'thumbs.' We laughed and were impressed. Chung's film cost £1,800 and was an entry for Virgin Media Shorts. He described it as the first film he had made that he was proud to show, and was right. His cast were present for the screening.
Andy Murray may be out of Wimbledon 2014. England may have limped out of the World Cup. But we had some winners tonight: 'An Intimacy', 'Gypsy (Cigano)' and 'Handuken'. 'A Fine Line' deserves praise too; my fellow judges also commended 'Just Talk to Me'.
For more on the judges, check www.fabrizioaccettulli.com and www.vimeo.com/fredcasella. Of course, check out www.shortsontap.com for their next event.