ON Sunday 10 of us ventured into the city with a driver that was arranged by my former roommate. She negotiated price for the day trip. Our first stop was the Iskon Temple in Bangalore which is a Sri Radha Krishna Temple.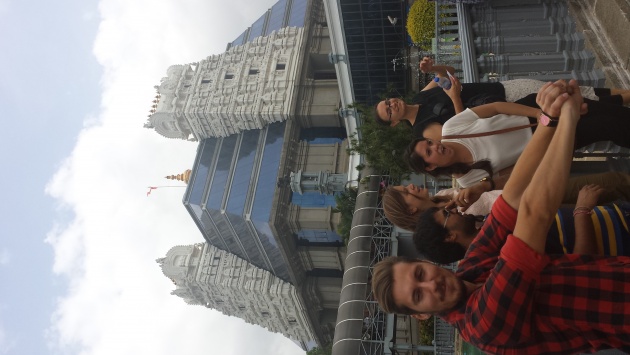 There are Iskon temples around the world and this one was my first visit to a Hindu Temple. You have to take your shoes off before entering the temple. After going through security you proceed to each of the statues. At each statue you can give money or buy fruit at an offering. At the last statue you can pay for different rituals and all the devas are listed with the cost of each type.
After leaving the temple we went to the Bangalore Temple. It is the summer palace of the king. The last king passed away five months ago and left no heir for he and his wife never had children. The queen still resides in the palace during the summer. The Misor Palace is the main one and is 150km from Bangalore.
We stopped for what was supposed to be a quick lunch but how quick can a lunch for 10 people be. We spent maybe a good 2 hours with waiting for a table and figuring out how to order since some things were not available. After lunch we went to Lalbagh Botanical Gardens. Some of us got free mangoes from a security guard who picked them out the back of a passing truck. I held on to mine for the rest of the day taking it everywhere until finally eating it after dinner at the hotel. We saw the glass house, bonsai garden, rose garden, pond, lily pad pond and a 152 ft tree that is 334 years old.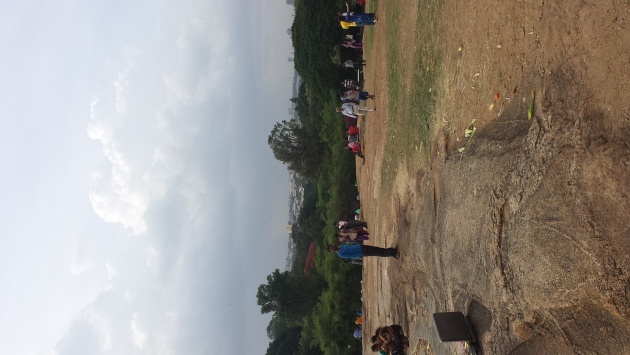 View from atop rocks at entrance to Lalbagh. I learned what a jackfruit was but yet to try it.
We met more fellows when we returned to the hotel and also met some of the staff.
Orientation began yesterday with morning yoga followed by a welcome and  keynote speaker. We met an Idex alum who was placed in Hyderabad and now lives in Bangalore. After some lovely Bangalore traffic we visited Head Held High were one of the fellows have been placed. They do training for the rural urban providing literacy education and skills to obtain a job within the state of Karnataka. We then went to dinner at Paparazzi which is a rooftop restaurant in central Bangalore. Due to traffic we were unable to go to Bull Temple. At dinner we were able to meet some of the partners and some of the fellows placed in Bangalore were able to meet with their sponsors/bosses.