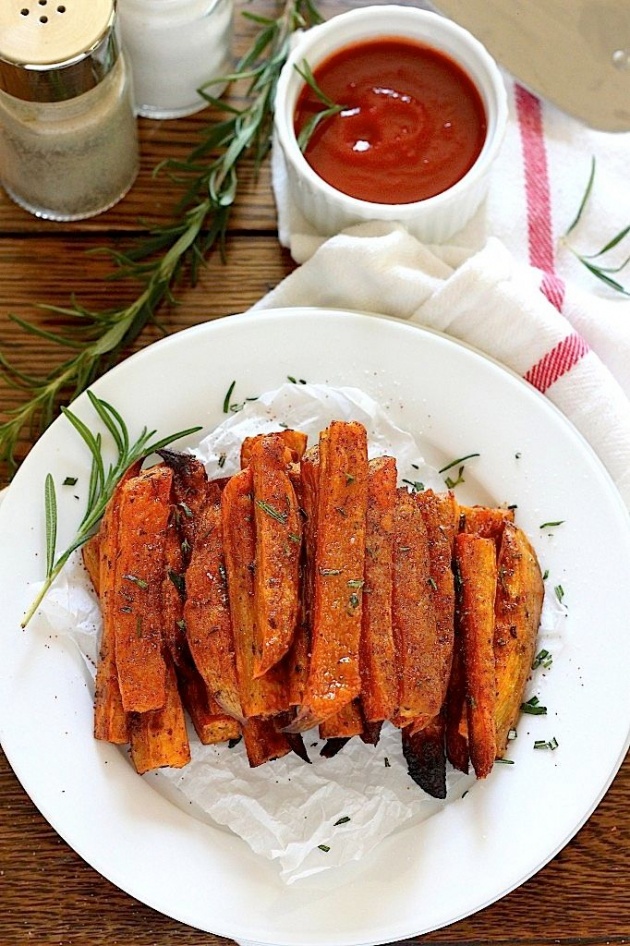 Baked sweet potato fries seasoned with fresh rosemary, sea salt, and a dash of smoked paprika. Friends, meet your new favorite snack – these are irresistible!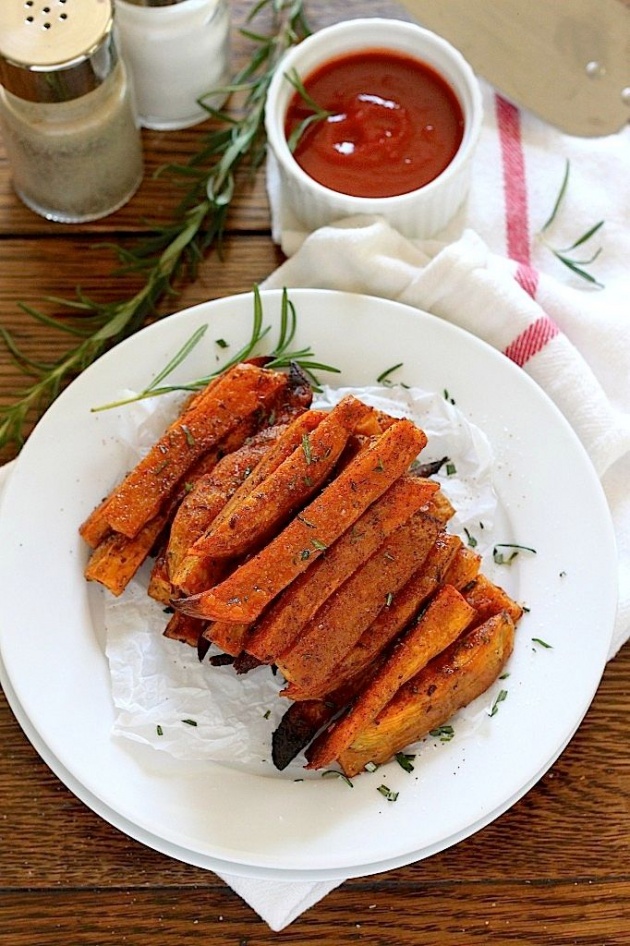 A few weeks ago I went to a cute little gastropub upstate with some of my favorite girls and somehow – in the midst of laughing, drinking great beer, and indulging in some good-old-fashioned friendship time – discovered the most amazing french fry flavor combo ever! Fresh rosemary… sea salt… smoked paprika. I know… sounds simple, right? It totally is. But that's the beauty of it! Simple ingredients combined equal super flava flava.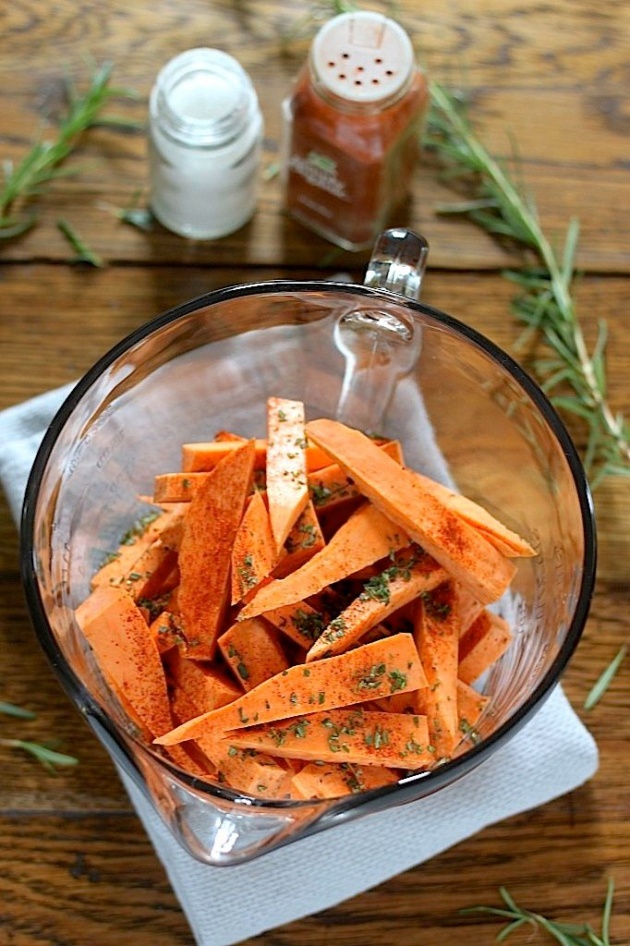 After inhaling three rounds of these simply glorious fries I worked up the courage to pull the "I'm a food blogger and was just wondering if you'd like, um, well… give me the recipe for these fries so I can make them at home and share them with world…" bit. Guess what? Chef = totally great guy. He quickly jotted down the gist (sweet potato, fresh rosemary, sea salt, paprika), and after playing around with the recipe about a jillion times, I found my perfect batch. The main thing I changed from the ones I ate at the pub was I baked my batch. I love baked sweet potato fries!!! Crunchy on the outside, soft and tender on the inside, and just oozing with flavor. These extra crispy rosemary and sea salt sweet potato fries are for sure keepers! I know we'll be making them at least once a week for… well, ever.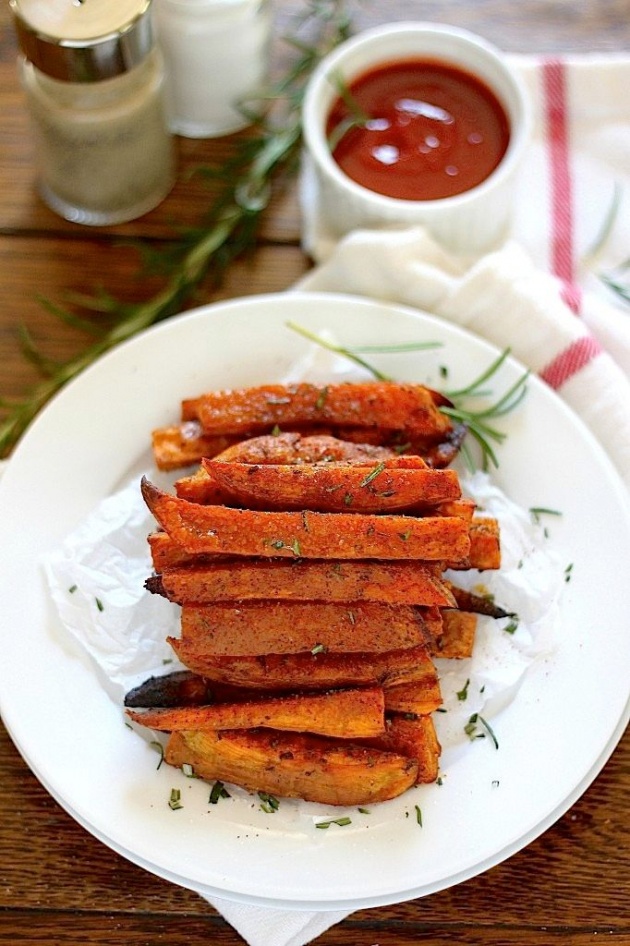 The best part about these fries? The simplicity of it all. The steps are so simple and easy, anyone can make these superstar fries. Anyone!
The first step is just picking out a big, pretty sweet potato. Easy enough, right?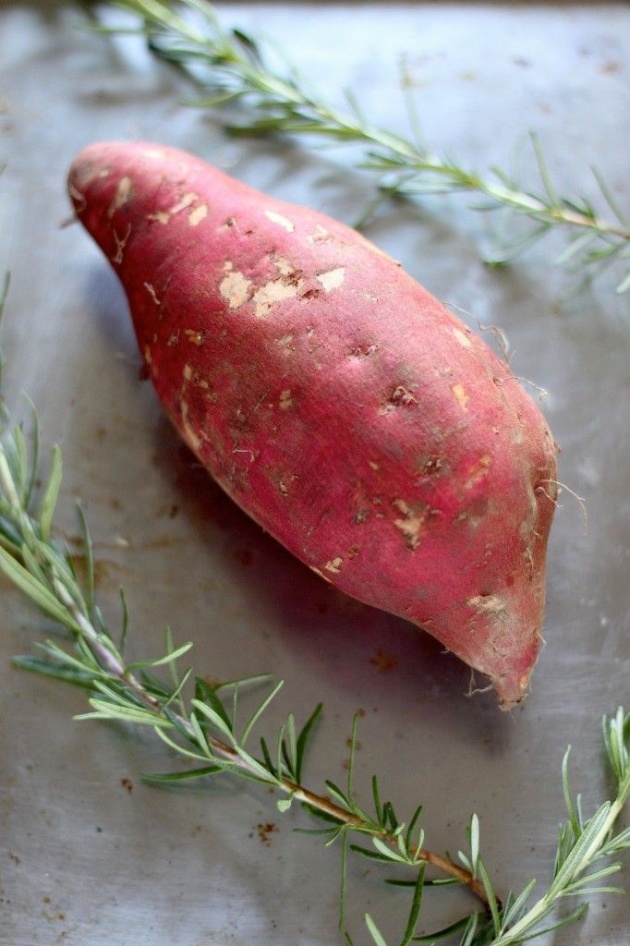 Then you'll peel it, and cut it into fry shaped pieces. Try your best to make the pieces similar in size.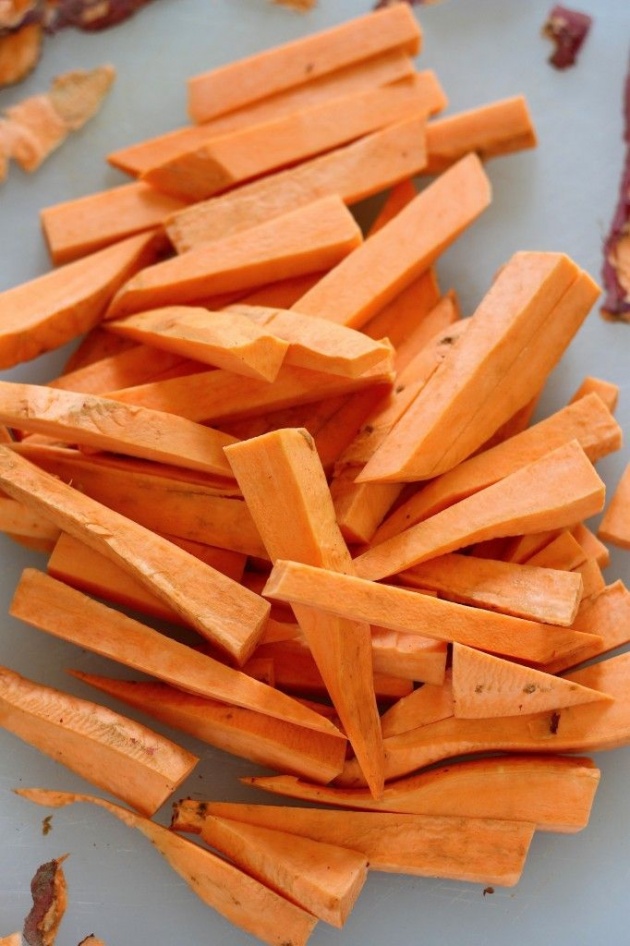 Toss the potatoes in a bowl, and add those flavorings! Fresh rosemary… sea salt… paprika… olive oil. YES!!! Things are getting good now.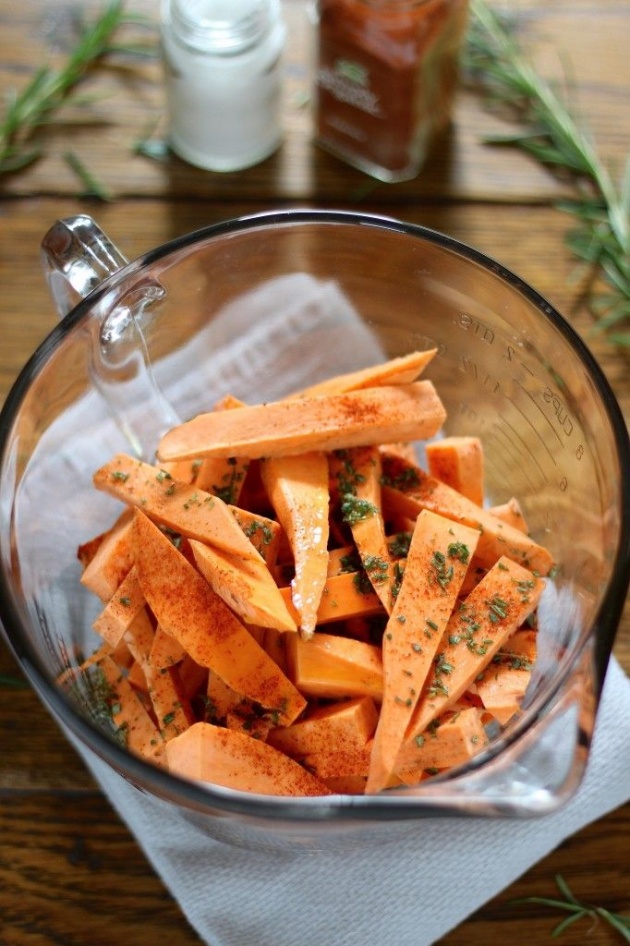 Spread the fries out on a large baking sheet. The important thing here is that they're in an even layer, and not touching. Give them space to CRISP up. Yum.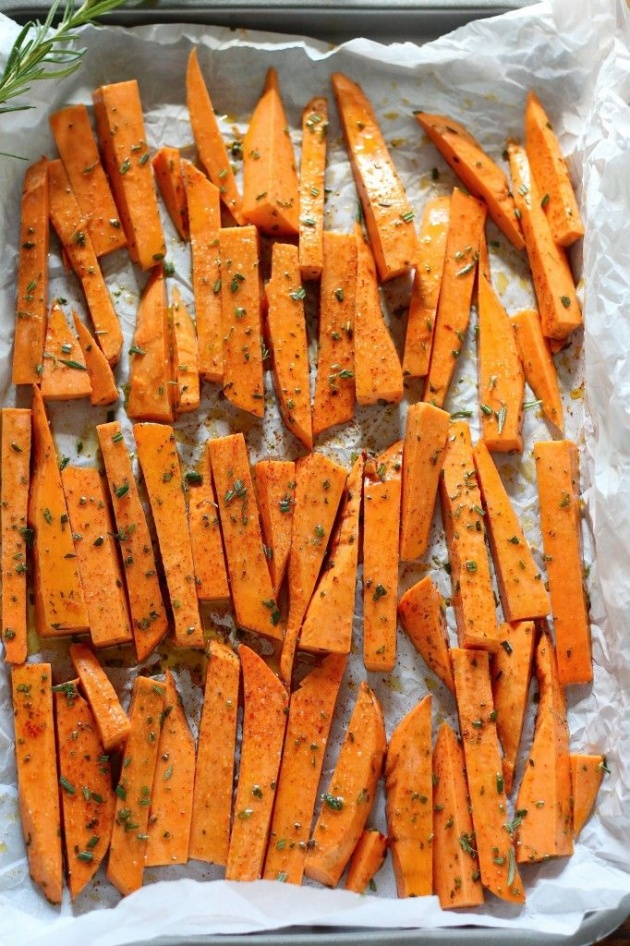 You'll flip the fries once, at the 20 minute mark. The one side will be all crispy and gorgeous… by flipping them you'll ensure the other side gets in on the crispy crunchy action, too. Niiiiice.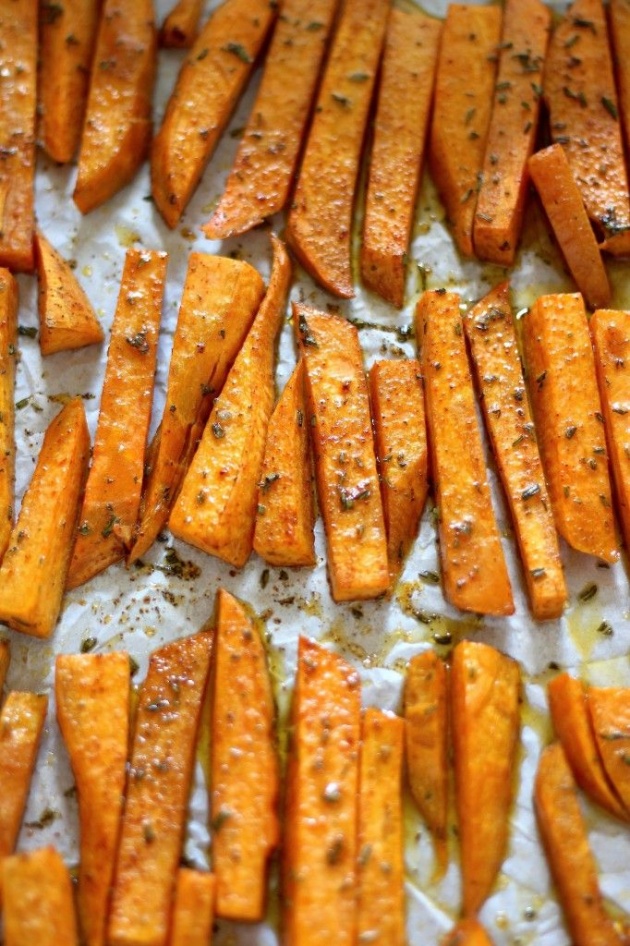 And that's it! When you pull the hot pan of golden fries from the oven, they will smell, look, and taste 100% Incredible! All you need to do is add a dipping sauce, if desired, and get eating.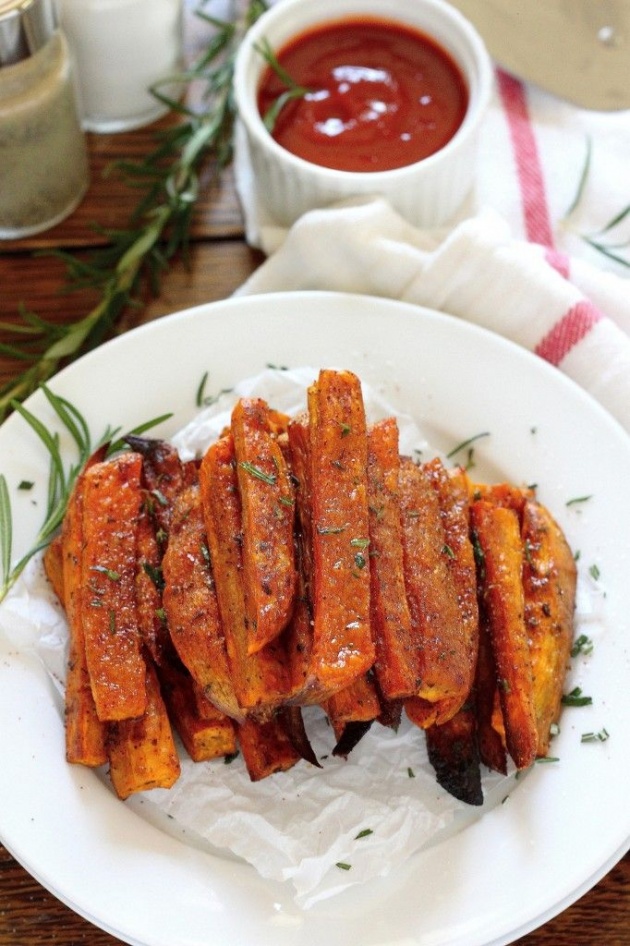 I'm saying it right now: a double batch of these fries IS THE WAY TO GO. The only way to go. Because… you just have to. Trust me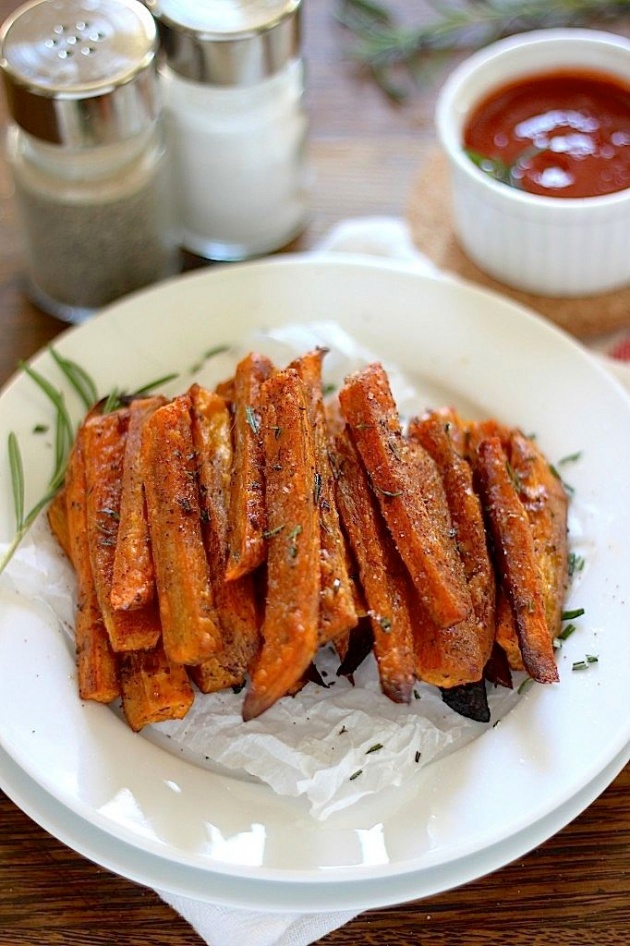 Extra Crispy Rosemary and Sea Salt Sweet Potato Fries
Ingredients
1 large Sweet Potato
3 tablespoons Olive Oil
1 tablespoon fresh rosemary, finely chopped
1/2 teaspoon smoked paprika
1 teaspoon sea salt
Instructions
Preheat oven to 400 degrees (F). Line a large baking sheet with parchment paper; set aside.
Peel the sweet potato and cut it into fry shaped pieces.
Place the cut potato pieces in a large mixing bowl, add oil, rosemary, paprika, and salt, stir well to combine.
Spread potato pieces in an even layer on prepared baking sheet. Place in preheated oven and bake for 20 minutes. Carefully flip over each fry, and return pan to the oven. Bake for another 20-22 minutes, or until fries are crispy and golden.
Transfer fries to a plate and serve with your favorite dipping sauce! Fries are best eaten AT ONCE ;)